Issue 2 - June 2016
This edition includes 18 case studies showing different challenges and the storage solutions adopted to resolve them in the most efficient way.
The companies represented (such as Cepsa, Bodegas Protos or Schneider Electric) belong to diverse sectors: food and beverage, chemical and cosmetic products, transport and logistics operators, construction, paper and derivatives, electricity and electronics, etc.
EThe issue is complemented by two interesting articles written by our experts: "Choosing the ideal system for storing pallets", and "The advantages of intelligent warehouse management".
Download Best Practices nº2 - June 2016
Issue 1 - March 2016
The Best Practices magazine was created to show the actual implementation of Mecalux storage solutions and warehouse management software in selected projects. In this way, companies from any industry or of any size can follow these success stories to solve their own logistics needs.
The case studies included in this first issue range from the spectacular 46 m high clad-rack automated warehouse built for Hayat Kimya, to the installation of a high-density automated warehouse with Pallet Shuttle and stacker crane for the meat company Hemosa.
Download Best Practices nº1 - March 2016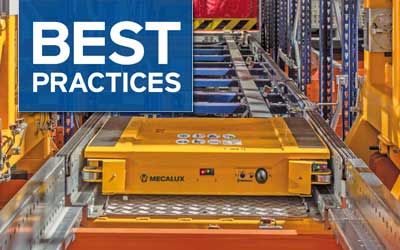 Success Stories
Gioseppo, PAVI-Groupauto, Ypê, Luís Simões, Zbyszko Company, DHL, MGA, DAFSA, Hepco Motion, Benco Dental, Takeda, Havi Logistics, Hemosa, Hayat, Nufri, Iron Mountain
Guardar
Guardar
Guardar