Automated clad-rack warehouse for Intersurgical in Lithuania
18/10/2018
Mecalux will build a 30 m high automated clad-rack warehouse for Intersurgical, a medical equipment manufacturer and supplier, in the Lithuanian town of Pabradė. All management will flow through the Easy WMS, the warehouse management system of Mecalux, will be used to control all stock movements which will finetune its operations to the unique requirements of this company –first and foremost, a more rigorous organisation of the goods.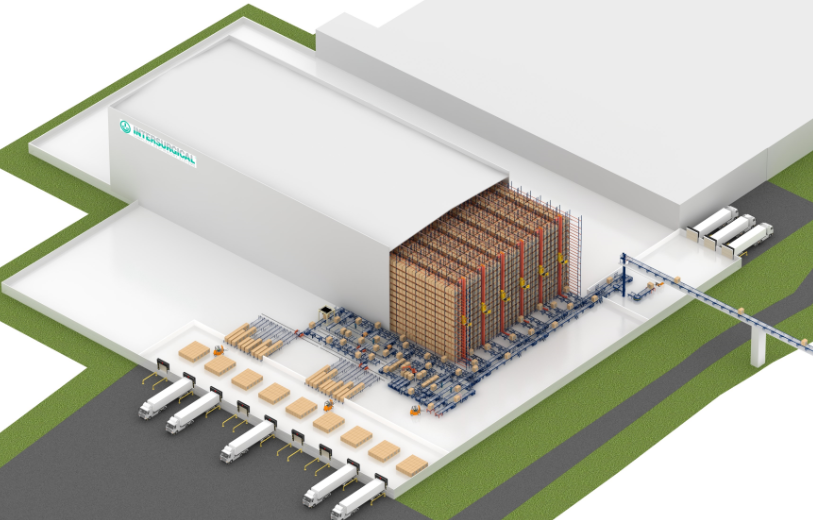 Not too far from the manufacturing centre that the company owns in Pabradė (Eastern Lithuania), the warehouse will comprise eight, 121 m long aisles with double-deep racking along both sides. The containers coming from the manufacturing centre or suppliers will first pass through one of three checkpoints, before taking their place in the warehouse. The facility will feature a wide picking zone, with three picking stations where workers will be able to prepare a dozen orders at once. A transfer car will circulate with distribution-ready finished orders allotted to six blocks of live preload channels (each one, in turn, splits into five sub-chutes).
Easy WMS of Mecalux must guarantee that inpatient materials have exceeded the applicable quality controls before being distributed. Thus, for example, product sterilisation is done right before an item is put into the warehouse. An external application will ask the Easy WMS to send an in-stock item to the sterilisation zone. Once the product has run through the process, the system will report this to both Intersurgical's ERP and the WMS.
Three million products made per week
Intersurgical is a global manufacturer of medical devices for respiratory support, with a weekly distribution of two million products. It provides flexible patient solutions for airway management, anaesthesia, critical care and oxygen and aerosol therapy, both for in-hospital and at home care. Apart from Lithuania, this company does business in other countries like the UK, Spain, Russia, Sweden, Germany and Canada, among others.