Mecalux actively participates in LogiMAT 2017, with two stands presenting innovations within Industry 4.0 development
31/01/2017

Between March 14 and 16, the new LogiMAT business event will take place in Stuttgart. This international distribution, handling and data flow fair is considered the biggest annual intralogistics exhibition in Europe. This year's slogan is, "Shaping Change. Digital - Connected - Innovative", where more than 1,300 companies will present their products.
Mecalux, a dedicated LogiMAT attendee, will exhibit its latest products at two visitor stands: one dedicated to storage systems ―prominently the high-performance, high-density Pallet Shuttle system―, while the second will focus on the Easy WMS warehouse management software, developed by Mecalux Software Solutions.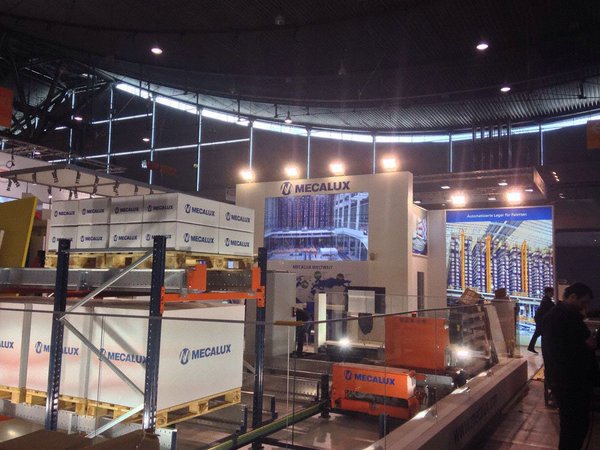 In the storage solutions booth, one of the most efficient systems on the market will take centre stage. It combines high capacity with an elevated number of movements: the automatic Pallet Shuttle with transfer car, with a working model on hand for viewing.
Most noteworthy is the recent project carried out by Mecalux for Congelados de Navarra, one of Europe's top frozen vegetables producers and vendors. This spectacular 44 m high clad-rack frozen storage chamber is fully automated. It features Pallet Shuttles and a transfer car on each installation level, boasting a storage capacity of 83,000 pallets, as well as an extremely high volume of movements.
Furthermore, those interested in uncovering the advantages a warehouse management software can contribute to their logistics supply chain can also watch live demos at the Mecalux Software Solutions stand, starring the Easy WMS, one of the most robustly featured WMS on the market.
One of the main innovations presented at LogiMAT is the e-commerce module, devised to implement smarter global management in warehouses that handle both multiple orders with few SKUs, as well as a combination of these small orders with less frequent requests for multiple units.
We look forward seeing you at LogiMAT 2017!
Mecalux: Hall 1, stand 1B61
Mecalux Software Solutions: Hall 7, stand 7F67
Guardar