Oppermann Druck und Verlags reorganises the operation of its warehouse with push-back racking with rollers
23/02/2017
Mecalux has provided the push-back racking with rollers in the distribution centre that the German publisher Oppermann Druck und Verlags has in the town of Rodenberg. This system maximises the available area for a storage capacity of 675 pallets. In turn, it allows for boosted speed in loading and unloading the goods.
The company needed to reorganise the operation of its warehouse, located next to its offices and printing centre in Rodenberg (Germany). They asked Mecalux to implement a solution to handle the increase in production, given its future growth prospects.
After analysing in detail the characteristics of the warehouse and the needs of Oppermann, Mecalux decided to install a 5 m high and 16 m long push-back racking with rollers. In a total of 225 channels, the racking has a storage capacity for 675 pallets of 800 x 1,200 mm with a maximum weight of 1,000 kg.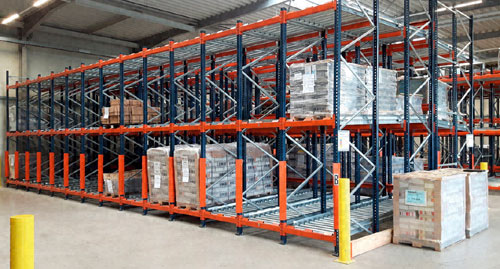 In order to take advantage of gravity, the racks are made up of roller channels on a slight incline. The pallets are inserted and extracted on the same side of the aisle. The front (facing the aisle) is lower in height, so when removing a pallet, the rest of products advance one position. Thus, there is always a new unit load available for withdrawal.
This solution provides flexibility when handling the goods: forklifts do not need to enter the channels to locate and remove the pallets. The safety of the installation is increased by minimising potential impacts against the structure, a priority for Oppermann.
About Oppermann
Oppermann is a family business dedicated to publishing and printing local newspapers and magazines. Since opening in 1904, it has grown steadily and now has four self-owned newspapers, which have a total weekly circulation of 550,000 copies. The company has become very committed to innovation and technology, with a clear interest in modernising the mass media sector in Germany.