Pesquera Veraz will reduce energy consumption and optimise its freezer stores
07/10/2020
Renowned Argentinian fishing company Pesquera Veraz will equip its two freezer stores at its new centre in Rawson, Argentina, with the semi-automatic Pallet Shuttle system by Mecalux. In addition to increasing productivity and leveraging surface area, this high-density racking solution will lower energy costs. This is due to the fact that the amount of goods to be kept at a frozen temperature will be less than that of conventional racking.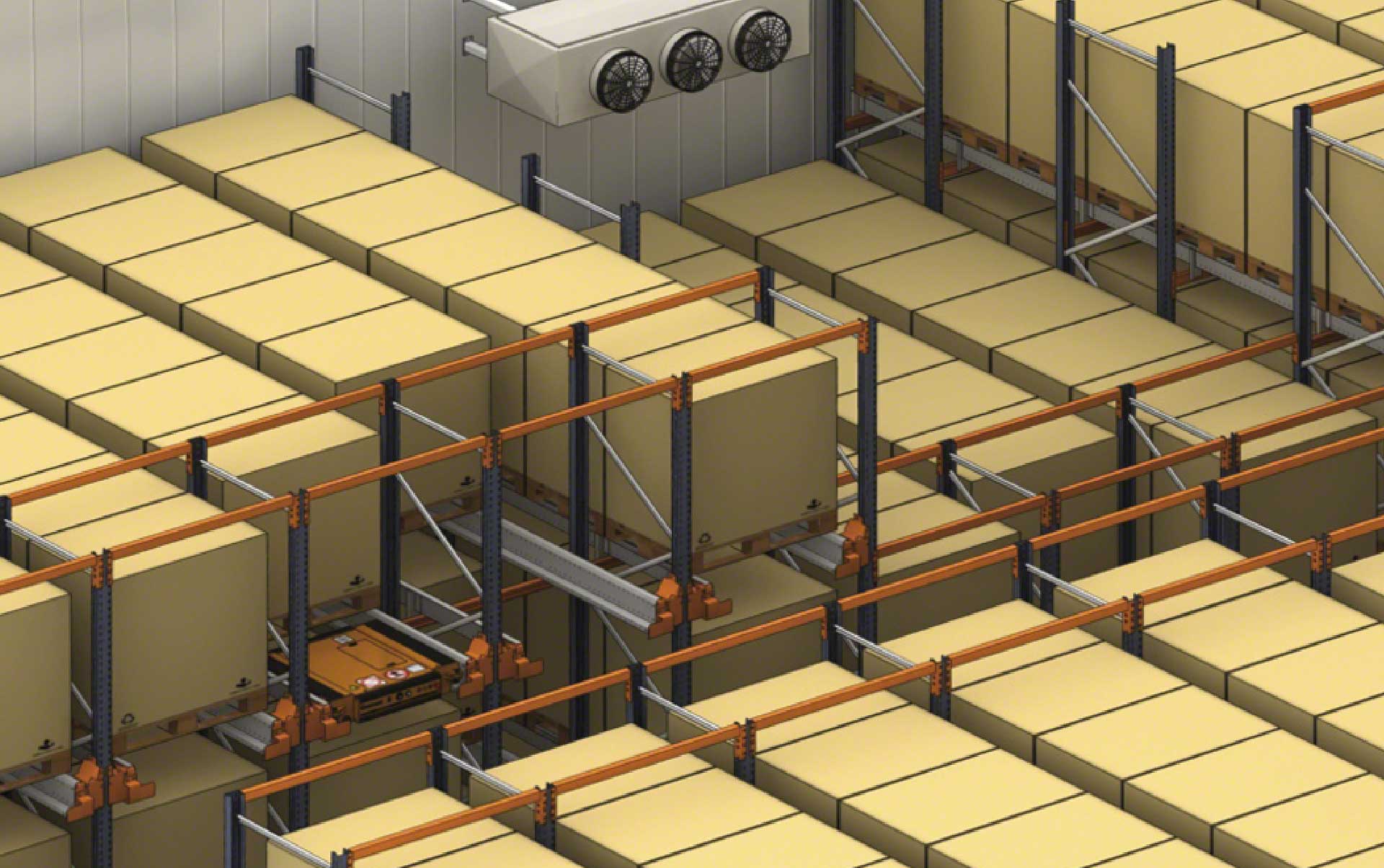 Rawson has become Argentina's main port of landing for fresh shrimp. There, Pesquera Veraz has a production facility with a daily production capacity of 35 tonnes of frozen fish. To manage all those goods, it will install four 9-metre-high racking units in just over 1,200 m2 to store 3,051 pallets..
Gerardo Fanjul - Head of Maintenance at Pesquera Veraz's Rawson facility
"The new -30 ºC freezer stores have been designed to address our needs and maximise storage capacity. With the Pallet Shuttle, we hope to raise our throughput and reduce time spent on storage tasks, as well as improve our inventory management and organisation. We also want to avoid occupational risks through the construction system of the racks: operators merely have to place pallets in or remove them from the first position."
The Pallet Shuttle system includes a motorised shuttle that moves inside the storage channels, following orders issued by operators using Wi-Fi-connected tablets. Thanks to this solution, Pesquera Veraz will cut its operating costs and boost the performance of its logistics chain.
Federico Angeleri - Sales Manager at Pesquera Veraz
"We went with Mecalux because we are very familiar with the quality of their products and the way they work side by side with their customers. The advice they gave us helped us to choose the solution that best suited our business and, in particular, our production and logistics dynamics. As our production has a high turnover, and 97% of it is destined for export, we opted for the Pallet Shuttle system to minimise risks and enhance energy efficiency. This solution will help us to organise our stock, since we will be able to store all the products optimally in their respective locations."
Genuine fishermen
Pesquera Veraz S.A is a member of the Veraz Group, a business with 70 years of experience dedicated to the construction of fishing vessels and the extraction, processing and marketing of products from the sea (mainly Argentinian red shrimp and hake). Currently, it has a staff of over 800 employees, a fleet of nine vessels, and production centres in Mar de Plata (Buenos Aires Province), Rawson (Chubut Province) and Puerto Deseado (Santa Cruz Province). The Group exports to more than 15 countries, among them, the US, China, Spain, Italy and Japan.