The Pallet Shuttle system increases the storage capacity of Islandaire
12/12/2016
Islandaire, a US company that designs and manufactures a complete range of air conditioning units, has hired Interlake Mecalux to supply and install racking served by Pallet Shuttles in the warehouse it owns in the state of New York.

The installation consists of 60 channels of racks each with a 12 pallet deep capacity, enabling the housing of 720 pallets. The high-density, 9 m high racking optimises available space by eliminating the need for the forklift to enter the lanes.
For its operation, the operator inserts the Pallet Shuttle into the corresponding channel with a forklift. Then, the pallet is deposited in the channel entry so that the shuttle moves it horizontally until reaching the first free location where it will be deposited. When it has finished loading in the channel, the Pallet Shuttle is transferred to the next one where it is going to operate. The extraction is carried out by performing the steps in reverse.
The Pallet Shuttle follows orders sent by an operator from a Wi-Fi tablet equipped with software that has a simple and user-friendly interface. From there, the operator can select the shuttle they want to handle, load or unload a channel continuously, count the number of pallets stored in a channel, etc.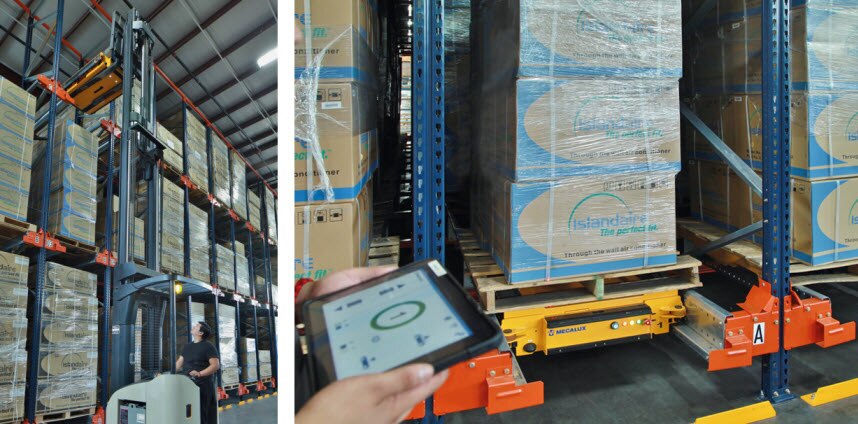 This semi-automatic system is ideal for warehouses like Islandaire's, with many pallets per SKU and a high flow of loading and unloading. In addition, the Pallet Shuttle system reduces the risk of accidents or damage to the racking to almost zero.
Mecalux always takes into account the regulations pertaining to each country. For instance, in the USA the UL certification mark on Mecalux products is the most recognised, valued and accepted test that meets the safety requirements within both United States and Canada.
About Islandaire
Founded in 1992, Islandaire is one of the fastest growing air conditioning and heating manufacturers in North America. They design and manufacture 'packaged terminal air conditioners' (PTAC) and spare parts, as well as heat pumps, vertical units, fan coils, water source heat pumps and gas units.