Automatic Pallet shuttle with transfer car at the Cabezuelo Foods warehouse
17/09/2019
In the upcoming months, Cabezuelo Foods, a producer of pre-cooked, deep-frozen foods, will launch a new automated clad-rack warehouse in the village of Socuéllamos (Spain) with the Pallet Shuttle system operated by transfer cars. This installation will be 28 meters high and offer a total storage capacity for 5,280 pallets.
The warehouse will be comprised of a single 54.4 m long aisle with two blocks of 10.8 m deep racks on both sides. A transfer car on each level will move the goods to the corresponding storage channel and the Pallet Shuttle will then take care of transporting the pallets to their locations automatically.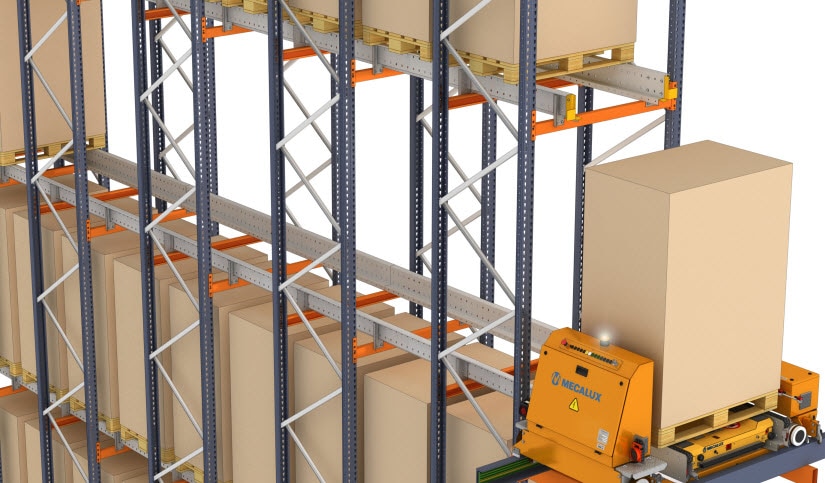 With this solution, Cabezuelo Foods will combine the peak storage capacity provided by the high-density racks with the large number of movements executed by the transfer car and the Pallet Shuttle.
Felix Cabezuelo - Sales Director of Cabezuelo Foods
"The main reason for choosing this system is primarily due to the need to expand our storage capacity to deal with the sustained growth our company is experiencing. Secondly, because we know we must now move towards automating both production and storage systems. We need a faster, more professional logistics service for our customers and at the same time expand our product families."
Food from land and sea
Cabezuelo Foods is a family business founded in 1978 in Spain. It specialises in the manufacture, packaging and distribution of pre-cooked, deep-frozen food, focusing on breaded vegetables, seafood products and products for the Tex-Mex sector or themed catering. From its facilities, it produces around 10,000 tonnes of products a year, which are distributed in more than 20 countries.