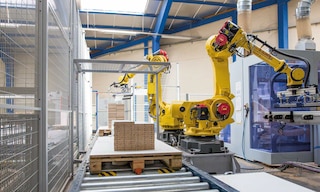 Picking robots for automated order processing
06 Jun 2022
Picking robots are machines designed to increase productivity and reliability in a key process for many warehouses: order picking.
With supply chains becoming increasingly complex — with larger numbers of orders to prepare and deliver in short windows, companies in sectors such as distribution and ecommerce seek solutions to help them ramp up their productivity. One option to consider is the automation and robotization of picking operations, as this makes it possible to process orders more quickly and without errors.
What is a picking robot?
Picking robots are machines programmed to carry out order processing automatically. These machines can take various forms, from industrial robotic arms that handle and sort goods into orders to automated warehousing and conveyor systems.
The need to reduce costs in order picking and eliminate errors from this process compels businesses to invest in automated picking solutions. Why? Automation and digitization enable real-time inventory management, highly reliable goods movements, and 24/7 operations.
There are multiple degrees of automation in order picking, from the incorporation of picking robots in automated facilities to the installation of workstations where orders are prepared according to goods-to-person. With this working method, the automated handling equipment — e.g., miniload systems (AS/RS for boxes) and conveyors for boxes — moves the products to the operators. Automatic picking cuts down on operator movements, shortening processing times and improving warehouse efficiency.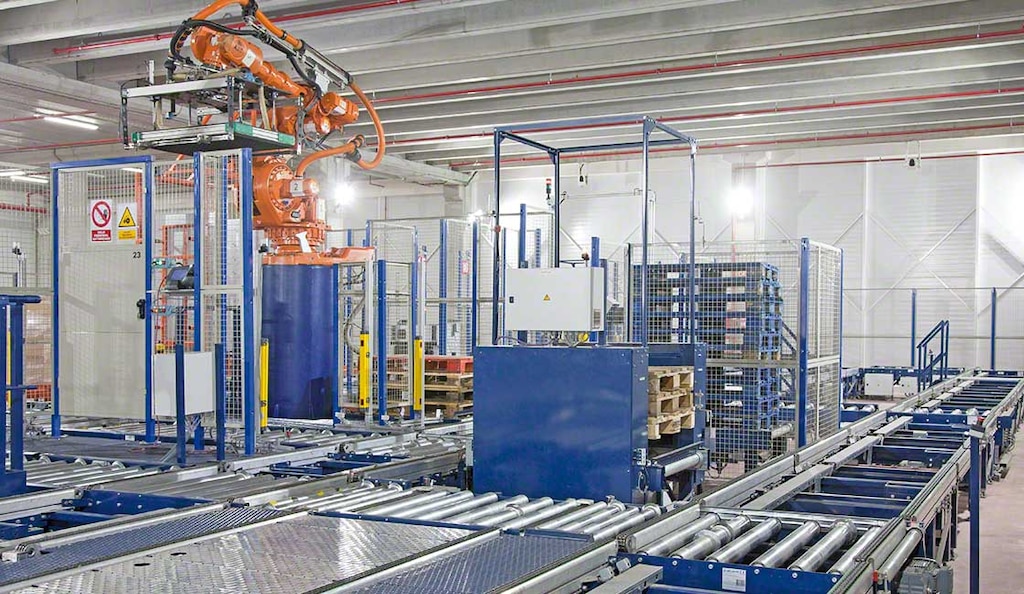 Types of picking robots
Picking robots make all the difference when it comes to speed and effectiveness in order processing. The variety of options available for automating picking means that there's a solution for any need:
Anthropomorphic arms. These machines automatically handle individual items or sets of boxes to carry out mass picking. These robots perform pick and place tasks, i.e., they select the required products, collect them, and place them in a specific place. The machines are usually equipped with a vision system that lets them identify items, a gripping element for handling the goods, and software programmed to enable them to work correctly.
Autonomous mobile robots (AMRs). These autonomous vehicles are capable of moving along preprogrammed routes. AMRs are tasked with safely moving products to pick stations. They are outfitted with sensors and AI (artificial intelligence) software containing a digital layout of the facility, allowing them to interpret their surroundings. These robots can serve two purposes: operators can use them as picking carts, placing the goods retrieved on top of the robot, or the robots can bring products to operators preparing orders at workstations.
In addition to picking robots, organizations looking to step up throughput in order fulfillment can employ other automatic solutions, such as:
Stacker cranes. These robots move horizontally and vertically within the storage aisles. Although their function is to store goods, they also increase the flow of movements by working nonstop, supplying pick stations with products more rapidly.
Conveyors. These machines move, accumulate, and distribute goods to the specific positions required by the logistics operations. Conveyors can continuously supply the pick stations with the items required to fill orders.
Automatic handling equipment and picking robots move goods quickly and constantly, resulting in more streamlined order processing.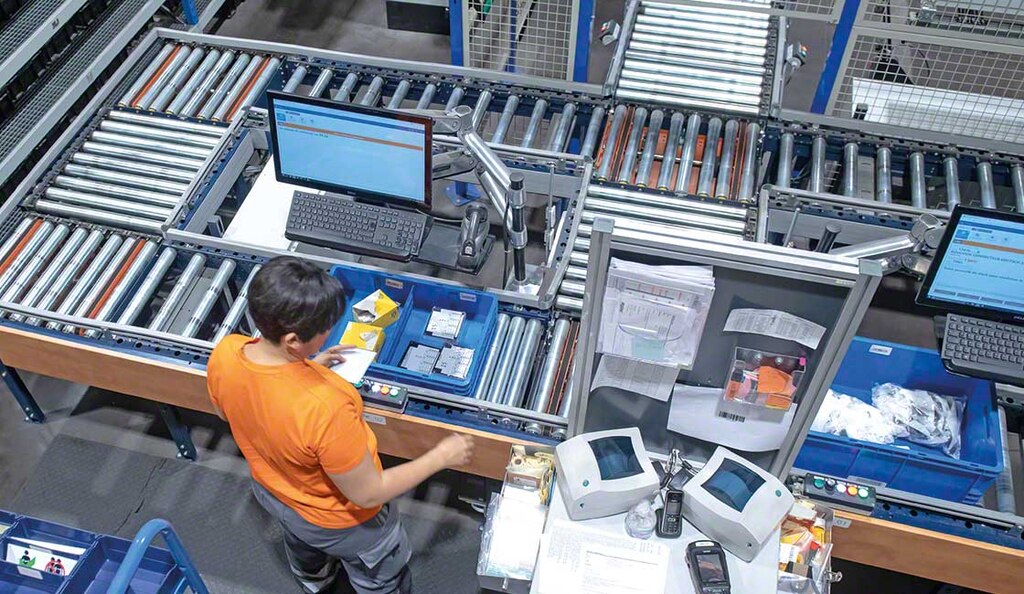 Advantages of picking robots
Picking is an extremely repetitive, time-consuming operation that's not very ergonomic for operators. Companies can invest in picking robots to leverage their multiple benefits:
Ability to run 24/7, without interruption or human intervention.
Great speed and agility in picking tasks. Robots sort products fast and accurately.
Stability and safety in goods handling, thanks to their grip system.
Mobile robots, meanwhile, optimize routes through the warehouse; they travel the minimum possible distances with the sole objective of speeding up order picking. They also move at optimal speeds, avoiding risks to operators moving around the facility.
Picking robot applications
Picking robots bring high performance and flexibility to businesses with a high number of daily orders, e.g.:
HAVI (Portugal). This 3PL provider's modern logistics centre is outfitted with an anthropomorphic robot charged with preparing orders made up of higher-turnover items. The machine is installed in the freezer store and prepares 40% of the orders. Its advantages are speed and the ability to prepare several orders at once.
SAM Outillage (France). This tool manufacturer has an AS/RS (automated storage and retrieval system) for boxes where orders are prepared according to the goods-to-person method. Before, operators walked around the warehouse six or seven miles a day to locate the SKUs they needed. Now, stacker cranes and conveyors move the goods to the operators more quickly.
Cabezuelo Foods (Spain). The precooked deep-frozen food company is equipped with an anthropomorphic robot to prepare orders with complete autonomy. The robot performs 150 movements an hour and handles 1,350 boxes each hour.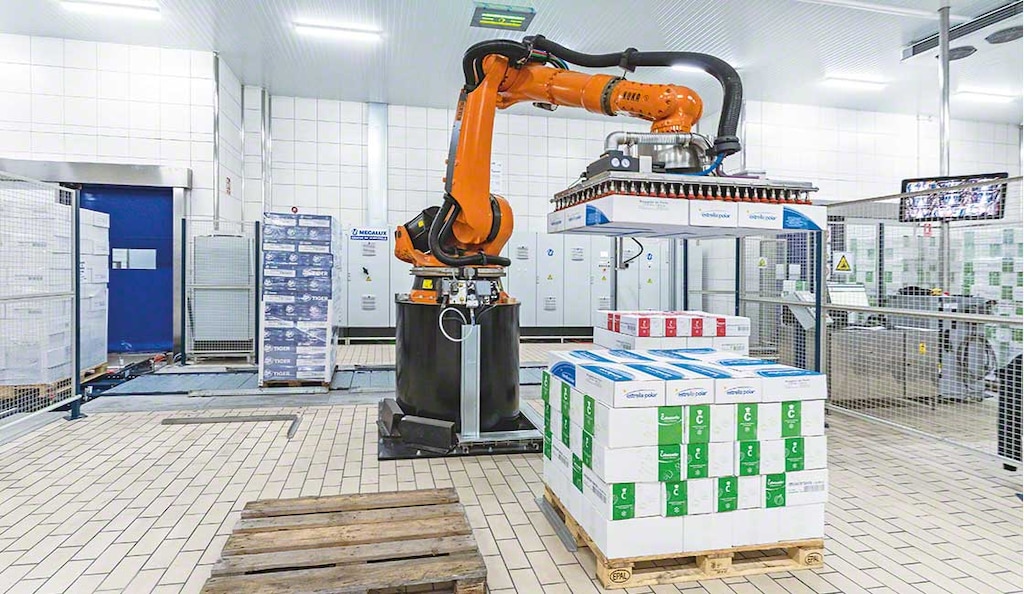 Picking robots: the future of order processing
Businesses that prepare a large number of orders can consider automating picking, either with robots or with automated warehousing and conveyor systems. Robotics and automation are solutions that can boost throughput thanks to the agility, effectiveness, and safety they bring to goods handling, not to mention error prevention.
Warehouses outfitted with technology to enhance picking need to be well designed to facilitate this process. Picking robots and automatic handling equipment can raise the throughput of facilities with high volumes of orders. Planning on automating picking? Get in touch so we can help you find a solution tailored to your business requirements.