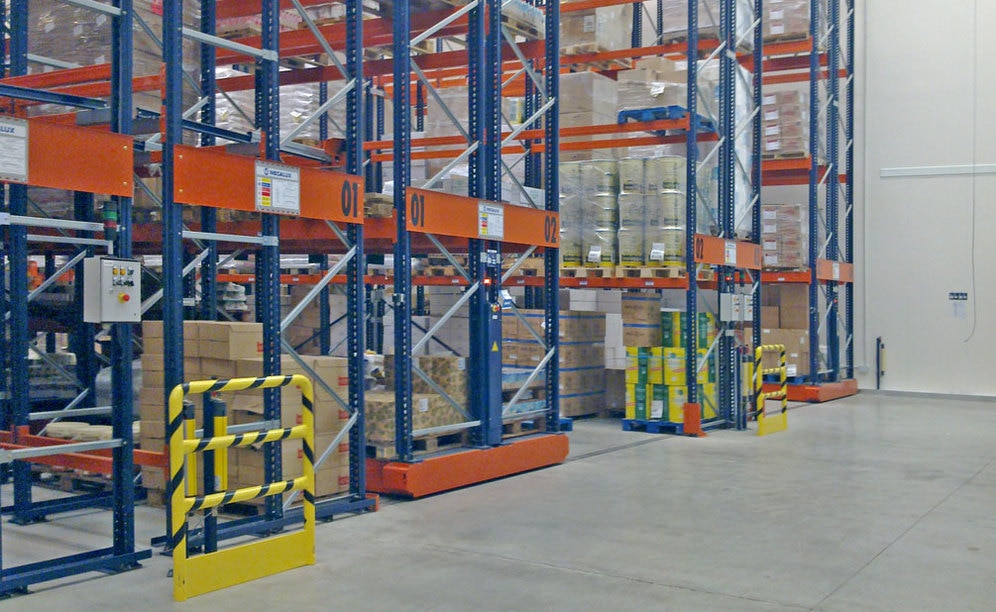 Double the storage capacity and reduce costs using mobile racking
Havi Logistics relies on mobile racks for continued growth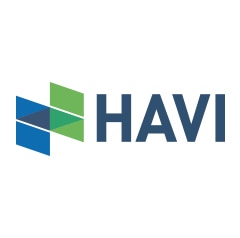 Since its creation in Germany in 1981 as a small family business, Havi Logistics has expanded its market to become one of the leading suppliers of integrated logistics services, with 48 distribution centres in Europe and more than 5,000 employees. Its customer range from restaurant chains like McDonald's to BP service station stores. The company is growing so fast it has had to expand its facility at Lodi, Italy, and it has entrusted this project to Mecalux.
The Customer's Needs
Havi's Logistics logistics centre in Lodi, Italy, was opened in 2009 with a capacity for 4,566 pallets. Given the company's continuous growth and expanding customer base –and therefore the number of products to be stored and distributed– it quickly outgrew the facility. There was thus a clear need: to multiply the useful storage space by expanding the 4,870 m2 available in the original warehouse.
Furthermore, the characteristics of Havi Logistics's activity had to be considered. Havi manages the supply chain for perishable and non-perishable products for a wide range of customers: frozen goods, fruits and vegetables, meat, dairy produce and cleaning products, amongst others. This made it necessary to conserve storage and handling areas with four different temperature ranges, with a particular focus on preserving the cold chain throughout the entire process to ensure optimal safety and conservation of the food that Havi stores and distributes daily.
In the words of Massimo d'Alessandro, director of operations for Havi Logistics Italy, "this project began with a very clear need: to reduce storage costs, especially in order to accommodate new customers. It is combination of technologies: conventional pallet racking with mobile racking. By combining these two kinds of racking the size of the building needed to work with a given volume of pallets can be reduced.
Mecalux's proposed solution
Mecalux's technical team calculated the facility's expansion and remodelling down to the tiniest detail. Since the customer's priority was to multiply its storage capacity the Movirack mobile racks stole the show. These racks boast optimal performance at all temperatures. The immediate result was to expand from the original storage capacity of 4,566 pallets to the current capacity of 12,500 pallets, enlarging the 4,870 m2 of surface area to 10,000 m2.
As required by the customer, the four distinct zones with different temperatures at the Havi Logistics centre in Lodi were conserved, but the layout of each one was changed by implementing various storage solutions tailored to the specifications of the different products:
Dry or ambient temperature zone:
370 linear metres of Movirack mobile racks were installed in this zone to a height of 9 metres. This system eliminates unnecessary storage aisles, as the operator selects the aisle that he or she needs to use, whether manually or by remote control, and the mobile racks move laterally on rails embedded in the floor. This leaves the space required for loading, unloading or picking access on the selected racks. Push-back racks for accumulative storage and conventional pallet racking were also installed. In this way, high occupancy was achieved and goods handling time was reduced.
Refrigerated zone:
Movirack mobile racks combined with Push-back racks were installed here as well. This system allows four pallets per level to be placed in deep storage and uses the LIFO load management method (the last pallet in is the first out). The combination of both systems saves a significant amount of space and achieves high storage density while speeding the picking and replenishment of goods, which is essential in fresh food supply.
Freezing zone:
in the cold storage area the Movirack mobile racks make it possible to reduce the volume that must be stored at low temperatures, thereby saving energy. Roller and trolley push-back racks and drive-in pallet racks were installed to round off this area.
Cool dock zone:
This is a lengthwise loading and unloading zone linking the three storage areas described. Its function is to allow the goods to be handled without breaking the cold chain, which is kept at a temperature between 1 and 4 degrees. This mode ensures that all products reach their destination in perfect condition.
Advantages for the customer
By remodelling and expanding this installation, Mecalux has met all Havi Logistics's expectations: cost savings, more than doubling the storage capacity, and maintaining high productivity. Thus, new customers and the different types of products that must be managed will not affect the company's service quality.
Much of this success is based on the work philosophy of Mecalux, which stands by its customers in all the project stages. As Massimo d'Alessandro, director of operations of Havi Logistics Italy observed: "Our group chose Mecalux for several reasons. We have been working with Mecalux for years and the results have always been very satisfactory. It is a company that stands by the customer throughout the project, from the initial idea to the end result. Mecalux always provides quality products and services."
The figures achieved by remodelling Havi's facilities in Lodi speak for themselves, as Massimo d'Alessandro himself summarises: "To understand how efficient the installation is it is important to know a few figures. First, storage costs have dropped by 64% Second, our storage capacity has increased by 55% Third, the return on investment is 1.2 years. And, last but not least, all this has been achieved while maintaining high productivity."
As a result, since the expansion project implemented by Mecalux the Havi Logistics distribution centre in Lodi has become a model of profitability and efficiency that will enable the company to flexibly manage its continued growth.
Logistics centre in Lodi, Italy
Length:
152 m
Width:
62.5 m
Height:
12 m
Number of racks:
60
Number of aisles:
33
Aisle width:
1,612, 3,200 and 3,600 mm
Number of Movirack mobile racks:
10
Number of Push-back racks:
16
Number of load levels:
3, 4 and 5
Load level heights:
1,900, 2,550 and 2,650 mm
Capacity per space:
1 and 3
Unit load:
800 x 1,200 pallets with heights of 1,650 and 2,300 mm
Maximum load per pallet:
1,000 kg
Total capacity:
12,500 pallets