05 Jul 2023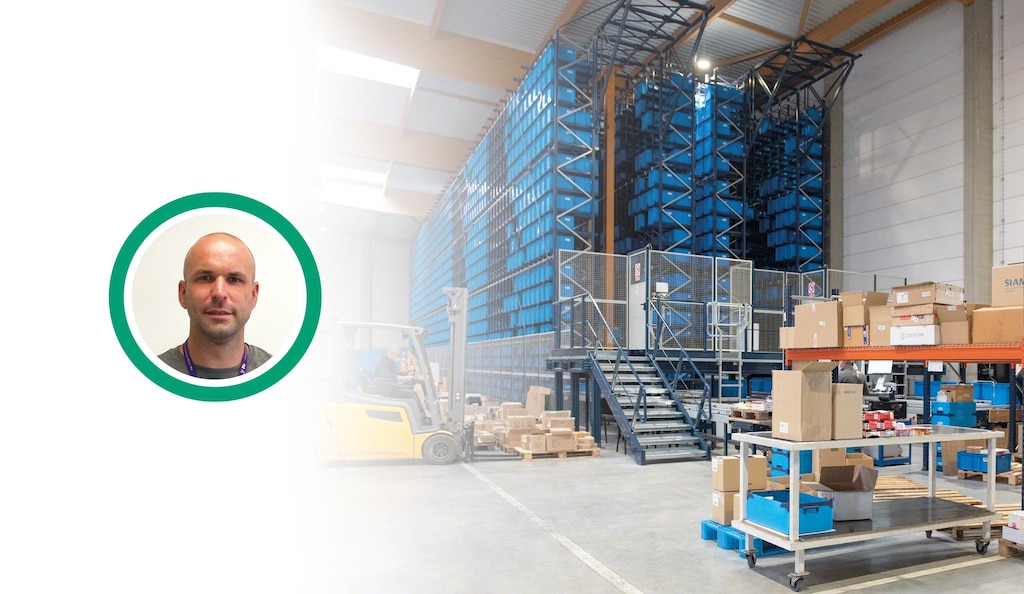 "We automated our logistics operations to remain competitive"
About FIC
Founded in France in 1965, FIC is a French company specialising in products for construction professionals. Thanks to its extensive network of sales outlets throughout France, industrial workers can find more than 40,000 SKUs of all the materials they need to do their jobs. Recently, FIC has brought all its logistics operations together in a new facility near Nimes. There, Mecalux has installed its Easy WMS software and three storage systems to manage 12,000 SKUs.
Mecalux interviews Yannick Taton, Head of Procurement, Logistics and Transport at FIC, to discuss how automation is the key to optimised logistics processes capable of delivering on-time, error-free orders.
How would you describe FIC's logistics operations?

The process starts the minute our purchasing department orders products from suppliers via our ERP system. When the goods arrive at the logistics centre, operators read their barcodes, verify their quantity and quality and then store them. In the putaway process, our logistics management involves two procedures: bulky products are placed on pallet racking and small items are housed in the miniload system. Order picking is performed in line with the needs of our physical shops and goods are delivered within 24 h thanks to automation and an efficient fleet of lorries. Automation has also enabled us to double our throughput in order picking and storage tasks.

Why did you decide to automate your logistics processes?

Before, all our points of sale had their own inventory, which was replenished with goods located in the central warehouse. Sometimes, due to lack of stock, we had to ship products from one store to another, which increased transport costs. When our business took off, we knew we'd have to rely on a centralised logistics platform to store stock for all our retail establishments. This way, we'd reduce the amount of inventory in our bricks-and-mortar shops. We decided to automate our logistics operations because we wanted to remain competitive and ramp up our productivity. Additionally, our shops could no longer hold all the stock we were sending them.

Thanks to automation and the design of this solution, we can manage 60% of our goods in just 5% of our facility's total surface area

What benefits has technology brought?

Through technology, we've reduced the floor space we needed to manage the items we house in our logistics centre. When designing and building the new automated storage and retrieval system (AS/RS), we took into account the large number of SKUs we work with. After expanding our inventory, we were able to accommodate all the products in the AS/RS. Currently, of the 12,000 total SKUs in our logistics centre, more than 9,000 are housed in the miniload system. We have 11,000 locations in the AS/RS — with a ratio of 1.7 positions per item — and an additional margin of 1,000 slots for introducing new products. Now, through automation and the design of this solution, we can manage 60% of our goods in just 5% of our facility's total surface area.

What role does warehouse management software play in FIC's logistics strategy?

Nowadays, any logistics centre needs a warehouse management system like Easy WMS to ensure full product traceability and optimise operator movements. Moreover, the program prepares and groups orders by product family and tracks all SKUs stored in more than 8.000 square metres of floor space. Easy WMS meets all these essential requirements, rigorously monitoring everything happening in the AS/RS in real time.

"Without a software program like Easy WMS, it would be impossible to carry out effective operations"

Beyond traceability, what other advantages does Easy WMS offer?

Easy WMS is an intuitive, user-friendly tool. The program's interface is really well designed, so software training for new operators is fast. Another benefit is its simple integration with other business management programs. In our case, Easy WMS is seamlessly interconnected with our ERP system. This enables us to organise the entire flow of movements comprehensively, from procurement through to the sale of goods. Warehouse digitalisation is a must, especially for large facilities. Without a software program like Easy WMS, it would be impossible to carry out effective operations.

How has the AS/RS helped operators in their work?

With automation, we've cut the number of hours we spend on warehouse operations. That is, if we worked a standard schedule, we'd need three work shifts. Thanks to automation, we've gone down to two shifts: one in the morning and another in the afternoon. Since 60% of our stock is stored in 5% of our surface area, we have great freedom of movement in the remaining space (now occupied by pallet racking). We no longer have congestion in the aisles or too many operators in the same area. Automation has provided us with major advantages. This warehouse layout prevents bottlenecks, so we can absorb spikes in activity by assigning more people to the pallet racking.

Automation has enabled us to double our throughput in order picking and storage tasks

How do you see FIC's logistics operations in the short-to-medium term?

The type of automation we've incorporated isn't fixed, meaning it can evolve with us if we have to scale up our productivity. We can tailor the AS/RS to our needs, which we're already doing. Specifically, we're adding more box conveyors next to the miniload system and an additional stacker crane to absorb the rise in activity. If necessary, we could also work at night because we have a stacker crane that we now only use in the mornings and evenings. Automation makes it easy for us to adapt our logistics operations to the company's business needs. And that's what we do as we grow. Right now, our warehousing processes are efficient and logistics complexity no longer hinders our performance. Plus, we don't need a new building to expand our storage capacity — we can do so internally.

Why is the choice of storage system supplier important?

Mecalux isn't just a supplier; it's a partner that we work and grow with. It gives us the logistics tools we need in the form of automation and flexible storage systems. For us, it's more of a cooperative relationship than a simple customer-supplier relationship. Before starting this project and choosing Mecalux as a partner, we did a preliminary study. We're convinced that with our choice, we can look to the future with optimism and consider expanding into new markets, activities and countries.