14 Sep 2021
The Marketplaces & Ecommerce Platforms Integration module is an extension of the Easy WMS warehouse management system from Mecalux tasked with integrating a company's facility with the main marketplaces and e-commerce platforms in the market (Amazon, eBay and PrestaShop, among others). This software connects Easy WMS to the main digital sales platforms and marketplaces to sync the firm's online catalogue with the stock in its physical warehouse.
In recent years, marketplaces have become one of the most popular online sales channels on the Internet and have fundamentally transformed consumer habits. They comprise platforms that connect vendors with buyers so that they can carry out their commercial transactions easily and securely. Differences aside, marketplaces are similar to a shopping centre, with hundreds of products of different brands in the same space.
Many marketplaces require companies to frequently update their stock and to meet stringent criteria to be able to sell through these platforms. Amazon, in fact, requires an order defect rate of under 1% and a late shipment rate of lower than 4%.
Good logistics are vital to an e-commerce company's success. Against a highly complex backdrop in which same-day deliveries and returns management constitute a true challenge for warehouses, syncing the logistics centre with the various sales platforms is key for offering a high-quality user experience.
For all of these reasons, solutions such as Marketplaces & Ecommerce Platforms Integration from Mecalux are essential for organisations that prioritise these sales channels.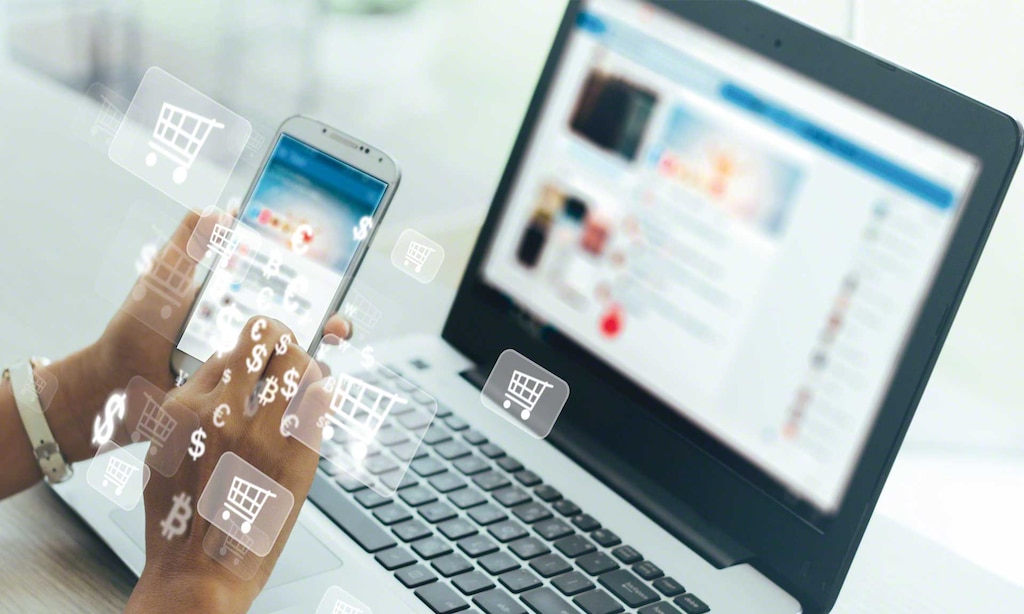 Marketplaces module functions
This application is ideal for businesses that sell via one or more online sales channels: it eliminates errors stemming from manual management and automatically syncs stock on all the platforms.
It is perfectly compatible with the most popular marketplaces and e-commerce platforms in the market, including Amazon, eBay and PrestaShop. Moreover, it integrates new platforms on an ongoing basis.
The Marketplaces module performs the following functions:
Catalogue synchronisation across the various platforms. The stock level for each product is simultaneously and automatically updated on the sales platforms.
Streamlined management of new orders. Immediately after a customer places an order, the module generates a command in the warehouse for the order to be prepared and dispatched as soon as possible.
Updating of order status. Once the order is prepared, Easy WMS notifies the marketplace, which, in turn, informs the customer.
Creation, editing and elimination of products from the item master. For companies that work without an ERP, Easy WMS can create a list of the products sold directly on a marketplace.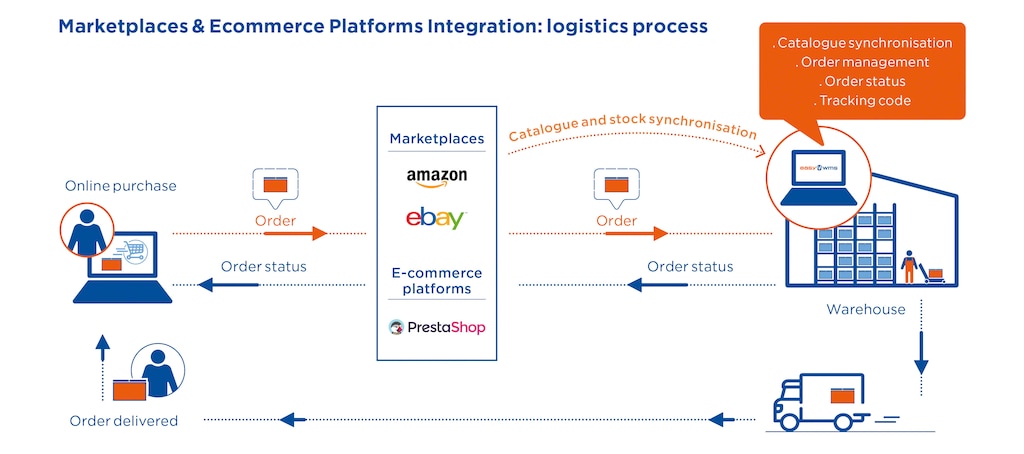 Easy WMS: all-in-one solution for e-commerce retailers
Marketplaces & Ecommerce Platforms Integration complements Mecalux's complete software offering for e-commerce-oriented businesses. This module joins the Multi Carrier Shipping Software and WMS for Ecommerce apps to provide a comprehensive response to all logistics operations, end to end: from the online sale through to the preparation of the order and its shipment by the transport agency.
Easy WMS also has a supplementary solution for companies with omnichannel business: the Store Fulfillment module. This app helps retailers supply and control stock effectively in their network of physical shops.
The combination of all these solutions facilitates the management of highly complex scenarios such as BOPIS (buy online, pick up in store) and BORIS (buy online, return in store).
Advantages of marketplaces & ecommerce platforms integration
E-commerce companies can adapt to an increasingly demanding market, with a multitude of orders to prepare and deliveries in under 24 hours. This solution provides the following advantages:
Automatic communication between the facility and the e-commerce platforms.
End-to-end eradication of order management errors.
Synchronisation of stock between the warehouse and e-commerce platforms.
Streamlined, flexible order management.
Elimination of unnecessary tasks that limit business growth.
Online shop connected to the warehouse
Marketplaces are key to the expansion of e-commerce. Thousands of customers access these web portals to purchase products, which is why retailers need to be present on these platforms and provide customers with a satisfactory shopping experience.
Setting up shop on a marketplace, however, is merely the beginning. There is still much work to be done: managing inventory, controlling purchase orders, preparing orders, expediting them without delay, managing returns, and so on. How can all of these operations be carried out efficiently?
With Marketplaces & Ecommerce Platforms Integration from Mecalux, the best ally for companies that sell online. Its advantages are clear: thanks to automatic communication between the warehouse and the various e-commerce platforms, stock and orders are controlled more accurately, while errors and cost overruns due to manual management are eliminated.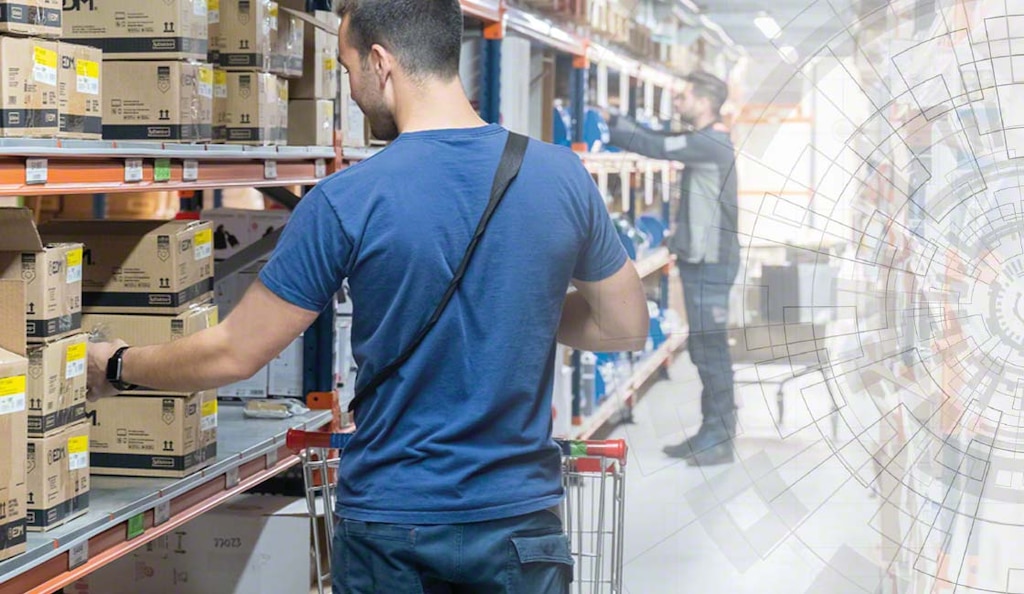 Global Freaks (Spain)
Online action figure shop Global Freaks has digitised and modernised its warehouse in Barcelona, Spain, with a view to providing improved service. With Marketplaces & Ecommerce Platforms Integration — and without the need of an ERP system — Easy WMS has been integrated with the major marketplaces where the firm sells its figurines (eBay and Amazon), as well as the PrestaShop e-commerce platform. Its complete catalogue is found on the Global Freaks website (through PrestaShop); from there, it is shared with eBay and Amazon via Easy WMS.
The Marketplaces & Ecommerce Platforms Integration module connects the WMS to Amazon, eBay and PrestaShop. On the one hand, the inventory on these platforms is regularly updated with the stock available in the warehouse. On the other, Easy WMS knows which orders have been placed and arranges for them to be prepared immediately.