New pallet rack warehouse for Armazém Mateus
04/07/2018
The solid business relationship between Armazém Mateus and Mecalux continues to benefit both companies. Mecalux is now setting up racks in the customer's São Luís warehouse for 32,600 pallets, after installing pallet racks to store more than 90,000 pallets in its Davinópolis distribution centre.
If something works well, leave it well enough alone. Armazém Mateus made a move with that very thought in mind, once again relying on Mecalux to equip its warehouse in São Luís (800 km from the centre of Davinópolis).
The new 32,600-pallet warehouse will consist of 89 m long, 14.7 m high racks. The eight storage levels on the racks will house 1,000 x 1,200 mm pallets, each with a maximum unit weight of 1,250 kg.
Previously, Mecalux had installed 11 m high, 89 m long single-depth pallet racks with a capacity for more than 90,000 pallets in one of the largest distribution centres of Armazém Mateus.
Gabriel Alves de Sousa, Purchasing Manager of the Engineering and Architecture Division at Armazém Mateus, remarks that "Procuring conventional pallet racking from Mecalux helps us organise and separate our items better, as well as speed up order picking. We are perfectly happy to keep expanding our warehouses with solutions provided by Mecalux."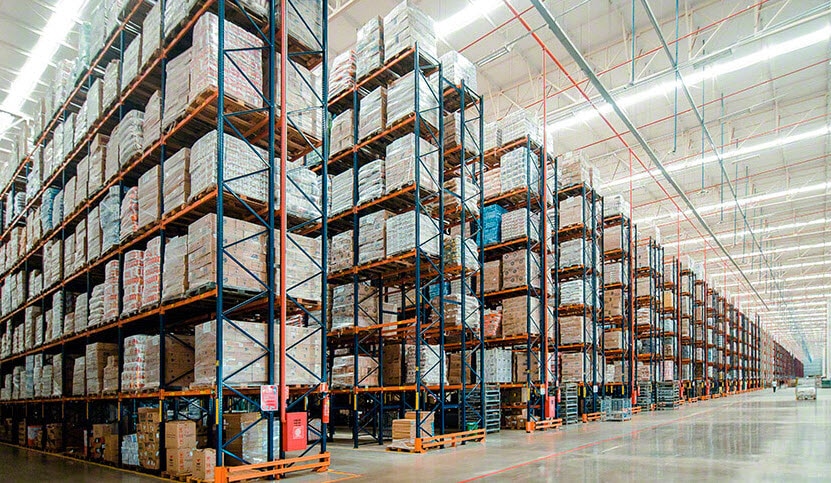 Armazém Mateus: prominent Brazilian wholesaler
Operational since 1990, Armazém Mateus is a Brazilian company that stores and distributes the goods of all the companies that subsume the Grupo Mateus. This group of companies specialises in wholesale, retail, electronics and pharmaceutical sales. Armazém Mateus works with 24,000 SKUs that are delivered to more than 13,000 customers in five different states. Overall, this creates more than 2,700 direct jobs.