The new pallet accumulation roller conveyor
27/01/2017
The R&D&i team at Mecalux has developed an efficient pallet accumulation roller conveyor system that is set up to move between four and eight pallets weighing up to 1,000 kg each, using only one engine.
This mechanism allows the pallets to move automatically along the conveyor without installing motors or sensors in all modules. Sequentially, the pallets continue flowing and move into the free space left by the previous pallet.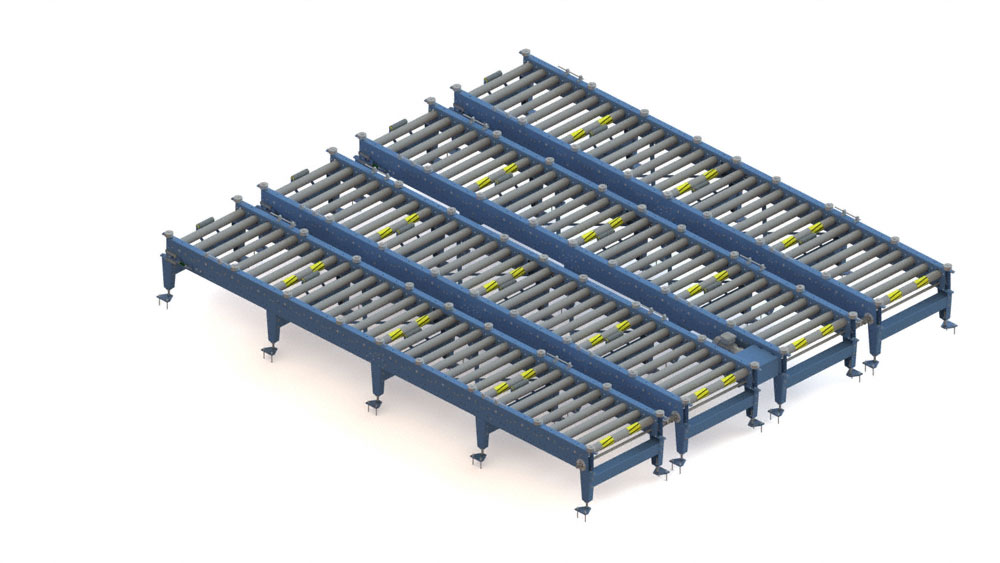 For the system to work, the rollers are connected by loops with transmission belts or chains. Thus, the conveyors are continuously moving and have mechanical drives that, when the pallet is positioned on top, disconnect the roller from the belts, and therefore, stop its activity. Once the pallet advances and the drive deactivates, the movement of the rollers resumes so that next pallet can take its position.
It is most prominently used to connect two different production areas, incorporating as many groups of conveyors as needed. They are also very useful in preload areas: up to four conveyor lines can be syncronised at once, with an accumulation capacity of eight pallets each (a total of 32), with a single motor.
Pallet accumulation roller conveyors are a very innovative solution with the following advantages:
Increased transport capacity at a more affordable investment cost.
Smooth travel speeds (7 m/min)
Valid to operate with any standard pallet (in the case of half pallets they must go in twos or be placed on slave pallets).
Lower energy consumption by using only a single motor to move up to eight pallets.
Easy assembly.
Guardar
Guardar