End-to-end traceability in production processes
This module ensures uninterrupted production by managing the continuous supply of materials to the production line.
Easy WMS effectively coordinates storage tasks such as order preparation and slotting management. By installing WMS for Manufacturing in addition to Easy WMS, you'll gain rigorous control of the status of your raw materials and manufacturing processes, facilitating accurate product traceability.
In fact, systematised management of the production processes makes it possible to track the raw material consumed in each stage. This provides detailed information about each of the materials used to make the final product. Thus, with Easy WMS, you'll have real-time visibility of the inventory that supplies the production lines, of raw material consumption and of the stock of finished and semi-finished products.
BENEFITS OF WMS FOR MANUFACTURING
End-to-end traceability of production processes.
Efficient picking routes for supplying the production lines.
Visibility and control, from goods receipts through to product dispatch.
Control of the actual consumption of raw material.
Synchronisation of procurement and production: just-in-time (JIT) manufacturing.
Prevention of stockouts in the supply chain.
Implementing WMS for Manufacturing from Easy WMS ensures uninterrupted production and optimal product traceability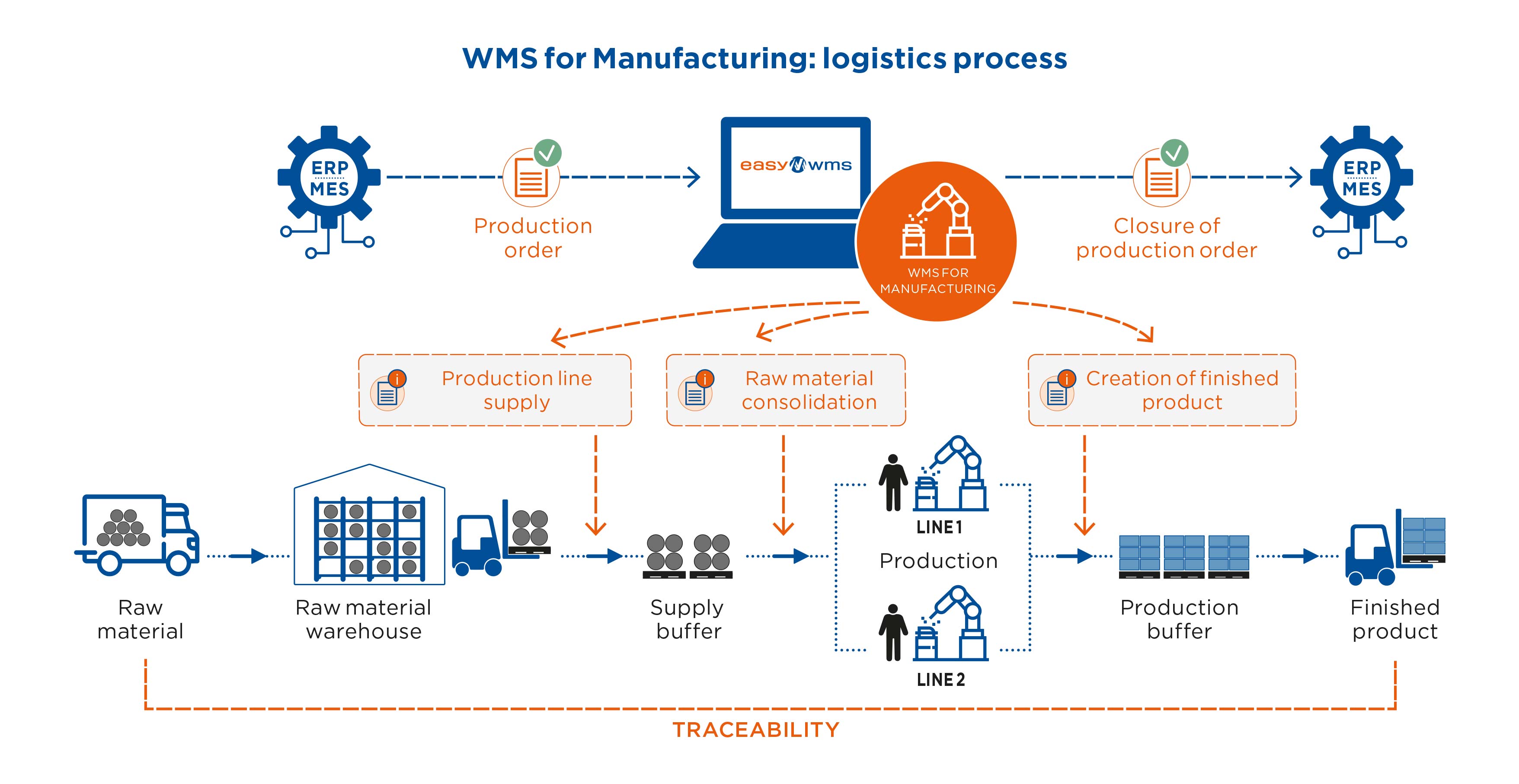 CONTINUOUS PRODUCTION
The WMS for Manufacturing module from Easy WMS controls the transformation of raw materials into finished products based on the production orders and bills of materials (BOMs) of each production line.
It also creates and manages operators' order picking tasks to supply raw materials to the production lines at the right time. Hence, this software carries out real-time synchronisation of the stock in the supply buffers and that of finished and semi-finished goods.
Finally, once the finished (or semi-finished) product has been manufactured, the production order is closed: the software automatically notifies the ERP system of the end of the process and issues the order to transfer the item to the storage or dispatch area.

WMS for Manufacturing: features
Provides each operator with detailed instructions on production materials.
Organises picking tasks to supply the production lines.
Syncs the supply and production buffers.
Generates detailed reports (e.g., on real raw material consumption and defective products).