Plastic pallets, made of injection moulded plastic, are increasingly found in a greater number of warehouses. They have certain pros and cons compared to metallic or wooden pallets.
First, plastic pallets are around half the weight of wooden pallets with the same characteristics. A second advantage is that they are the easiest type to clean, something that is highly valued in the food industry in particular. However, it should be borne in mind that plastic pallets with a complex design require mechanised and exhaustive cleaning, since they have many corners that are difficult to access in which dirt can very easily accumulate.
Plastic pallets can be coloured, and therefore personalised for each user to make them easier to locate and control. They are also more durable, lasting approximately ten times longer than wooden equivalents, and do not suffer as much from the inevitable blows that occur during handling.
However, plastic pallets are not without disadvantages. To start with, they are more likely to become deformed under an excessive load. At the time of publishing this manual, they were also more expensive than wooden ones.
Another disadvantage is that when this type of pallet is damp there is a risk that they will slip on the forks of forklifts, live pallet racking, or on mobile racking units, with the associated risks of falling or sliding.
Lastly, particular care must be taken in relation to their strength. The type of plastic, the thicknesses and ribs used, the mold construction system, and the injection will all have a bearing on their strength and rigidity.
As regards use, plastic pallets normally adhere to the production and dimension specifications of wooden europallets (types 1, 2 and 3). In these cases, their application is the same.
Some examples:

These pallets are manufactured in the same way as wooden europallets. There is no reason why they should cause problems unless they are not strong enough.

This is the half plastic pallet. The same precautions must be taken as for wooden pallets. Care must be taken with the strength of the lower skids.
This model is very similar to the type 2 wooden pallet, with perimeter skids. The restrictions are the same as for those pallets.
Other plastic pallets
There are other types of plastic pallet that require specific handling if used in the different storage systems, and which will require special attention if chosen for use in the warehouse. Some examples of this type of pallet are shown below: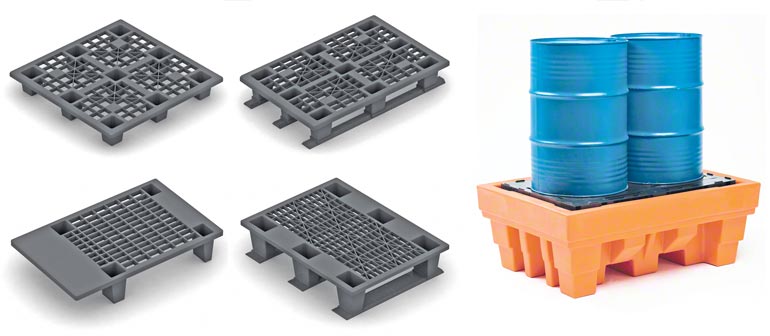 Different plastic pallet models. Image provided by Disset.