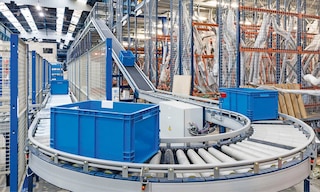 Incline conveyor: customised pathways in the warehouse
30 Aug 2022
Incline conveyor systems have proven to be the perfect solution for moving unit loads automatically between different levels, floors, and working areas in a warehouse or production centre.
This automatic internal transport solution makes it possible to connect two conveyor lines on two different levels to save time when moving goods and gain efficiency in repetitive load handling. How? Installing an incline conveyor between two points in a warehouse ensures continuous flows of goods to different levels and reduces operator travel.
What is an incline conveyor?
An incline conveyor is an automated internal product transport system that joins two conveyor lines located at different heights in a storage or production area. This automatic solution for overcoming uneven levels is suitable for moving various types of loads. It can be configured with different inclination angles and speeds in order to adapt to the characteristics of any warehouse.
Incline conveyors are integrated in automatic conveyor lines to optimise the flow of goods in the facility. Conveyors are internal transport elements that, on top, contain sets of rollers or belts to move goods in a continuous and controlled way.
Likewise, they facilitate the conveyance of products between several levels of a warehouse or production centre, limiting goods handling and, above all, operator and conventional handling equipment traffic.
Conveyor lines are customisable, scalable, and can be adapted to all kinds of facilities. In addition to incline conveyors, automatic box lifts can also be used to move loads between different heights.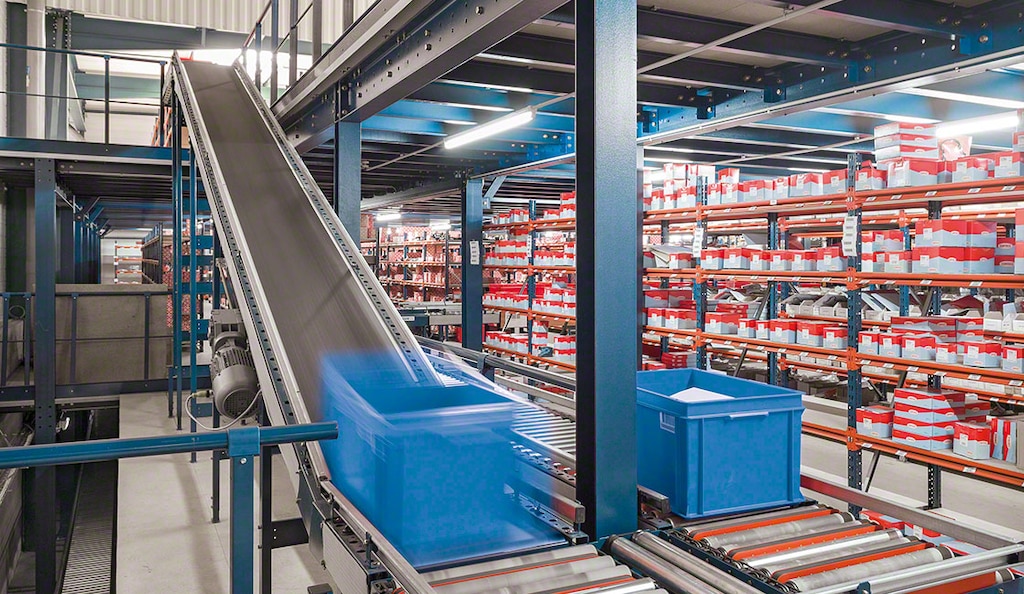 How does an incline conveyor work?
Incline conveyors are integrated in a conveyor line to cover long distances, moving goods between two or more points in a facility. As its name indicates, it's a transport module designed to transfer products between several heights, from the ground floor to a higher level — e.g., a mezzanine — and vice versa.
An incline conveyor consists of a conveyor belt that moves unit loads up or down according to the warehouse flows. Designed to preserve the integrity of the goods, the slope of this internal transport solution is tailored to the logistics needs of each company.
Incline conveyors don't require manual handling: they're controlled by a program that automates the movement of the goods. Each conveyor has modular boxes to control the action, power, and signals it emits. These boxes are connected to the control panel and to the automation program, e.g., a control PC or a programmable logic controller (PLC).
In facilities with a higher degree of automation, where the execution of the movement of the conveyors needs to be coordinated with other automated storage and/or internal transport systems, it is necessary for the control software to communicate with a higher-level application. The program that provides this overall control is a warehouse management system (WMS). A WMS coordinates all the automated equipment in a facility in addition to the movement of the operators and other manual equipment.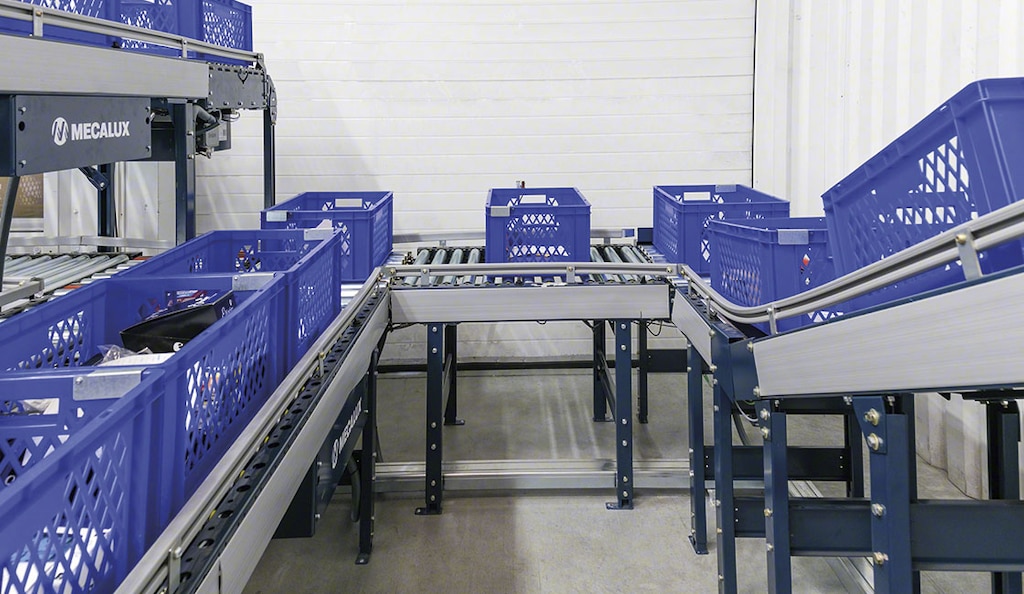 Applications of an incline conveyor
Incline conveyors are typically used to move goods between two or more points at different heights in a logistics facility, i.e., to bring products on one level to the picking or working areas located on another. Automatic belt conveyors are an ideal solution for transferring products between a mezzanine or upper level to the ground floor of the warehouse or the other way around.
The main function of incline conveyors is to guarantee continued, uninterrupted flows of goods between two or more zones in a facility, cutting down on unnecessary travel of operators and manual handling equipment.
Inclined belt conveyors link various areas in warehouses or other logistics facilities such as distribution and consolidation centres. Their great versatility also makes them suitable for installation in production centres, where they speed up movements of goods between assembly lines and connect production lines with temporary storage zones.
The configuration of incline conveyors fosters the safe transfer of goods. They can be implemented in multiple logistics environments, e.g., in cold or freezer stores.
Examples of incline conveyor applications
Warehouses use incline conveyors to bridge gaps in a facility in a safe and agile way. This is the case of audio equipment distributor Algam, which relied on the Mecalux Group to automate its order consolidation area with box conveyors.
"After Mecalux installed a two-level picking mezzanine, we needed a solution that would stop operators from having to climb the stairs to pick items while completing and consolidating orders in the packing area," says Laure Bridault, Logistics Operations Manager at Algam. The box conveyor line set up by the Mecalux Group incorporates incline conveyors to match uneven levels, automatically connecting Algam's warehouse with the picking area.
Another one of our company's many success stories featuring automatic incline conveyors is C.D.A.L, a distributor of spare car parts for wholesalers. For this facility, the Mecalux Group designed a box conveyor line fully adapted to the layout of the warehouse. The conveyor moves prepared orders from the storage area on the upper level to the consolidation and dispatch zone on the ground floor. The line incorporates inclined belt conveyors to bridge the gaps between levels. This automatic conveyor solution allows the constant flow of goods between the warehouse and the consolidation area in addition to increasing the centre's productivity.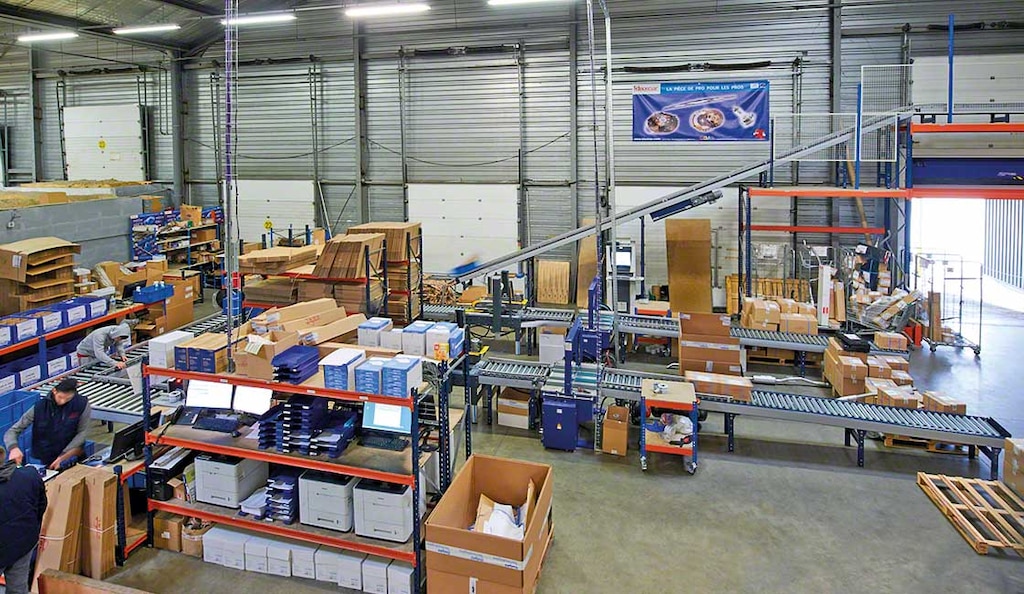 Incline conveyor, an automated solution to bridge gaps
Process automation is increasingly becoming a reality in logistics facilities. An incline conveyor is an ideal automatic solution for streamlining the movement of goods between two or more areas located on different levels. This internal transport system ensures the continuous flow of unit loads to the storage, production, or dispatch zone. Moreover, incline conveyors are a scalable, versatile, and configurable solution.
Mecalux has an extensive catalogue of technology solutions that greatly boost the throughput of logistics operations. Interested in maximising efficiency in your warehouse? Don't hesitate to get in touch. One of our expert consultants will advise you on the best solution for your company.