28 Oct 2020
Mecalux's Movirack mobile storage system is a high-density storage system that optimises the available surface area to boost storage capacity. Installed on mobile bases and equipped with motors and safety devices, the racks move smoothly to open the working aisle selected, providing direct access to all the goods. In this article, we will respond to the most common questions about this system — increasingly used in all types of warehouses and presently implemented in 500 installations around the globe — with the aim of showing their full potential and their contribution to more efficient logistics.

When should I install Movirack mobile racking?
If you want to enjoy the benefits of adjustable pallet racking (direct access to goods, capacity, versatility and FIFO storage), and you also need a high-density system, mobile pallet racks are made for you. They not only offer the same advantages as pallet racks, but also optimise the storage area. All in one.
Likewise, this storage system can be adapted to the particular physical features of any warehouse. This means that the implementation and layout of the mobile racks will take into account all relevant requirements, flows and available space. They can be installed in new facilities as well as existing warehouses in need of renovation. Additionally, these racks are highly scalable: they can be expanded whenever the logistics needs call for this.
Basic components of Movirack mobile racking:
Exterior main power panel
Exterior safety barrier
On-board control panel
Emergency button
Roller track
Guide track
Interior safety barrier
and proximity photocell
Brackets (optional)
Their components and construction characteristics make them ideal in the following situations:
Increased storage capacity in a single space. By minimising the number of aisles, this high-density system accommodates a larger amount of pallets in a specific and limited space, without forfeiting direct access to the products.
Maintenance of the current storage capacity, decreasing the space devoted to storage. In other words, making better use of it. By grouping all the goods in the same place, warehouse space can be freed up and allocated to other operations or to offices.
Order preparation. Operators can carry out picking on the lower levels of the racking, extracting the boxes they need directly from the pallets.
Maximum cold store efficiency. As this is a high-density system, the amount of space requiring a controlled temperature is reduced, as is the cost to keep the temperature cooled or frozen.
Is this a safe storage system?
Absolutely. The racks are calculated and specifically reinforced to ensure that their movements are completely secure. This guarantees the integrity of the goods, the operators and the system itself.
All of these aspects have been taken into account down to the last detail, according to the guidelines of the UNE-EN 15095 standard. In addition, as the racks have the CE mark, they meet the minimum legal and technical requirements in terms of safety. Supporting cross-ties and mesh shelves can also be installed, providing maximum pallet stability. This storage system is also equipped with safety devices to ensure efficient operations without interruptions:
Exterior safety barrier. Safety barriers are fitted to the front part of the installation. These cut off the power the moment any movement in the working aisle is detected, whether made by an operator on foot or in a forklift.
Interior safety barrier. These are longitudinal optic barriers placed parallel to the loading aisle. Their function is to detect the presence of objects or people inside the aisles that would prevent the system from working properly. The racking also includes proximity photocells for a smooth, safe stop.
Emergency buttons. These are located on the on-board control panels or inside the aisles when these are very long. They serve to stop the racks from moving in the event of any incident.
Is this going to cost a lot?
This storage system is not particularly pricey. As opposed to an expense, it is important to analyse this solution as an investment that will help to boost your business.
The return on investment of Movirack mobile racking is assured. By optimizing the available surface area, you will need to spend less on storage space; as the number of locations goes up, the cost per pallet will go down.
Moreover, with this storage system, you will be able to manage your goods much more efficiently by having more warehouse space. An aisle is opened in very little time, and, immediately after, pallets can be inserted or extracted from their locations extremely quickly.
The racks also include an aisle lighting control system that turns on only the lights of the aisle that has been opened. This translates into significant energy savings for your company.
Can I install these racks in cold stores?
Definitely. Although Movirack mobile racking is suitable for warehouses that operate at any temperature, they are particularly fitting for cold stores. The storage system substantially reduces the energy consumption required to keep the cold store at a controlled temperature, thanks to the optimal distribution of cold air among a larger number of stored pallets.
Another advantage is better air circulation during downtimes via the parking option. This increases the separation between racks, evenly distributing aisle space.
What are the advantages of Movirack mobile racking?
If you are left with any doubts about implementing Movirack mobile racking in your warehouse, keep in mind all its benefits:
Space savings. Movirack mobile racking condenses space to multiply the storage capacity of a specific area, providing 100% more capacity compared to static pallet racks.
Cost reductions. Your return on investment is assured thanks to the saving of space, which could do away with the need to expand the installation. In the case of cold storage, these racks also bring down energy consumption considerably by decreasing the volume needed to keep the facility at a low temperature.
Direct access to products. By opening a working aisle, operators gain direct access to the SKUs. This allows the workers to handle them more easily.
Versatility. The racks can be adapted to any type of space. At the same time, they can coexist with other storage systems (whether manual or automatic). Their shelves can hold goods of various weights and sizes.
Scalability. This system is designed to be expanded, adding on more racking units depending on the company's requirements. Likewise, the racks can be easily disassembled if they need to be moved to another location.
Maximum safety. Movirack mobile storage system is fitted with safety devices (emergency buttons, interior and exterior barriers, and proximity photocells) to protect operators and the stored goods.
Efficient management. To make the most of these racks, a warehouse management system (WMS) such as Mecalux's Easy WMS can be incorporated. This devises stock location strategies based on operations and guides operators at all times.
Mecalux guarantee. All components of the Movirack system are of the utmost quality. Mecalux is a sole supplier responsible for designing and implementing these racks in compliance with regulations, ISO quality and environmental management certifications, and all guidelines relating to these types of installations.
---
This wholesale company specialising in seafood, smoked fish and frozen fruit and vegetables had to expand its logistics facilities to absorb the products it distributes throughout Europe and cope with the rise in sales.
For this project, it knew it had to install Movirack mobile racking, as this would increase the storage capacity and above all, facilitate order preparation.
René Mooijer - Managing Director of Mooijer-Volendam B.V.
"Movirack mobile racking leverages all of our warehouse surface area and provides the storage capacity necessary to supply our customers. Plus, the aisles are wide enough for workers to operate in and, especially, to carry out picking."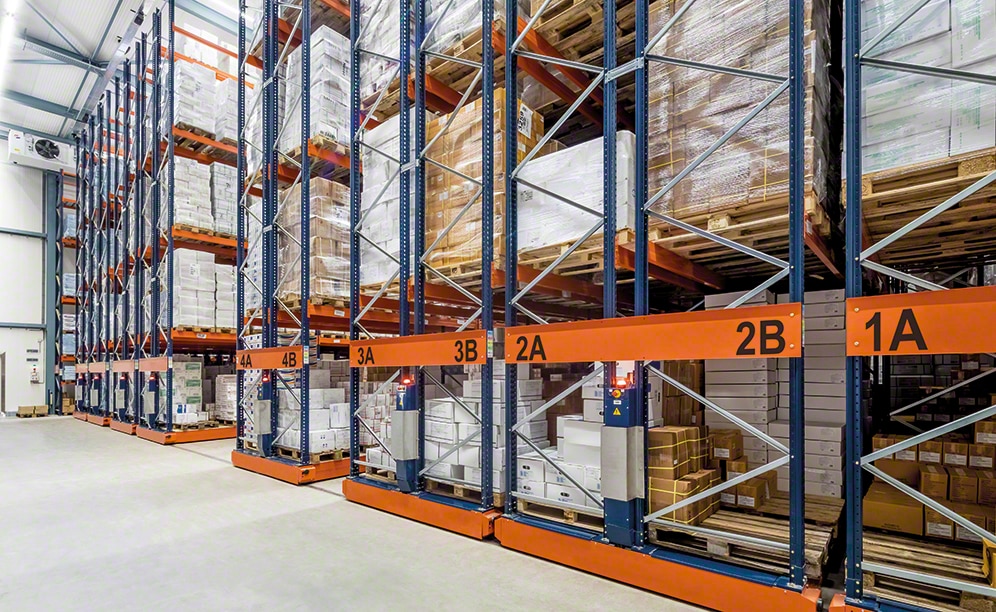 ---
This Italian firm has tripled its storage capacity, thanks to Movirack mobile storage system. Before, its adjustable pallet racks could hold only 600 pallets. Now, in the same surface area, they can store up to 2,032 pallets containing paper and plastic reels and rolls.
Youri Beltrame - Owner of Besafilm
"Movirack mobile racking has exceeded our expectations. We are especially pleased with the storage capacity gained without having sacrificed the direct access to the products. After using the racks 24 h a day for an entire year, we have not had a single problem."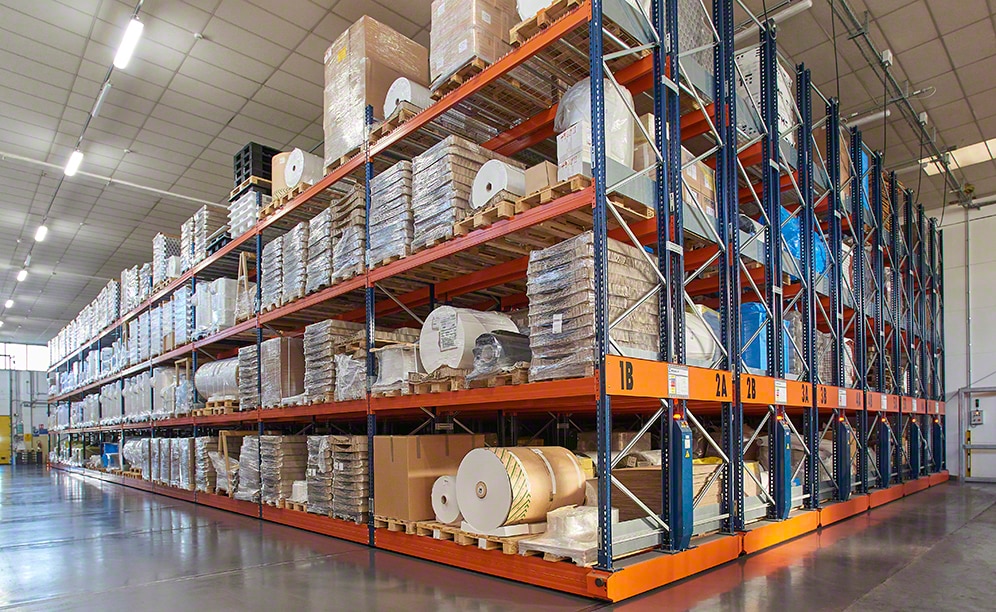 ---
One of the largest groups in Spain's meat sector has boosted its storage capacity to accommodate the rise in production and extend its sales network. The business has commissioned two new warehouses that operate at a controlled temperature of -28 ºC. They are equipped with mobile pallet racking with a capacity of 19,506 pallets.
Xavier Roca - CEO of Càrniques Celrà and Càrniques de Juià (Olot Meats Group)
"We are extremely satisfied with the two installations that Mecalux has fitted out for us. Our employees have learnt how to use them very quickly, and our operations are more efficient. We can now carry out exhaustive control of the goods. Another plus: the assembly of the Movirack mobile racks took place within the agreed-upon deadlines."