05 Oct 2022
BUSINESS FOCUS
In warehousing, predictive analytics consists of applying a set of techniques and technologies such as data analysis, artificial intelligence and machine learning to optimise logistics processes, understand customer behaviour and anticipate market changes before they occur. Mecalux applies predictive analytics to plan demand and configure scenarios to help companies adapt to changing environments.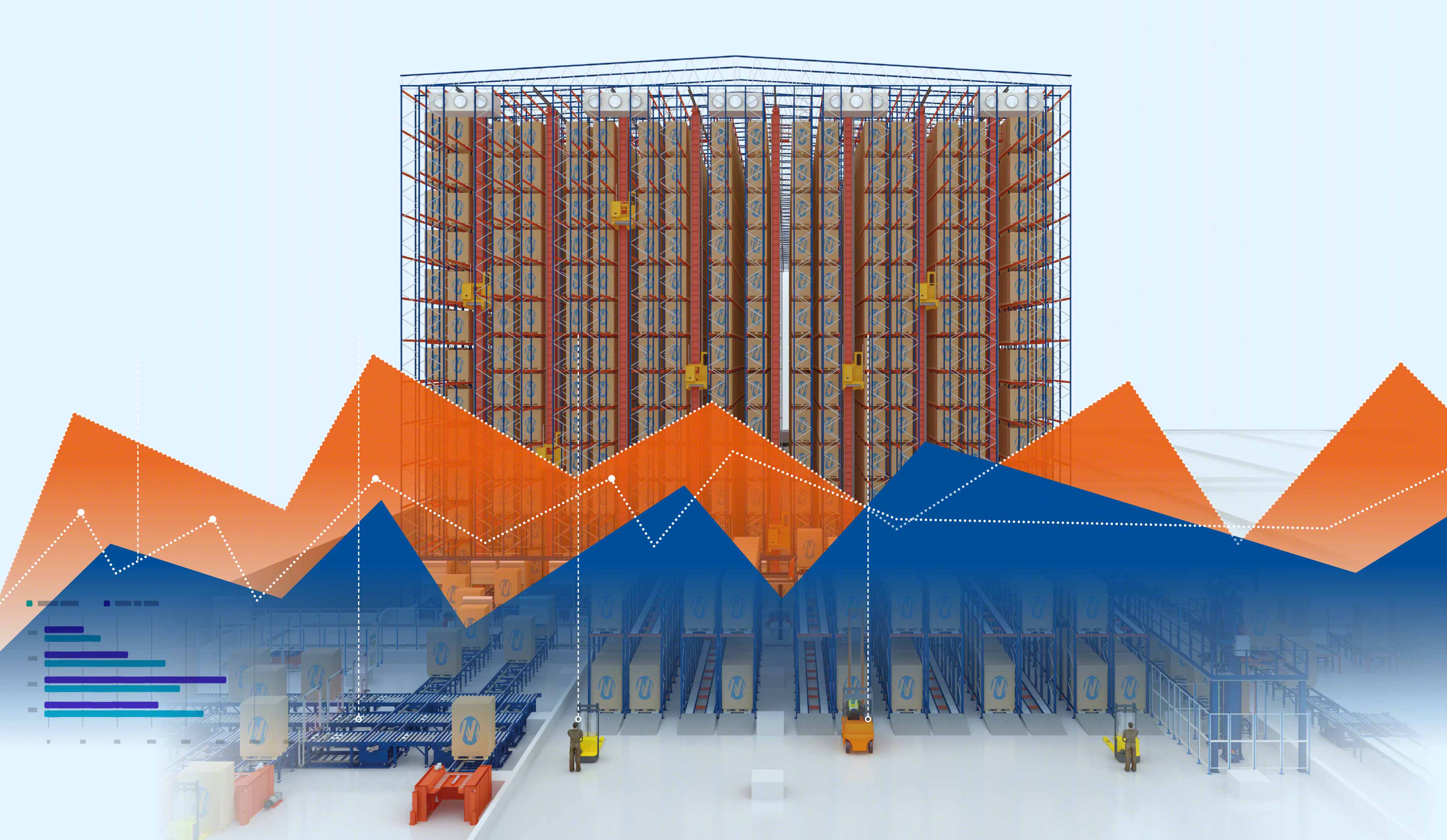 Logistics is becoming increasingly demanding: companies have to adopt flexible strategies to cope with market fluctuations, adapt to changes in consumer habits, ensure deliveries in the shortest time possible and maximise efficiency in all operations, among other challenges.
How can businesses adapt to changes quickly while still meeting their customers' needs at all times? One of the most effective solutions is predictive analytics, which enables organisations to forecast the changing demands of the supply chain. With predictive analytics, companies can predict consumer behaviour and organise storage and order picking tasks in advance, among other functions.
Predictive analytics is a growing trend. With the help of advanced technologies and data analysis, businesses are overhauling their supply chains to achieve greater throughput. According to the report Innovation Driven Resilience published by the Material Handling Industry (MHI) trade organisation in cooperation with Deloitte, 31% of companies are already using predictive analytics in their businesses. The report also finds that this figure is expected to increase by 48% over the next five years.
What is predictive analytics?
In warehousing, predictive analytics consists of applying different statistical techniques to the data generated in a logistics facility to carry out a detailed analysis of all operations, plan resources, measure business performance and make strategic decisions. Although it does not predict the future, predictive analytics helps create mathematical models that determine the degree of probability of any scenario based on patterns and trends.
Warehouses generate huge amounts of data with enormous potential. Predictive analytics uses a broad set of current and historical data to foresee scenarios and improve business decision-making. With this information, companies can forecast the correct product quantities to store for each SKU, the space to house all the items, the number of operators and shifts required and the safety stock needed to prevent interruptions in service.
Predictive analytics uses historical warehouse data to forecast scenarios and facilitate strategic decision-making
A report from the MIT Center for Transportation & Logistics contains examples of organisations that are successfully embedding predictive analytics in their supply chains. These include a transport agency capable of predicting when containers will be unloaded and when carriers will be ready for the next load, and a company that has managed to anticipate the ideal time to ship orders. With predictive analytics, businesses look to minimise risks in their supply chains and avoid possible interruptions and delays.
How does Mecalux apply predictive analytics?
Mecalux Software Solutions, the Mecalux division dedicated to the development of the Easy WMS warehouse management software program, applies predictive analytics to detect areas for improvement in the supply chain. Used in over 1,000 warehouses in 36 countries, Easy WMS software can be implemented in logistics facilities with manual or automated operations.
Mecalux analyses data on the operation of the Easy WMS management software, as well as the movements made in the warehouse. With all this information, the team can create statistical models on customers' logistics operations and make predictions by designing possible scenarios.
Through Mecalux's Easy Monitor tool, companies can oversee everything that happens in their facilities to react proactively to any possible incident or drop in performance. The program collects warehouse data and applies machine learning strategies to analyse the situation and help customers make decisions that improve their operational throughput.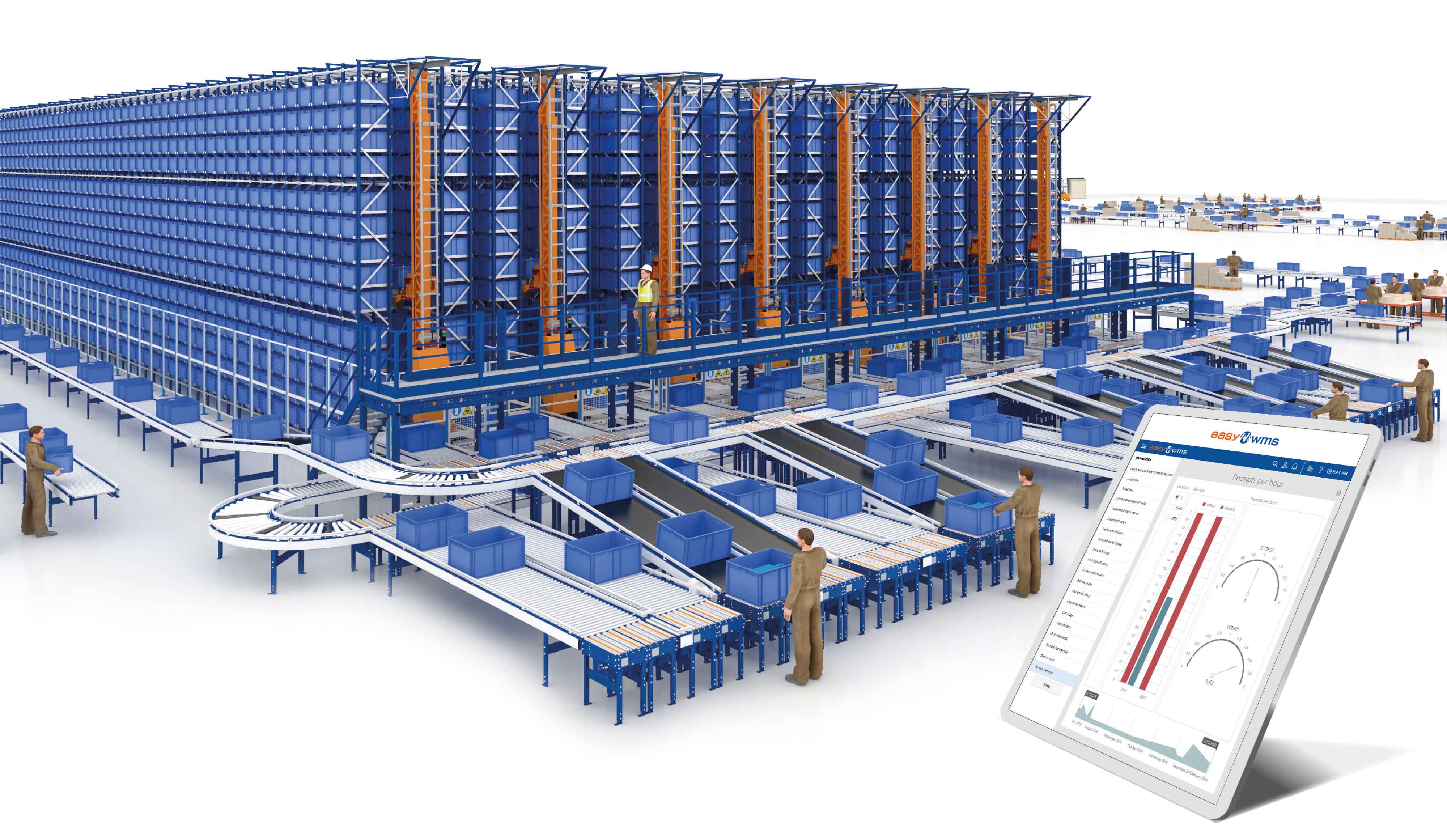 Using predictive analytics, Mecalux advises its customers and provides them with flexible solutions to address challenges in three key supply chain processes: order picking, stock management and goods dispatch.
Improved order picking
One challenge in any logistics facility is management of growing numbers of orders. Predictive analytics makes it possible to organise picking in advance, taking into account variables such as the size and number of orders to prepare, the operators needed to perform the task and the speed required to ensure deliveries within 24 hours. With predictive analytics, Mecalux can predict the number of items an order should include without previously knowing the volume of the products. The purpose is to find out in advance how much space is needed to accommodate the prepared orders: the system can know how much the boxes containing orders will occupy before they are even prepared. Predictive analytics also helps in planning order picking to avoid delays and ensure that goods are dispatched promptly. For example, companies can foresee the most appropriate type of container or box to pack products in or how long it will take to complete an order.
Effective inventory management
Efficient management of stock with predictive analytics is essential for being able to perform all operations in a warehouse. Companies can devise a slotting strategy for optimal stock distribution, ensuring high throughput in the facility. Mecalux uses historical data to forecast sales and product consumption.
With objective data on their products and with sales predictions, businesses can define reliable safety stock levels to satisfy customer demand. Applying predictive analytics to inventory management cuts down on overstock in the warehouse, which could lead to the deterioration of the goods and increased storage costs. Likewise, predictive analytics prevents companies from experiencing stockouts.
Dispatch efficiency
A priority of any organisation is to make sure that order shipments go out on time. Applying predictive analytics in the goods distribution stage lets companies formulate strategies for scheduling loading dock occupancy, planning delivery routes and optimising communication with carriers. With predictive analytics, businesses can detect ahead of time whether any type of risk might prevent an order from being prepared within the projected time frame. This information based on objective data enables companies to make decisions such as, for example, whether to set up an additional pick station or to assign more staff to goods dispatch. The basic objective is to guarantee that orders are delivered to customers at the agreed-upon time and place.
Predictive analytics: the power of data
Data drive companies' economic growth. By measuring all processes, organisations obtain a detailed map of their situation and of the quality level of their logistics facilities. Predictive analytics provides greater control over operations and lets businesses apply measures that are conducive to optimal processes to adapt to changing environments.
With all the information generated in a warehouse on a daily basis, predictive analytics has enormous potential for assessing current business models and introducing strategic improvements to cope with any possible market changes. Mecalux works with predictive analytics to help its customers modernise their supply chains and adapt them to new needs more effectively and successfully.