Mercadona launches online supermarket with Mecalux picking shelves
14/06/2018
Mercadona, leader of the Spanish supermarket sector, has invested 12 million euros in the construction of a new distribution centre to sell its products online. Located in the Vara de Quart industrial polygon of Valencia (Spain), Mercadona has set up Mecalux picking shelves, which offer nearly 3,000 metres of linear shelving space. Allocated exclusively to e-commerce, it is the first of its kind for the Valencian supermarket chain.

The new logistics centre, which occupies 13,000 m2, has 325 picking shelf modules to store the products Mercadona sells: dry, refrigerated and frozen goods. The 2.5 m high picking shelves, with either 3 or 4 storage levels depending on which box size it holds, are ideal when storing multiple SKUs of varied rotations.
The new order picking system that Mercadona has set up in its e-grocer warehouse has quadrupled productivity and efficiency, compared to the current in-shop order fulfilment system.
Juana Roig, general manager of the company's e-commerce project, points out that: "Mercadona is new to the digital world and we have a lot to learn. However, we believe that, with a humble attitude, hard work and Mercadona's strong internal structure, we are in a perfect position to undertake the challenges of online food sales.".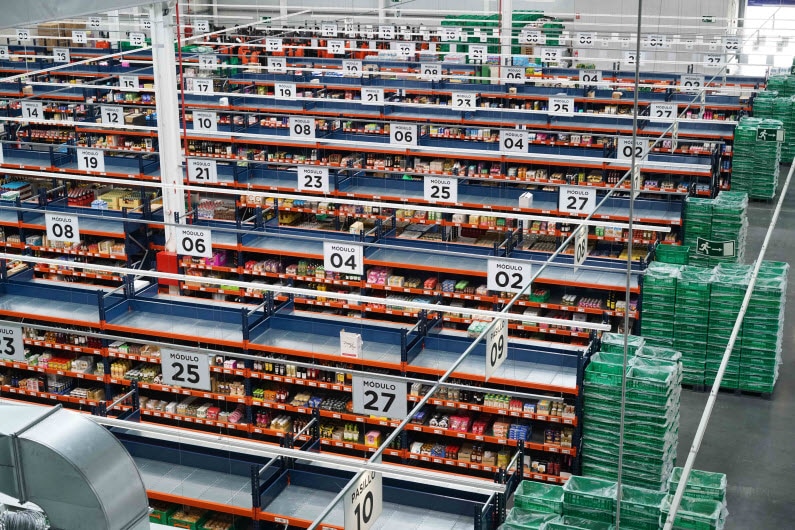 Mercadona: e-sales leader
Founded in 1977 by the Cárnicas Roig Group, Mercadona is the top supermarket chain in Spain. Currently, it has more than 1,625 stores nationally and a staff of 84,000 workers who strive for excellence in daily customer care. Thanks to this team, 5.2 million households swear by the Mercadona name every year. Moreover, with sales revenues of 198 million euros in 2017, this Spanish supermarket chain outsells the competition in online sales.