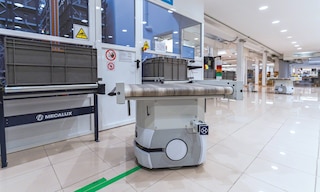 This is how AGV robots work
24 May 2022
AGV robots are automatically guided handling equipment that came out during the mid-20th century to speed up movements of goods in warehouses and production centres.
These automated guided vehicles move autonomously, without having to be driven by operators. AGV robots can be categorized according to the method they use to move. Wire navigation, optical navigation, and vision navigation are the most popular.
What's an AGV robot?
AGV robots — also known as automated or automatic guided vehicles — are vehicles employed in logistics and manufacturing contexts to move goods between the different areas of a warehouse or production centre.
The main characteristic of these types of handling equipment is that they don't require an operator at the helm. Instead, they move autonomously between two or more points by means of the application of technologies such as laser navigation and machine vision. AGV robots move along pre-designed routes and can carry all kinds of loads.
Nevertheless, this solution could prove insufficient in logistics centres with high flows of goods and fixed transportation routes. In these cases, fully automated solutions such as conveyors for boxes and pallet conveyor systems ensure a higher rate of stock movement.
Recent years have seen the development of AGV robots with AI (artificial intelligence), known as autonomous intelligent vehicles (AIVs). These conveying systems are ideal for warehouses with a need for high flows of goods and that don't have permanent routes.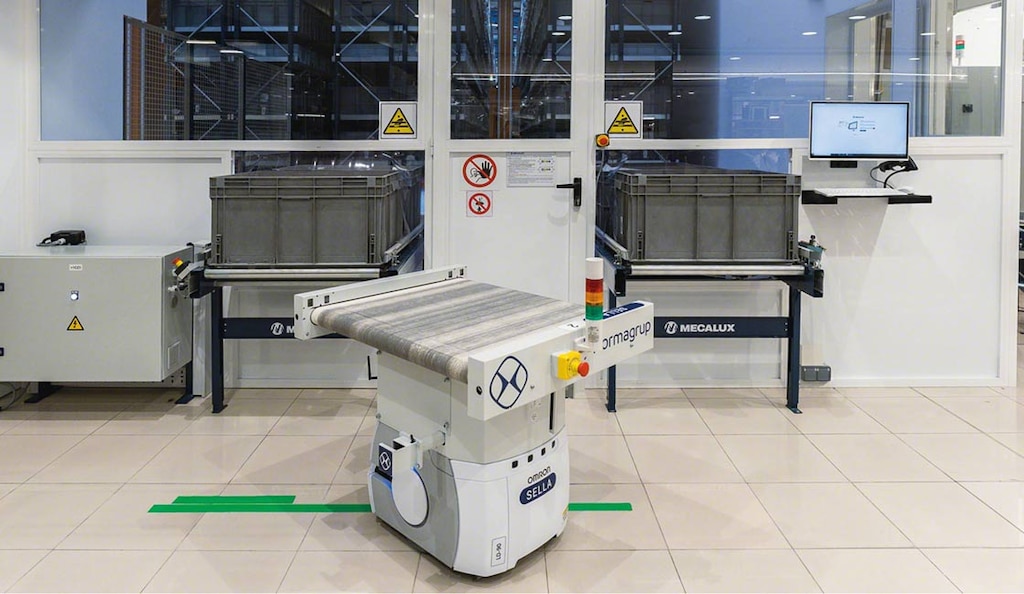 What are the applications of AGV robots?
AGV robots are responsible for performing logistics operations such as distributing stock between the different storage areas in the facility, loading and unloading goods in the receiving and dispatch zones, and other tasks. As AGV robots can transport heavy loads, they are also used in production centres to move parts of different sizes to the assembly lines. These are some of their most common applications:
Truck loading and unloading: AGV robots can perform the functions of a forklift or other type of conventional handling equipment. For example, these robots can remove or load goods onto trucks autonomously.
Product storage and retrieval: AGV robots can place items in their corresponding storage locations and move goods to the order fulfillment area. These movements of stock facilitate agile, safe, and automated replenishment of the racks and the pick stations, for both the products and the operators.
Connection with the production centre: AGV robots can be configured to transport large, heavy, and bulky goods. This makes AGV mobile robots a go-to option in warehouses located near production centres. The automatic guided vehicles transport the loads to the assembly lines, especially in sectors such as the automotive and airline industries.
Distribution for kitting: AGV robots don't just move heavy goods; they also distribute stock in facilities with kitting stations. Following a predetermined route, these autonomous vehicles streamline the replenishment of goods to the different kit assembly stations, delivering stock in the exact quantities required.
AGV robots are employed in all kinds of sectors, from manufacturing (e.g., in just-in-time environments, where they supply the production line with goods when the time is right) to the food and beverage, pharmaceutical, and automotive industries.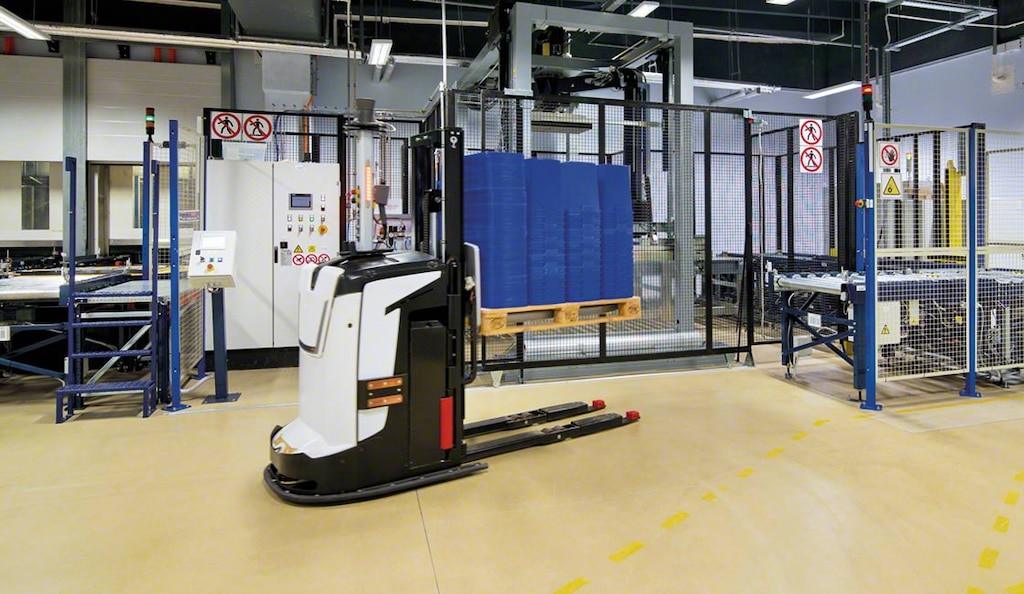 How do AGV robots work?
As a general rule, an AGV robot consists of five essential elements: a navigation system, safety system, power system, motion system, and vehicle controller.
Navigation system: this is the part of the AGV robot responsible for receiving and processing information to follow the preset route or direction and drive the vehicle. There are multiple types of navigation, including laser, wire, and magnetic, among others.
Safety system: each AGV robot has safety components adapted to its functions, ensuring that movements are executed in the safest way possible. One example of a safety system would be laser scanners, which stop the vehicle when there's an obstacle in its path.
Power system: automated guided vehicle robots have a battery that provides them with the energy they require to move. Each type of AGV robot will have a different battery and charging method based on the needs of the warehouse or production centre.
Motion system: AGV robots integrate multiple components that enable the vehicles to move and perform tasks. This category runs the gamut from motors and wheels to the mast and the hydraulic system used by the robot to lift the load.
Vehicle controller: AGV robots are guided by means of a programmable logic controller (PLC), which articulates the information received from the software and facilitates the autonomous movement of the vehicle.
In any event, the movement and workflows of AGV robots depend on the commands of a higher-level program such as a warehouse management system (WMS). This software coordinates everything occurring in the logistics facility and syncs the tasks of the different automated systems that operate in the warehouse.
AGV robots: success stories
Easy WMS, the warehouse management software from Mecalux, controls the logistics processes of all kinds of facilities in which AGVs operate worldwide.
One example is the centre of Normagrup, a leading Spanish company in the emergency lighting sector. Normagrup has four autonomous intelligent vehicles (AIVs) that link its production lines with its AS/RS for boxes, where raw materials are kept. Easy WMS connects the software that manages the AGV robots to notify them that an item has left the AS/RS. A vehicle can then pick it up and bring it to the production line that requires it. "As all movements are automatic, the miniload system has been seamlessly integrated with the other automated processes at the centre," says a Normagrup spokesperson.
In Poland, biotech business Novartis has an automated rack-supported warehouse connected to its production lines by means of AGV robots. The software from the Mecalux Group is charged with organizing the goods in the warehouse and ensuring that they're sent to the production lines at the right time. According to Tomasz Marchewa, Supply Chain Manager at Novartis, the company decided to incorporate AGV robots because "automating was a priority for Novartis, even for in-warehouse transport."
Internal goods transport is actually the main function of AGV robots in a warehouse. This is precisely the job carried out by AGV robots in the automated facility of Clairefontaine in Alsace, France: AGV forklifts move the goods between the storage zones and the receiving, picking, and dispatch areas. The Clairefontaine facility also employs the Easy WMS warehouse management system to control and coordinate all the company's logistics operations.
AGV robots for autonomous goods movements
AGV robots are an automated solution for speeding up flows of stock between the different areas of a warehouse or to connect a logistics facility with a production centre. Except for those that incorporate AI, however, most AGV industrial robots have to follow predetermined routes and directions.
To overcome that limitation, companies can complement AGV robots with higher-throughput automated solutions ― i.e., stacker cranes and conveyors — or with autonomous mobile robots (AMRs), which travel through the facility without the need for a fixed route.
Interested in installing automated solutions to boost your logistics centre's throughput? Don't hesitate to contact us. An expert consultant will advise you on how to make the most of your company.