17 Jun 2021
Being armed with eBay inventory management software is essential for ensuring efficient e-commerce logistics operations in companies that have a sales channel through this portal.
With over 180 million active users, it is, together with Amazon and AliExpress, one of the world's three biggest marketplaces. In this post, we examine how to synchronize orders with warehouse stock by using specialized eBay sales software.
The logistics behind eBay sales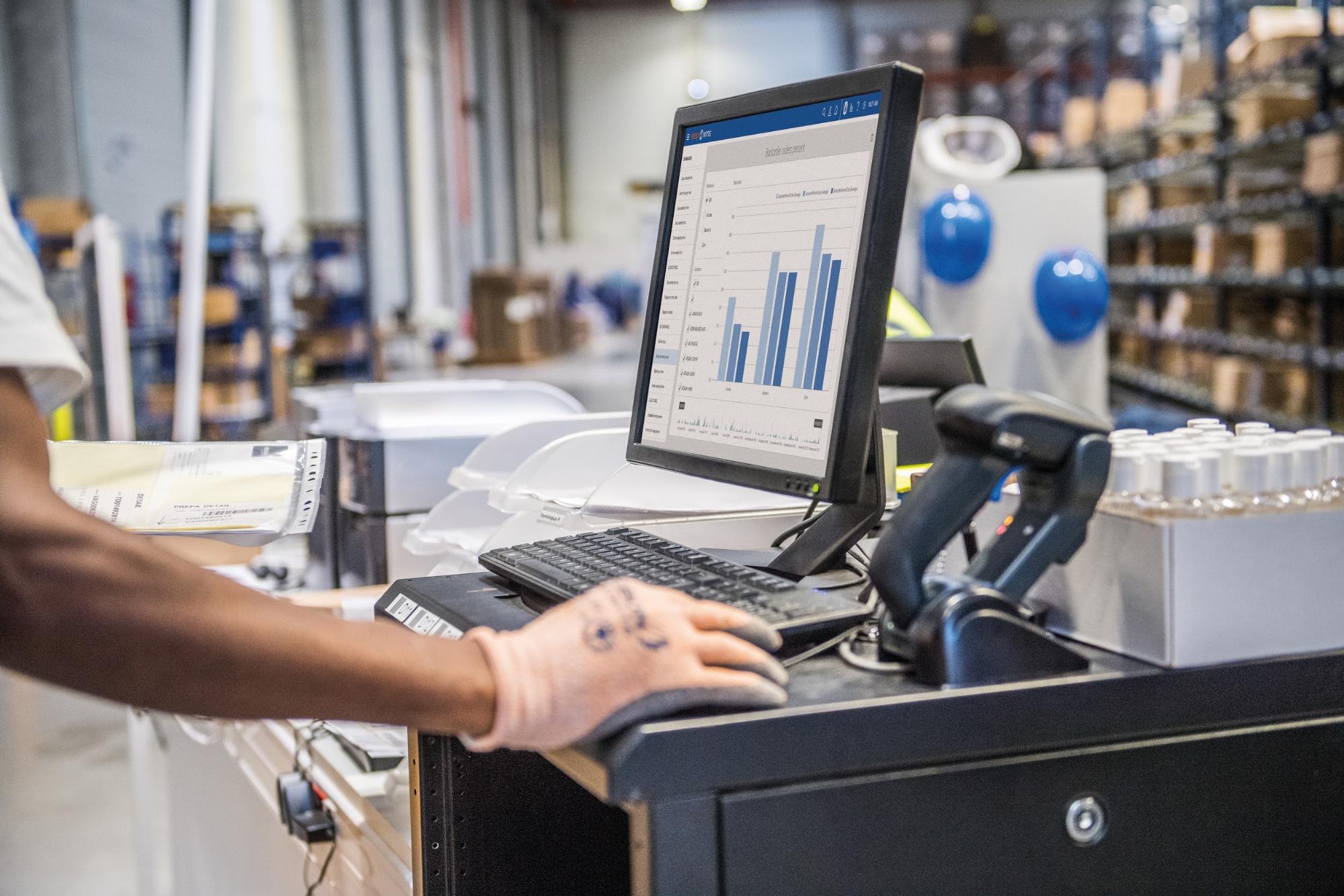 The main challenge of selling on eBay lies in having total control of stock in the warehouse and coordinating it with that listed on the website — and this can become even more complicated if the business has its own online store.
Companies that have an eBay sales channel need to fine-tune their profiles and invest in optimized content to appear at the top of the site's search results. Nevertheless, this investment is all for naught if the organization's logistics system is inefficient. The online store must be updated and synced with the warehouse stock.
But how is this done? Management of stock and of eBay orders with pen and paper or tools such as Excel isn't enough when faced with high sales volumes. Therefore, many companies rely on stock management software integrated with eBay, which syncs the marketplace catalogue with the actual stock in the installation.
How does stock management software work with eBay?
eBay inventory management software aims to provide logistics managers with total control of stock movements and orders in the storage facility and online, respectively.
These types of computer programs coordinate the offering on the webpage with stock in the warehouse, automatically updating the item master.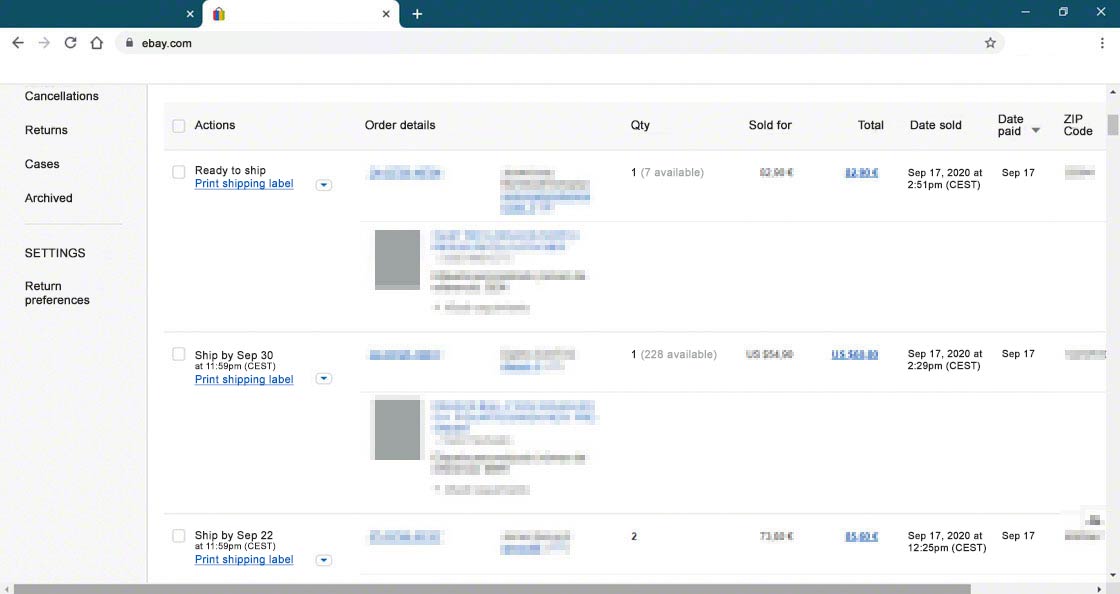 To provide logistics information — amount of stock per SKU or order status — this application must be connected, by means of an API (application programming interface), to a more powerful program, for instance, a warehouse management system (WMS) or an enterprise resource planning (ERP) system.
In fact, management of eBay sales can be automated by implementing a WMS, which consists of software charged with coordinating operations in an installation. The WMS is connected to eBay, so when an order is placed, the notification to prepare it is triggered in the warehouse; simultaneously, the stock is updated and synced (both internally and on the website).
In the case of Mecalux, our warehouse management system, Easy WMS, features the Marketplaces & Ecommerce Platforms Integration module, which updates stock and order statuses on several online platforms, including eBay. The module is coordinated with the warehouse to streamline logistics as well as with the billing department.

Advantages of deploying a WMS synced with eBay
Having a WMS complemented by a management module for eBay provides the company with:
Total, real-time stock control: the implementation of a WMS lets the company know the number of SKUs it has at all times.
Automatic synchronization of warehouse inventory with the marketplace(in this case, eBay): the software coordinates entries of new orders with exits of dispatched products to facilitate the work of the operators in the installation.
Easy, flexible management of e-commerce orders: against a backdrop of increasingly personalized orders, the app guarantees reduced errors, from customer purchases to last-mile management.
WMSs are always incorporating new functions that help logistics managers to organize their tasks and make wise decisions. From dispatch management to the optimization of value-adding tasks, WMSs have gone from being inventory management programs to becoming the true brain of the warehouse.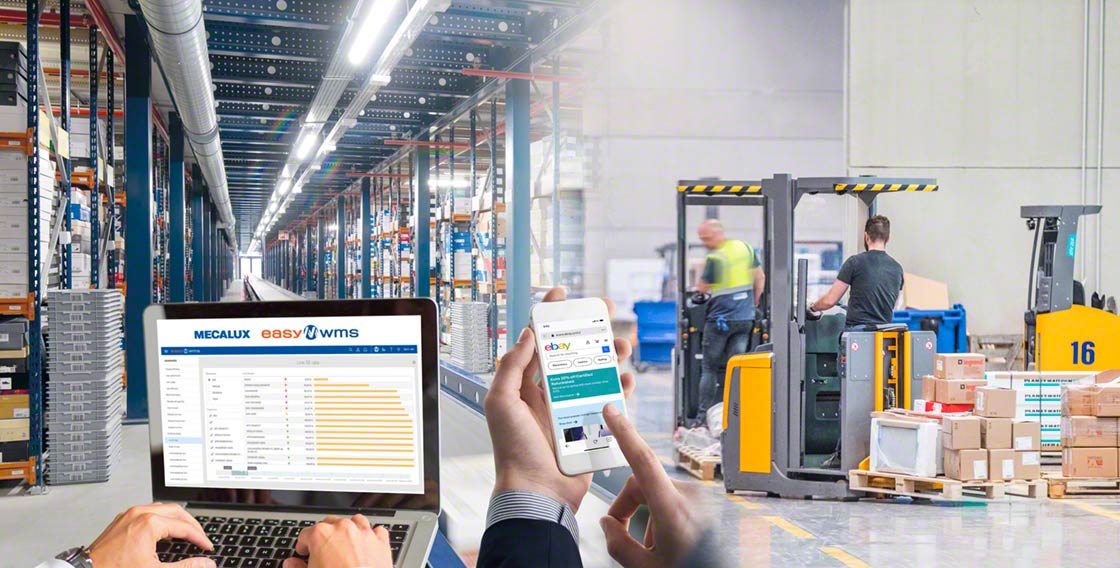 Digitization to multiply throughput
Managing an online sales channel is no easy task. Selling on de eBay requires flexibility and efficiency to comply with this platform's criteria.
Up against this e-commerce avalanche, digitizing logistics processes is the answer to improving the performance of warehouse operations and ensuring their efficiency. A WMS is the all-in-one solution for tackling e-commerce and all it entails. Besides the specific extension we've showcased in this post, Easy WMS from Mecalux features various modules that add functions, such as: effective dispatch management (Multi Carrier Shipping Software), synchronization of stock in physical stores and that of the warehouse (Store Fulfillment), and agile management of online orders and returns (WMS for Ecommerce).
If you're interested in doing away with errors and inefficiencies in online sales, don't hesitate to contact us. One of our expert consultants will advise you on the best digital solution for your business.