Ecommerce warehouse automation: efficiency in the face of changing scenarios
23 Feb 2023
Ecommerce warehouse automation consists of implementing technologies to boost logistics performance. Companies' commitment to the Industrial Internet of Things (IIoT), artificial intelligence (AI) and machine learning maximises operational productivity and promotes efficient service.
In warehousing, automated solutions are taking the market by storm. This is reflected in a report by technology consulting firm ABI Research: "the warehouse automation market is forecast to reach $51 billion by 2023," a compound annual growth rate (CAGR) of 23%.
According to a McKinsey analysis, ecommerce warehouse automation enables companies to take on the dynamic challenges of the sector: "Many of these technologies — for example, automated guided vehicles (AGVs) or the next level of automation AMRs as unmanned transport next to warehouse employees — have proved their effectiveness at scale in addressing the challenges of traditional e-commerce warehouses, such as labor shortages, SKU-complexity growth and increasing service expectations."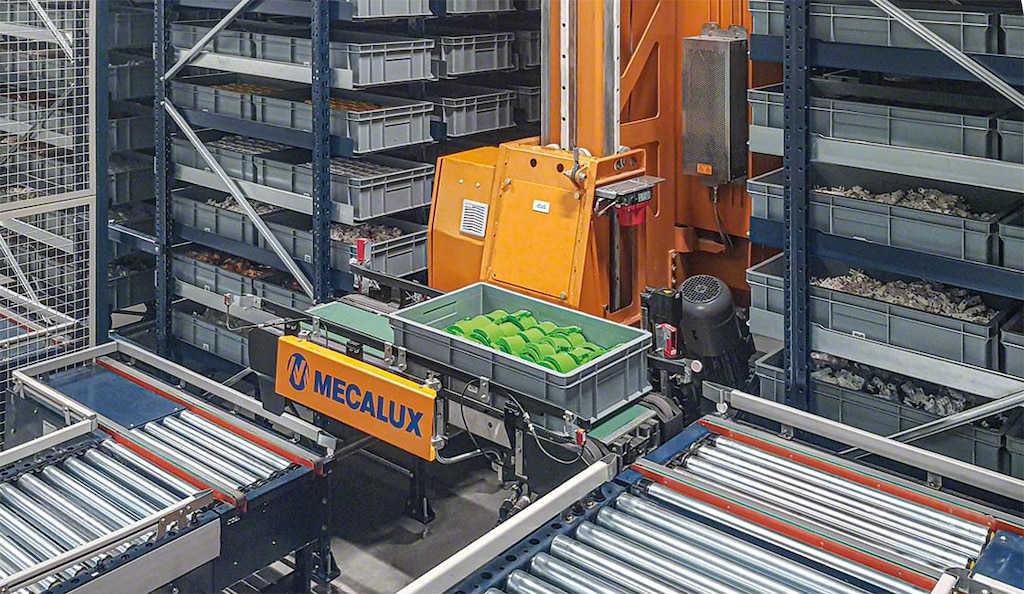 To choose between the numerous automation options available, "retailers must have an informed perspective on where automation can create value, reduce risk and improve reliability across an increasingly complex network of fulfilment nodes. Retailers should then use a three-step process — strategy, design and implementation — to translate their vision into an optimal automated warehouse," say the McKinsey analysts.
Ecommerce facilities can automate one or more logistics operations to ramp up throughput. This is especially effective for repetitive tasks such as movements of goods and order picking.
Advantages of ecommerce warehouse automation
Implementing automated storage and order picking systems in an ecommerce facility brings you multiple benefits, for instance:
High productivity in storing and retrieving goods and in transporting products between the different areas of your centre.
Uninterrupted operations with continuous workflows and the possibility to work 24/7.
Elimination of errors in operations, from goods receipt to order picking and dispatch.
Greater storage capacity by making the most of your available surface area. Plus, implementing handling equipment like stacker cranes leverages your facility's height.
Safety for your operators, materials and storage systems. Automated systems protect all elements operating in the building.
Ecommerce automation lets you adjust your warehouse processes to customer requirements. The goal of any online store is to gain competitiveness and be ready to handle increased demand.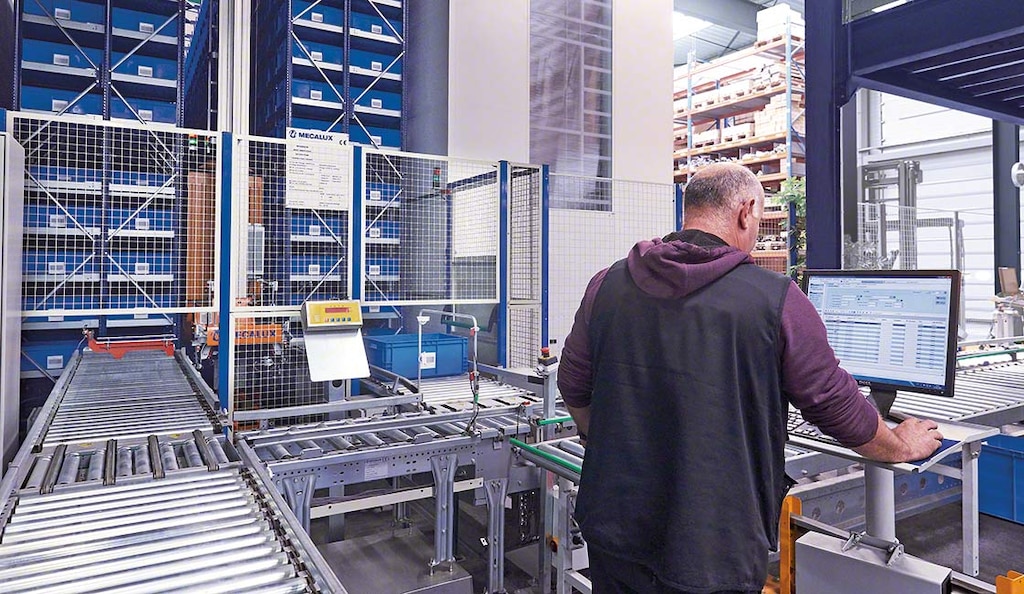 Ecommerce warehouse automation solutions
In ecommerce facilities, the most common operations to be automated are the movement of goods, product storage and retrieval from the racks and order picking.
In manually run ecommerce facilities, operators typically travel long distances during the picking and replenishment processes. To improve the productivity of warehouse pickers, companies turn to automated solutions that facilitate goods-to-person order picking. With this method, operators remain at their pick stations as automatic conveyors automatically bring them the goods they need. The advantage of this system is that it does away with operator travel, considerably raising throughput in order picking.
Another innovative solution gaining ground in ecommerce warehouses is autonomous mobile robots (AMRs). Equipped with AI and machine learning technologies, these machines make decisions autonomously and move materials to work areas as required by the operations. AMRs can adapt to unforeseen changes, bypass obstacles and choose the best route according to the real-time information they receive on their surroundings.
Ecommerce facilities can also be automated with solutions for boxes such as mini-load systems and the Shuttle System. These automated storage and retrieval systems (AS/RS) consist of a mini-load stacker crane, which deposits and removes goods from their locations. Additionally, they feature conveyors, which constantly supply the pick stations with the products they need to put together orders. The Shuttle System also automates and speeds up the picking process. This solution is made up of a set of shuttles that expedite product storage and retrieval and guarantee continuous flows of goods to the pick stations.
The picking area can also be automated by means of high-performance pick stations. By combining ergonomics, efficiency and productivity, these enable operators to achieve throughput rates of up to 1,000 picks/hour of small, high-turnover products. This system streamlines order picking, eliminating trips around the warehouse to locate SKUs.
The challenges of the ecommerce sector also call for an automated solution that digitises process management in the facility. With such high order numbers and same-day delivery standards, a warehouse management system (WMS) such as Easy WMS plays a key role in fully controlling all operations performed. This software monitors stock in real time, organises error-free order picking and coordinates management with carriers to streamline dispatches and ensure on-time deliveries.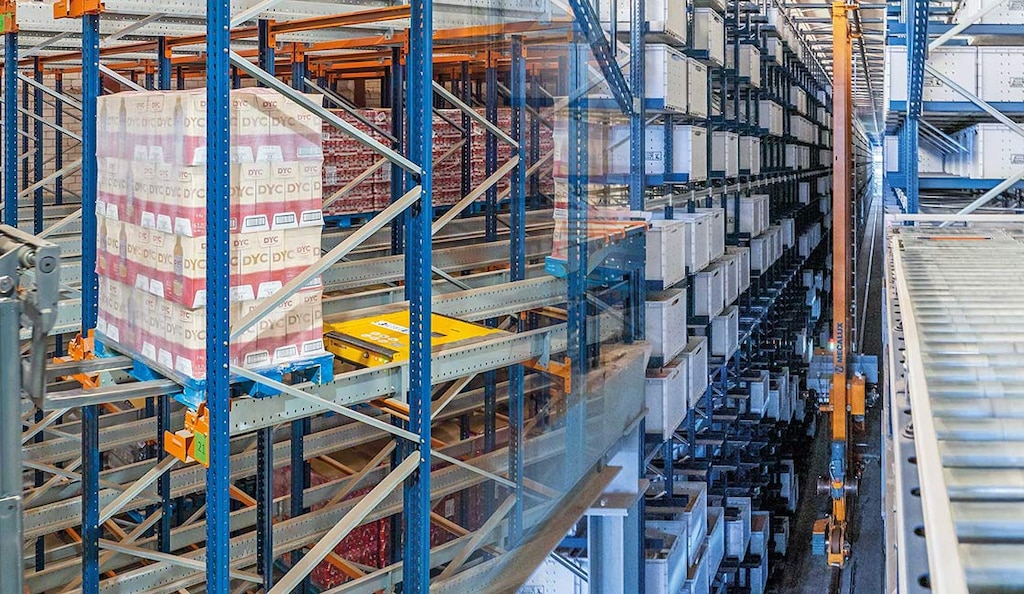 Logiscor: an automated warehouse for ecommerce logistics
Third-party logistics (3PL) provider Logiscor relied on the Mecalux Group to adapt its facility to the demands of ecommerce. Our company equipped this 3PL provider's logistics centre in Córdoba, Spain, with an all-in-one solution: a mini-load system, Mecalux's Easy WMS software and the semi-automated Pallet Shuttle storage system.
Logiscor automated its facility in response to the need to adapt to omnichannel. "We work for a wide range of customers. So our supply chain has to be versatile, efficient and fast to meet our day-to-day requirements, which change constantly," says Manuel Cantueso, CFO of Logiscor.
One of Logiscor's customers is Supermercados Piedra, a supermarket chain with more than 60 stores and that recently opened its online shop. To manage this customer's omnichannel strategy effectively, Logiscor decided to automate its operations. "The main benefit we've seen with the installation of the mini-load system is more reliable operations as well as savings in time and space," says Cantueso.
Ecommerce warehouse automation to gain efficiency
To get the most out of ecommerce logistics, facilities need technologies that raise operational throughput and eliminate the risk of error in order picking and dispatch. The particular quirks of ecommerce mean that companies have to plan their logistics operations efficiently, based on the design and implementation of automated solutions.
Mecalux has an extensive range of storage solutions to scale up productivity in ecommerce warehouses. Interested in maximising throughput in your facility? Be sure to get in touch. One of our expert consultants will advise you on the best solution for your business.