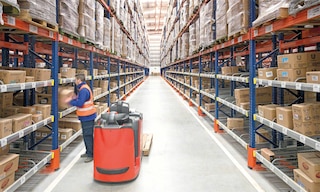 Warehouse picker: what does an order picker do?
24 Sep 2021
A warehouse picker is the operator charged with picking and grouping together the products that make up an order. The introduction of new technologies has streamlined all logistics processes, making it possible to supply products directly to operator pick stations. But with or without automation, warehouse pickers continue to play a crucial role in the warehouse.
In this post, we examine this job profile, including the training required, the duties carried out in the logistics facility and, particularly, how this role has evolved with the advent of automated storage and picking techniques.
What is a warehouse picker?
A warehouse picker is a professional in the logistics field mainly tasked with pulling all the products that make up an order and consolidating it for shipment. However, this person isn't only responsible for gathering the relevant stock: they also check to make sure the products aren't damaged, update inventory (if no warehouse management system (WMS) is used), label the goods, and bring the order to the dispatch area, among other duties.
In automated facilities, products are delivered to the operator by means of automated transport systems, doing away with the need for the person to walk around the facility. In fact, the progressive automation of warehouses has specialised order pickers. Nowadays, they normally rely on semiautomated picking systems, such as pick-to-light and voice picking, or cobots that help them with the most repetitive tasks or those requiring more physical strength.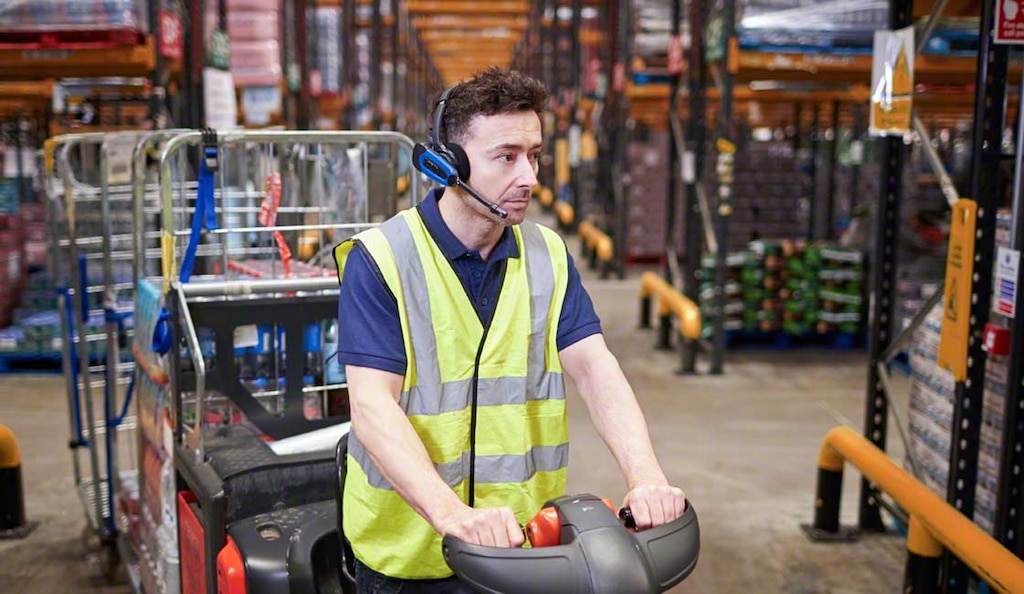 Warehouse order picker duties: what are they?
Every facility implements a specific type of logistics planning, which contains the tasks of all operators and of the warehouse or logistics manager.
The most common duties of a warehouse picker are:
Group together the stock and consolidate the order. After picking all the items included in the order, the warehouse picker then consolidates it.
Package and label the order. The warehouse picker, who can use a specific pick station for this task, is responsible for packing up the order and placing the label in the right spot.
Complete the required documentation for closing and validating the order. In manual picking, the warehouse picker has to fill in all the necessary documents to record that the order has been completed. As the volume of orders grows, it's essential to deploy software that prevents errors and inefficiencies.
Resupply the storage locations. The warehouse picker is also charged with supplying products to the various locations that house the stock. This process can be carried out manually or with a WMS. In automated warehouses, automated storage and transport systems speed up this task.
Warehouse picker job profile
Order processing is one of the most important activities in a warehouse. The professional profile of a warehouse picker is, therefore, in demand in all types of logistics facilities in which order lines are picked, from retail companies and supermarkets to logistics and distribution centres.
The job profile of a warehouse picker calls for a responsible professional, capable of managing multiple tasks without losing efficiency or productivity. To that end, these workers employ technological devices that help them optimise their movements, such as RF scanners. Among their skills, warehouse pickers should know how to use technology to enter data, whether manually, with a barcode reader, or with an RF scanner.
In manually run facilities where the main unit load is the pallet, it's vital for the warehouse picker to have duly accredited training in handling pallet jacks and forklifts. This is because, many times, picking is done from pallets, and pallets are often moved by pallet jacks or forklifts.
Warehouse picker is a career profile on the rise, especially due to the consolidation of ecommerce. In ecommerce warehouses order pickers are up against a major challenge: with smaller unit loads, heterogeneous orders, and demands for same-day deliveries, these workers require technology to prevent shipping errors and delays that could diminish the company's competitiveness.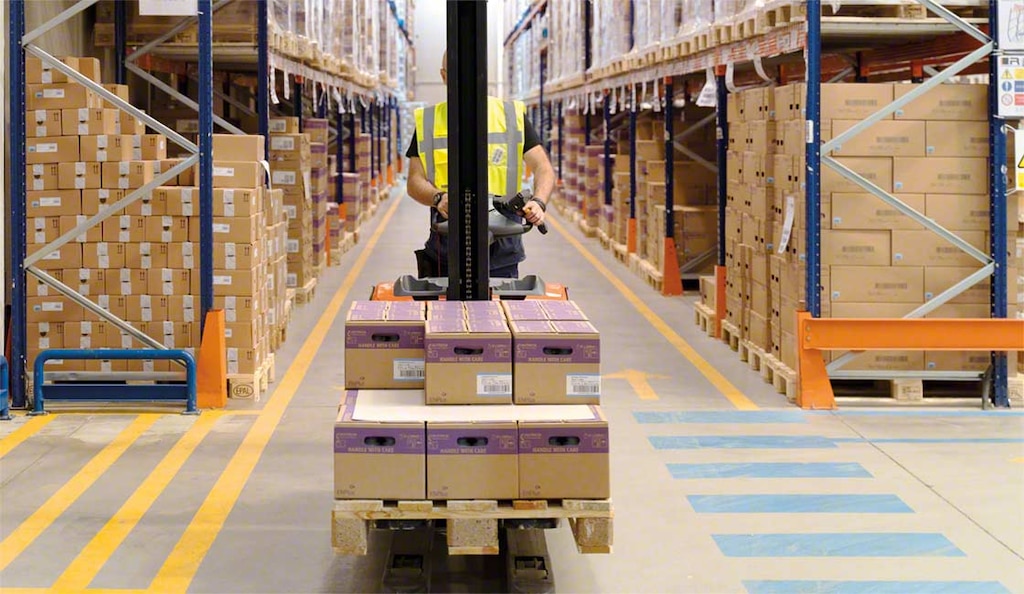 From manual storage systems to 4.0: the evolution of a warehouse picker
Recent years have seen the arrival of new technologies that have changed logistics processes inside and outside the warehouse. Nevertheless, warehouse pickers continue to play a fundamental role in both manual and automated facilities.
Technology has optimised operator tasks, saving them from making mistakes arising from manual management. The first step to guaranteeing maximum productivity in order preparation is the implementation of a warehouse management system such as Easy WMS from Mecalux. This program can be directly connected to both picking assistance devices (voice-picking and pick-to-light) and RF terminals, giving operators step-by-step instructions on what to do.
The automation of logistics facilities — which is achieved through the digitisation of operations and the installation of automated transport and storage systems — has revolutionised warehouse pickers' tasks. With the goods-to-person picking method, the products are brought directly to the operator, meaning this person doesn't have to walk along preset pick paths. One of the most common solutions for implementing this working method is the installation of miniload systems (AS/RS for boxes) and roller conveyors for boxes, totes, and bins, which bring the products to the ergonomic pick stations where the operators prepare the orders.
Lastly, to automate order prep processes, it's also possible to implement robots that help operators during picking. These solutions include autonomous mobile robots (AMRs) and pick and place robots. They improve the quality of the operators' work, moving heavier goods more quickly and boosting productivity in picking.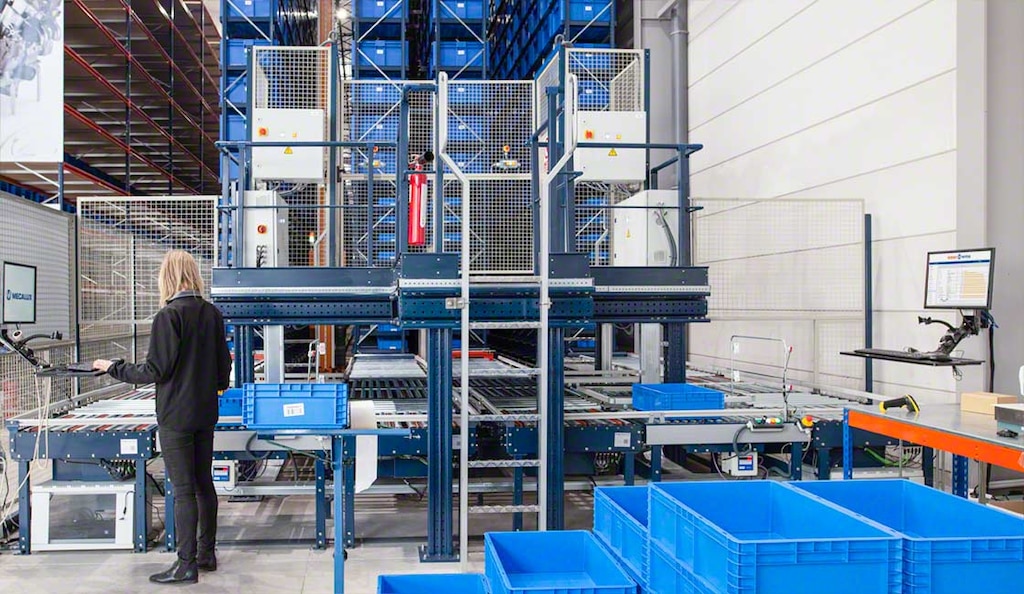 Warehouse picker: job profile closely connected to new technologies
Warehouse pickers are the operators responsible for the costliest stage in the warehouse: order preparation. The consolidation of ecommerce and standards such as free returns and same-day delivery are forcing companies to eliminate errors in this logistics phase to maintain their competitiveness. So, how are they doing this? By complementing the work of a warehouse picker with a WMS, an application that guides operators in their tasks, telling them at every turn what steps to follow.
Moreover, the implementation of automated systems in logistics facilities has made it possible to maximise warehouse pickers' productivity; nowadays, these operators no longer have to travel up and down the aisles to pick the products that make up each order. These automated solutions supply the pick stations, which significantly enhances operator productivity.
Interested in improving the performance of your warehouse pickers? Don't hesitate to contact Mecalux. As global providers of intralogistics solutions, we have a wide range of made-to-measure options to achieve maximum efficiency and productivity in your warehouse.