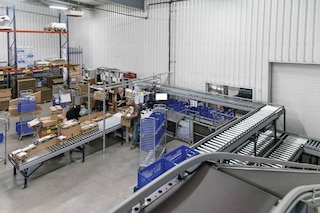 Roller conveyors: a complete in-warehouse guide
18 Dec 2020
Roller conveyors are an industrial system designed to transport, accumulate and distribute goods between different points within a warehouse. They can also be used to connect various logistics warehouses or production centres to a company's own warehouses.
Roller conveyors save time and improve efficiency in repetitive load movements with pre-plotted circuits by reducing manual handling of the goods.
In our article, we will analyse the main features of roller conveyors, their principal applications in a warehouse and the pros and cons of using them.
How do roller conveyors work?
Conveyors are an automatic system for transporting goods. These sets of rollers carry the load and propel it along a circuit.
In general, their electric motors move unit loads in a safe, controlled manner, although they can also be gravity driven.
The main components of roller conveyors are…
Rollers: metal cylinders inserted into the structure along with a metal axis and two bearings. This component varies in other types of conveyors, substituted by belts or chains. Rollers, belts and chains are often combined within the same circuit.
Metallic structure and legs: support the rollers and are made of different types of steel, depending on the weight they must bear. Their function: components determine the circuit's travel direction.
Curves: curved movements can be created through different methods, such as lengths of curved roller conveyors, turntables or by inserting chains into a conveyor unit (changing the travel direction).
Electrical components: the entire electrical installation that enables load movements along the circuit, as well as the motors and power boxes. Power requirements will depend on the speed and load weight to be moved.
Safety elements: either mechanical devices, such as stops, or sensors like detection photocells. So, you always know where the load is and can communicate this information to the control software.
In any complex engine-powered circuit, the roller conveyors operate under the control software's authority (Galileo, in Mecalux's case). It executes the movements and, in automated storage facilities, falls under the umbrella of a higher-level system that acts as the brain of the warehouse: the WMS.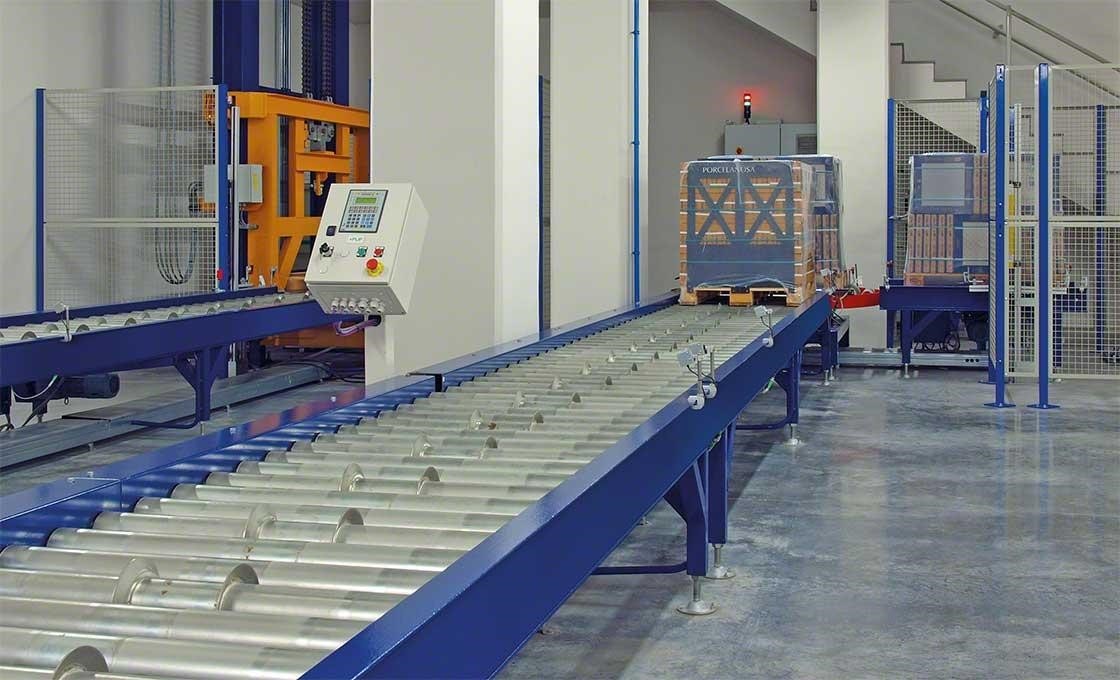 Main applications of roller conveyors in a warehouse
1. Reception, distribution and dispatch of goods
Roller conveyors are frequently set up in reception and dispatch areas. Whether we are talking about pallets or small packages (like boxes), roller conveyors are installed near these areas for…
Prepare preload channels: roller conveyor channels are enabled in the goods dispatch area, especially when handling pallets. As a result, pallets are deposited in front of the loading bays by orders or routes. They are now ready to be loaded onto the lorries, usually with manual or electric handling equipment.
Have accumulation channels for unloading lorries: goods reception processes vary greatly if they are for pallets or boxes and if the origin is a production facility or lorries. Conveyors are then used to deposit pallets waiting to be slotted or unpacked/unbundled. If working with boxes, another way of using roller conveyors is to build the circuit's start point next to the docks.
Automatic loading and unloading: this operation can be carried out automatically thanks to a series of built-in chain conveyor platforms in the loading and unloading docks. So, they might look like the Siro Group's automated warehouse in Spain, for example.
Sometimes, a hydraulic lifting table is used to feed heavy loads onto the roller conveyor circuit. This table lifts the pallets to the right height. If the circuit is flush with the ground, the conveyor ends with E-shaped outlets for pallet lorry operations.
At the beginning of the circuit, it is best to install checkpoints to verify that the goods entering the circuit are in perfect condition (dimensions, weight, condition of the pallet).
2. Connection between different warehouse zones
A wide variety of circuits can be designed with roller conveyors to link different areas in a warehouse. The simplest ones can be integrated into standard warehouses in a snap thanks to the plug & play system. These have a single origin point and a single destination.
However, roller conveyors take center stage in automated warehouses: they are an indispensable element for high-tech circulation of all types of loads.
Therefore, roller conveyors:
1. Facilitate the transfer of loads between production areas and warehouses and/or between different warehouses
The circuit is designed according to the flows of goods, the available space and the warehouse's layout. These can stretch on for miles. For example, the single connection between the production centre and the Venis warehouse (Porcelanosa Group) designed and installed by Mecalux has roller conveyors which span a half mile long.
Also, these circuits can be seamlessly integrated with other complementary systems such as shuttle cars (if handling pallets) or overhead conveyors or electrified monorail systems (for light loads).
2. They connect the main conveyor systems of the storage area with picking stations
Simple circuits: usually run between shelving for picking. The conveyor is lined with operators who pick products or orders from the shelves and place them on the conveyor. This conveyor is in charge of delivering the boxes to the dispatch area … like what happens in the warehouse Mecalux designed for the Idaho State Liquor Division.
Complex circuits: roller conveyors must be used to unload the pallets and/or totes that have been automatically removed by the stacker cranes. These circuits are combined with assembly and verification stations where personnel work on order preparation (selection, packaging, stretch wrapping, labelling, documentation). Normally, metal mesh encloses the area for safer conditions.
Among the most complex roller conveyor circuits are the automatic classifiers or box sorters. These enable goods to be distributed automatically through their respective exit, with every step of the way monitored.
3. Connection between different floors
Overcoming height differences within a warehouse is another aspect that can be offset by conveyors. This can be done with different solutions:
Bridge conveyors are generally combined with roller and belt conveyors. They are widely used in pick-intensive warehouses such as the one at the French PAVI-Group auto company.
Pallet lifts with conveyor units, which operate using the same logic as an lift connecting different floors.
Spiral conveyors as we have seen in the case of the DECASA warehouse. They run both upwards and downwards.
Advantages and disadvantages warehouse roller conveyors
Now that we've looked at the main in-house applications of roller conveyors, let's end off with some pros and cons use-wise.
Advantages of roller conveyors…
Highly versatile circuit design. There are solutions devised for nearly any situation: routes, loads, slopes…
It is a very fast, safe load transport system thanks to the various sensors and devices. It reduces the risk of goods being damaged. They also withstand heavy-duty loads.
Conveyors are a very reliable, long-established solution in the warehouse logistics sector, which undoubtedly proves their worth.
Its parts are tough and durable, so this is an investment that will pay off and can be paid off for years to come.
Disadvantages of roller conveyors…
Cleaning: despite the fact that Mecalux has designed specific solutions to deal with this issue, the system's complexity makes the warehouse difficult to clean compared to overhead conveyors, for example.
Space-consuming: of course, installing conveyors limits the space available in a warehouse's layout (i.e. operators and handling equipment moving through) and this must be considered.
Designing an automated project requires in-depth knowledge of warehouse operations and automatic systems features… such as roller conveyors. Are you thinking of automating your warehouse? Get in touch! We can answer all your questions. Let us analyse your situation and put together a tailor-made improvement project for you.