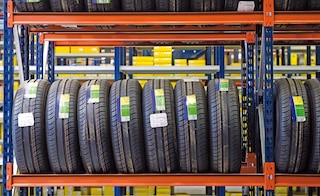 How to store tires successfully
03 Dec 2020
According to the European Tire and Rubber Manufacturers Association (ETRMA), a staggering five million tons of tires are produced each year in Europe. Some are exported to different countries, others are supplied to car manufacturers or straight to distributors. Yet, what is obvious is that all of them need to be warehoused at some point in their life cycle. 'How to store tires properly?' is the question that comes to mind at this point. So, let's look at it in detail.
Specific needs for storing tires
Aside from the already unavoidable challenges of any storage facility, such as space optimisation or order preparation speeds, there are other issues that affect tire storage:
- A large number of SKUs are handled:
While this problem isn't exclusively a tire warehouse issue, these type installations generally have a high level of stock, which is also incredibly variable. The industry is growing all the time: new models, brands, sizes, speed indexes, materials, etc. are being introduced very quickly...
In this situation, controlling the available inventory precisely and recording the traceability of each SKU is a must-do. The aim is to limit the number of errors in tire storage and order picking.
- Tires require a special storage set up:
Due to the characteristics of the materials they are made from, tires need to be stored under specific environmental conditions so they stay well preserved. These include:
Tires must be stored tension-free or compression-free, i.e., away from any forces that could deform them over time.
The warehouse should be kept at a steady room temperature, ideally between 15 and 25 ºC.
They must be stored on pallets or other structures that avoid direct contact with the ground and, consequently, with humidity.
The installation must be ventilated and tires must not be exposed to direct sunlight or light fixtures with a high UV index.
At no point should they come in direct contact with substances such as solvents, fuels, lubricants, chemicals or disinfectants.
- Tire warehouses need reinforced safety measures:
Different types of rubber are made of highly flammable materials, which increases the danger of storing a large concentration of tires in one place. When storing tires, the building must be equipped with the appropriate safety measures. To assess the risk level of a storage facility, the structure of the building (pillars, beams and roofs), its surface area, the type of goods, the storage method and its height are all taken into consideration.
No tire warehouse can do without…
Proper tire storage starts with a few basic elements:
- Install tire racks
Whether you are storing tires, rubber or rubber sheeting, storage systems must fit the characteristics of these products. Depending on your stacking style:
Tire racks have adjustable beams to accommodate different tire widths. For example, here the racks are built for picking tires.
Another option is to accommodate metal cages or containers that group the wheels in each storage space. In this way, pallet racks or drive-in racks are configured according to the size of these metal structures. This is how Mecalux designed the Michelin warehouse.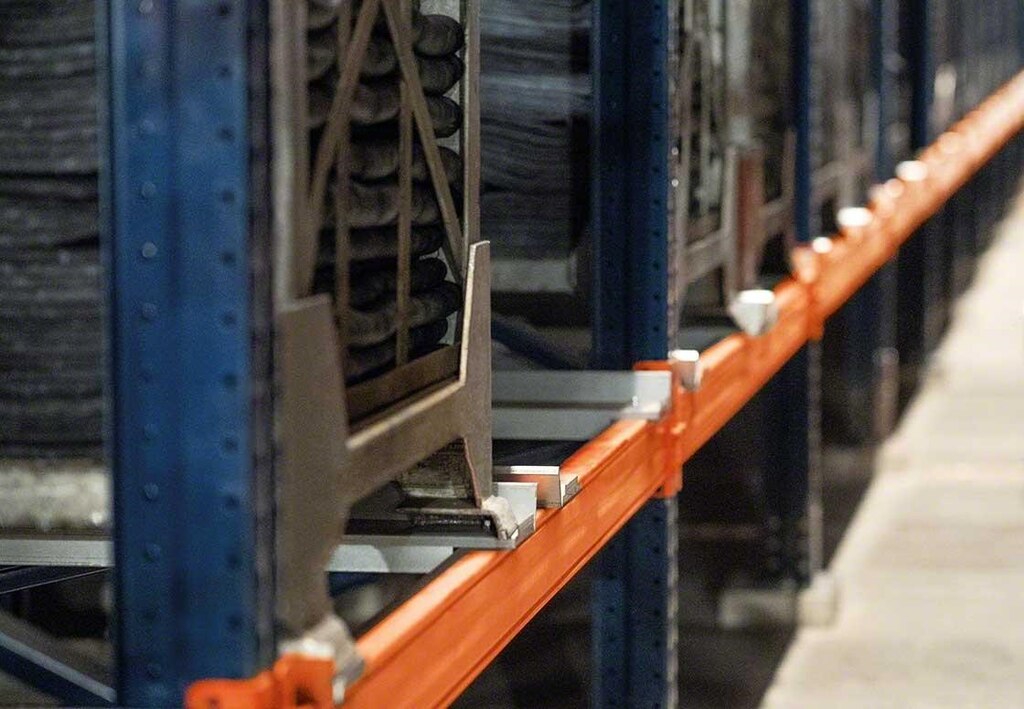 - Integrate risk prevention systems into your warehouse (especially fire-fighting measures)
Tire warehouses are typically high-risk facilities. Each country has a specific fire safety regulation, a factor to consider when designing a warehouse's layout. At the international level, the NFPA-13 Standard regulates the benchmarks to be met by sensors and sprinklers.
Automation, that solution that takes tire storage to the next level
Process automation simplifies the management of complex tire warehouses. Two strategies take centre stage.
If you need some help in deciding on the right solution for your tire or rubber products warehouse, don't hesitate to get in touch. One of our experts will be happy to assist you personally.