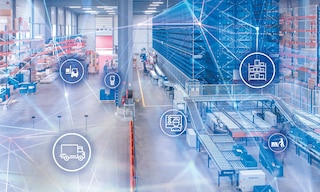 Warehouse areas: essential zones for efficient management
27 Jul 2023
Warehouse areas refer to the specific zones reserved for particular activities such as receiving, storage, order picking and shipping, among others. Each area has a special purpose and is designed to facilitate the flow of materials and products within the facility.
To increase a warehouse's efficiency and performance, we need to understand the different spaces that comprise it and how they interrelate. Generally, warehouse areas vary according to the nature of the stored items, logistics processes and the specific needs of each company.
What are the 5 areas of a warehouse?
Below are the 5 most common zones you'll find in a logistics facility. Bear in mind, though, that you can always tailor the design of your warehouse to your own characteristics.
1. Docks and loading/unloading area
The docking zone is the area in a warehouse or distribution centre where materials enter and leave on trucks or other goods transport vehicles. This space has a strategic role in logistics. Special attention is given to it when planning and designing the facility's layout, as efficient loading docks will prevent bottlenecks.
How many warehouse docks do you need? The number of access points you set up will depend on a number of factors: the flow of goods, the volume of deliveries, the time when most of the products are received and the exact time required to unload and move the received materials to their destination in the facility.
The complexity of logistics nowadays — with more and more orders and smaller ones on top of that — is driving companies to seek solutions that streamline dock and yard management. New technologies can be applied at the loading docks in different ways. One go-to option is to digitalise management of the docking area with a Yard Management System (YMS). This software coordinates vehicle traffic in the yard, at the docks and at the facility's access points.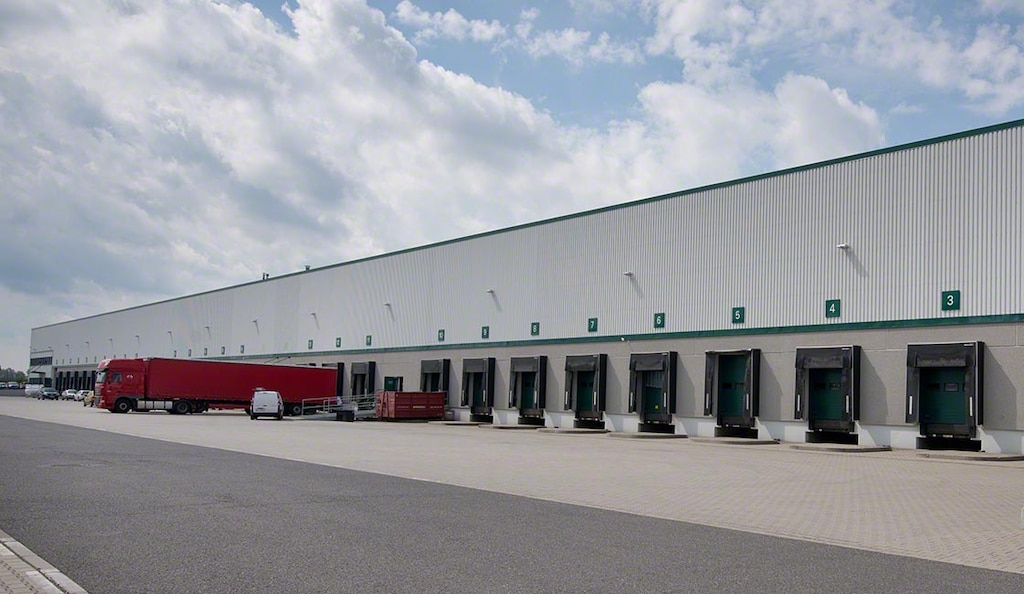 2. Receiving and staging area
The goods receipt zone is the entry point for materials arriving at the facility. In this area, the receiving process takes place, which includes tasks such as quality control, inventory recording and product inspection.
All operations are performed in the staging area, a rack-free zone typically located near the loading docks. This space should be designed effectively to speed up the receiving process and verify items before they're registered in the inventory.
To optimise truck loading and unloading, you can install robotic equipment that improves throughput and safety during the receiving and shipping processes: automatic lorry loading and unloading systems.
During the goods receipt process, it's vital to log all information and record the arrival of new materials to control their traceability. A warehouse management system (WMS) can make a real difference in the receiving area. It orchestrates the activity taking place without interfering with other operations in the facility. You can carry out receiving tasks such as adding anticipated inbound stock, logging it, labelling it and managing its storage location to maximise available space. Plus, the WMS assists in organising more complex tasks such as the management of blind receipts, returns and cross-docking.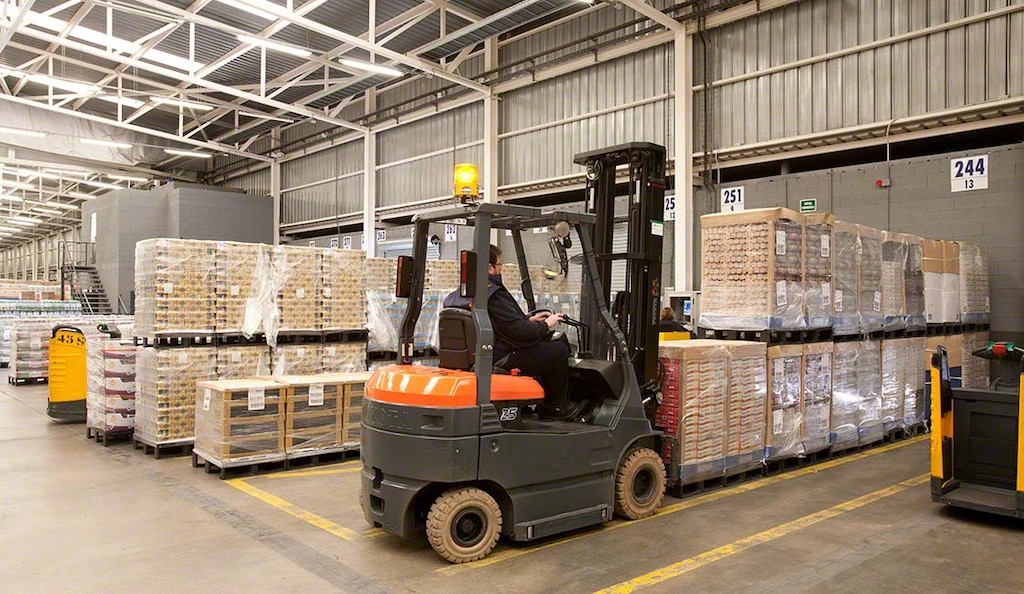 3. Storage area
This is the heart of the logistics centre. Here, goods are housed and organised once they've been received and checked. The warehouse storage area should facilitate fast and efficient access to materials, leveraging available space and minimising the time and effort involved in locating and handling SKUs.
There are various ways to store pallets in a facility, from stacking them directly on the floor (block stacking) to placing them in storage systems. This second option is the most widespread and expeditious. This is because depositing goods on racks makes the most of your centre's space while ramping up operational productivity.
If your warehouse manages multiple types of merchandise, ideally, each should be stored in the right system. Variables such as the characteristics, sizes and turnover of your goods and the needs of your business will condition your choice of storage system. Solutions run the gamut from pallet racks and picking shelves to mobile racks, automated storage and retrieval systems (AS/RS) and high-density racking.
It's also crucial to establish a clear coding and labelling system for each storage location for easy product identification and picking.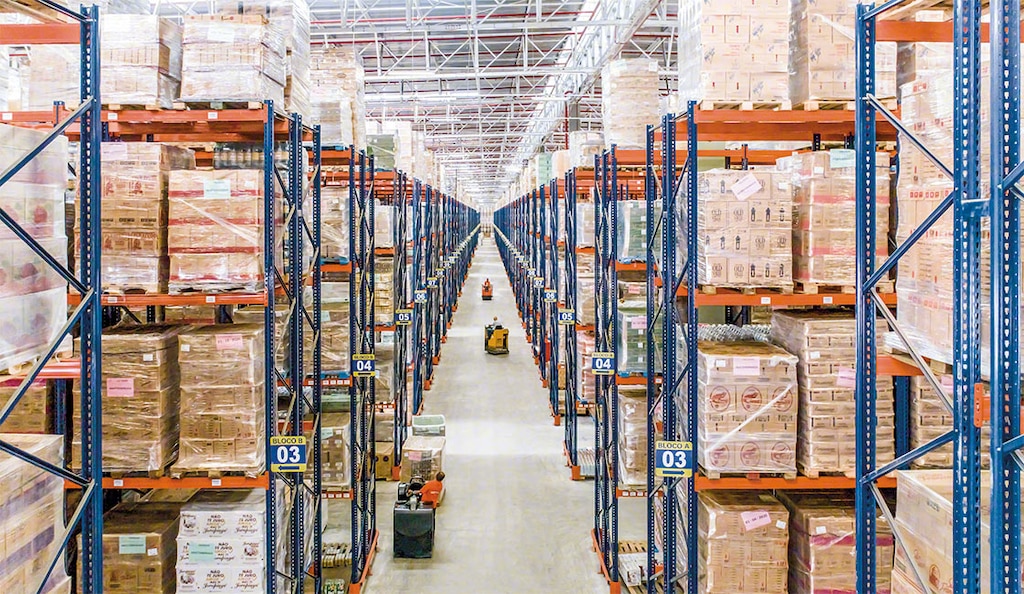 4. Picking area
In the picking zone, warehouse operators retrieve the merchandise they need to fill customers' orders. This space can be integrated with the storage area, as in the case of picking from pallets. Picking areas can also be set up in specific zones within the facility, normally with automated or semi-automated systems.
Before designing and equipping your picking area, you have to analyse the characteristics of your orders, the size of the unit loads, their weight, the distances operators need to travel and the slotting of the materials. Order picking can be performed in many ways. These vary depending on the direction of the materials (goods-to-person or person-to-goods), the position of the products on the shelving levels and the way items are picked (e.g., discrete, wave or zone picking), among other factors.
To streamline work in this area, it's advisable to provide your operators with picking assistance devices. Examples include pick-to-light and voice-picking systems as well as RF scanners. With this equipment, operators receive instructions from the WMS on how to prepare orders. The software indicates, for instance, the items to locate, their exact slot and the quantity to pick. Another way to automate picking is to implement the goods-to-person method: merchandise is brought directly to operators via automated systems such as conveyors.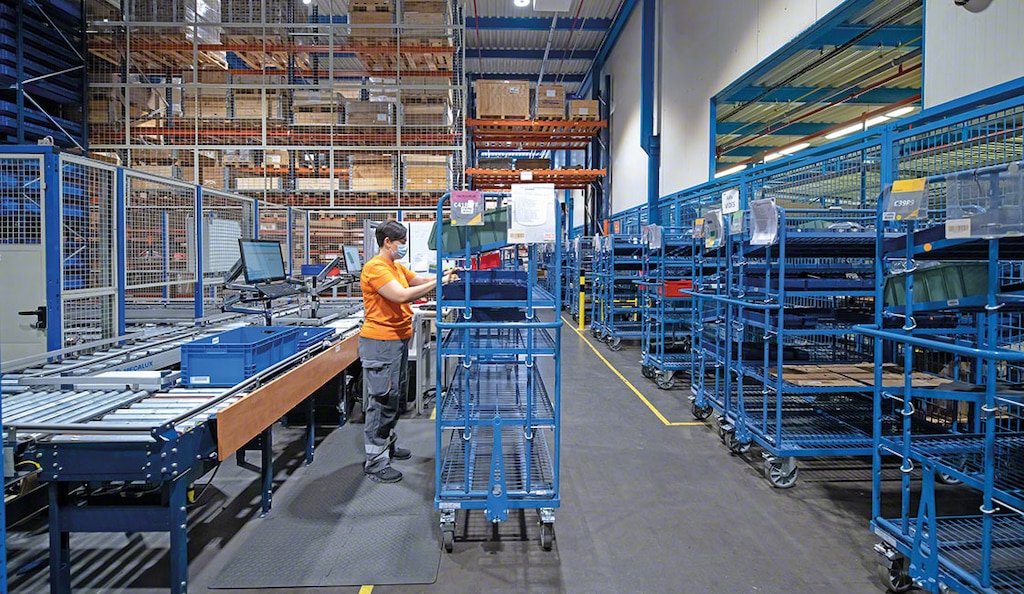 5. Shipping area
In the shipping or goods dispatch zone, orders are prepared and sent to their final destination. Although it tends to be near the facility's exit, the positioning of the shipping area will be influenced by several elements. These include the number of shipments, the volume of routes managed daily, scheduling and even the location of the warehouse in relation to its surroundings (which will limit the number of docks or concentrate them in a specific zone).
In most facilities, the shipping and receiving areas are combined in a space next to the loading docks. This setup allows for alternating tasks of incoming and outgoing shipments based on designated time slots. Centres with separate shipping and receiving areas are those with a high flow of movements, to expedite operations and avoid interruptions.
Order shipments will always be more reliable with a WMS. This software manages and organises information, guiding operators in carrying out the tasks in this phase. Easy WMS groups orders by delivery route, vehicle type, customer and shipping priority, among other criteria.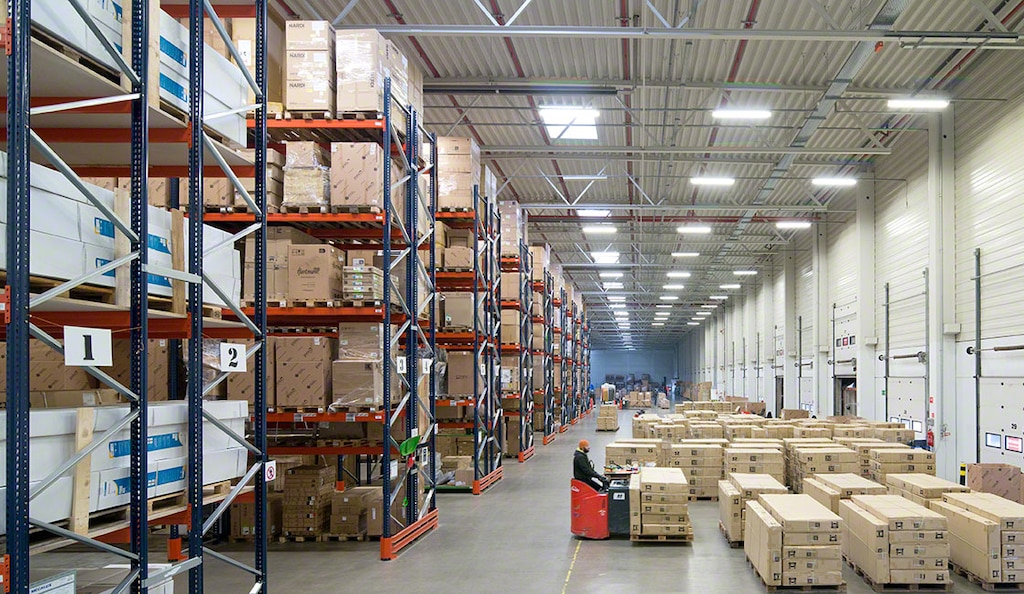 Other warehouse areas
Besides the spaces mentioned above, other critical zones in logistics facilities include the following:
Office and service spaces: office area equipped with computer equipment and other elements needed to perform administrative activities such as inventory management, order processing, accounting, customer service and carrier management. Next to the office area, there's usually an amenities zone with changing rooms, restrooms, a cafeteria and meeting rooms.
Maintenance area: space where maintenance and repair work is done on machines and warehouse infrastructure. It can include a workshop, replacement parts storage and a space for charging material handling equipment batteries.
Returns zone: area allocated to receiving and managing merchandise customers have sent back. Here, operators carry out quality control and decide whether the items should be put back into inventory or discarded.
Repackaging area: zone where operators handle products to rework them into different containers or smaller units. This is done for various reasons, e.g., to facilitate storage and distribution, meet customer requirements or prepare orders for subsequent retail sale.
Quarantine area: space often found in food and pharmaceutical warehouses where goods that have to be quarantined or isolated are kept. It's generally separated from the rest of the storage area and has special controls and procedures to ensure that these products don't come into contact with other materials.
The importance of optimising warehouse areas
In managing a logistics facility, unique zones should be differentiated to optimise their efficiency and productivity. Each specific space should be designed to fulfil its particular function and enable the smooth flow of materials and merchandise, from receipt to shipment.
At Mecalux, we're well aware that the proper distribution of warehouse areas optimises logistics operations. Interested in making the most of your logistics centre's layout? Contact us now. Our team of experts stands ready to assess your unique needs, guiding you toward a tailor-made solution for your company's success.