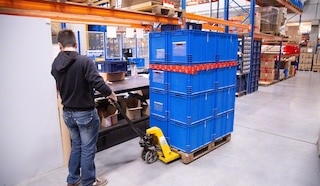 How to choose material handling equipment for your warehouse
24 Jan 2022
Material handling equipment is an essential element in a logistics facility: every warehouse needs systems for moving items from the goods receipt area to storage and, subsequently, to the dispatch zone.
There's a wide variety of handling equipment on the market that can be adapted to any type of area or operation in the warehouse. To select the conveyance solution that best fits each logistics requirement, you need in-depth knowledge of your available options.
In a warehouse, material handling equipment is of the utmost importance — to a large extent, the efficiency of your facility depends on it. Choosing this equipment wisely will speed up operations, reduce logistics costs and minimise the risk of accidents.
What's material handling equipment in logistics?
By definition, in logistics, handling equipment is a machine used to transport, store, control and handle materials, goods and products during the manufacturing, storage and distribution processes.
Material handling equipment is present in the vast majority of industrial facilities, including warehouses, production plants and distribution centres, among others.
In a warehouse handling equipment is charged with loading, unloading and transporting goods between the receiving, storage, order processing and dispatch zones. As different operations are performed in each area, it's a must to have specific handling equipment to match each need to maximise productivity.
Material handling equipment used in warehouses can be categorised as manual, (e.g., pallet jacks) motorised, (e.g., forklifts), or automated (e.g., pallet or box conveyors).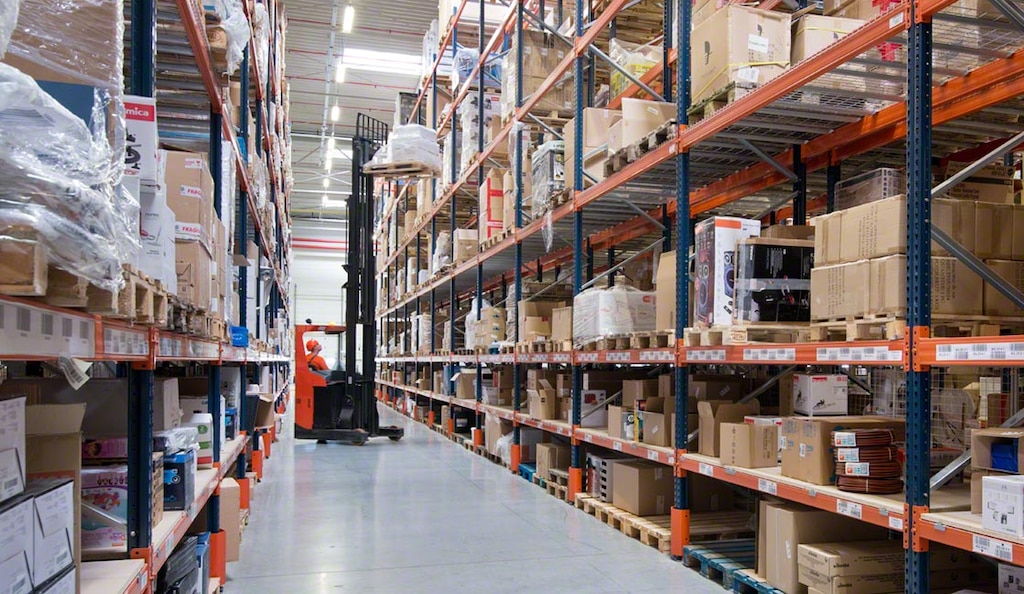 Types of material handling equipment in warehouses
In logistics facilities, the different varieties of material handling equipment can be broken down into three major groups:
1. Manual material handling equipment
Manual material handling equipment is operated solely by humans. The most common machine employed in manually run warehouses is the pallet jack. Its parallel forks allow it to support loads and lift them slightly off the ground to facilitate their transport.
Pallet jacks are extremely versatile equipment, as they can be used in multiple operations: from truck loading and unloading to the movement of pallets and containers. They can also be used to aid in picking operations.
Under the umbrella of manual material handling equipment, we also find picking carts (crucial for the pick-to-cart picking strategy), lift tables (for ergonomic order preparation) and hand trucks (for transporting boxes and unpalletized loads).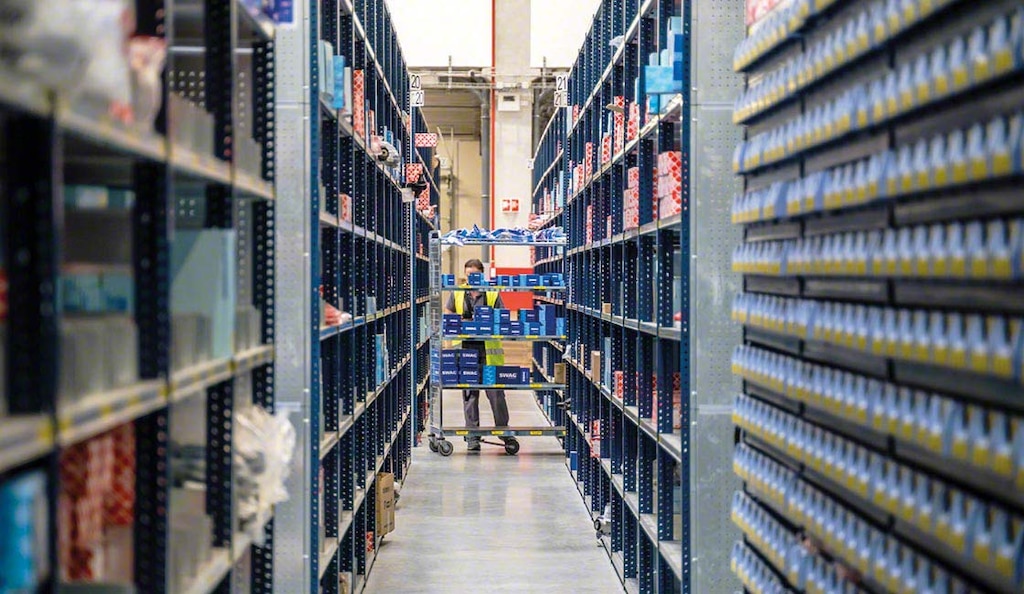 2. Motorised material handling equipment
Motorised material handling equipment is operated by workers from a platform or cabin and is motor-driven.
In the forklift category, there's a wide range of motorised material handling equipment. While counterbalanced forklifts are one of the most popular due to their high versatility, reach trucks are the favourites in warehouses with similar goods.
Meanwhile, narrow aisle forklifts (i.e., bilateral and trilateral turret trucks) are employed in facilities that manage very varied goods but require space optimisation. Lastly, side loader forklifts are perfect for handling very long or large loads.
This category also includes motorised material handling equipment particularly suited to order processing: order pickers. These machines assist operators in picking products, especially those located on the lower levels of the racks.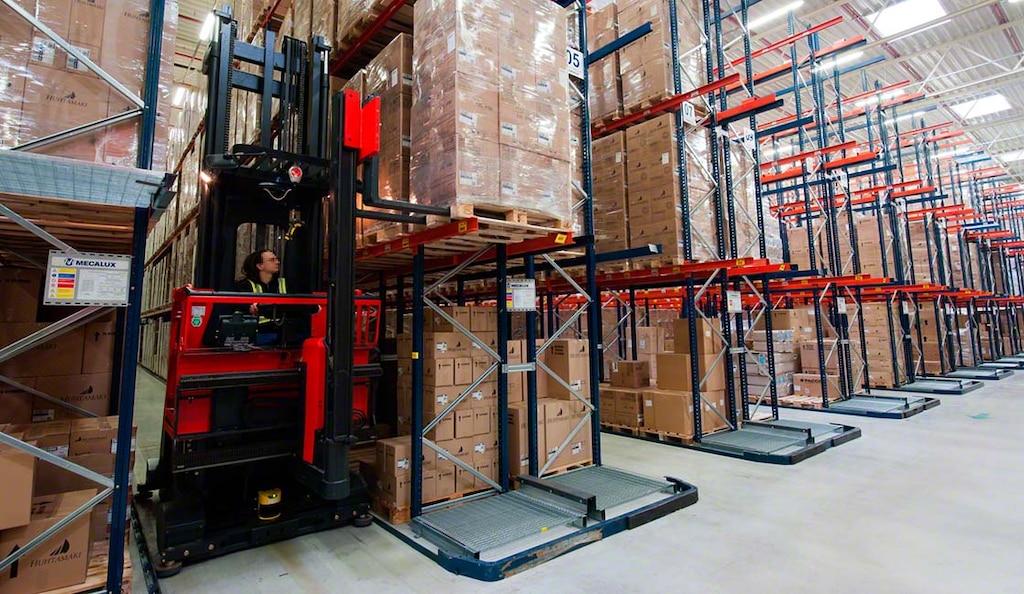 3. Automated material handling equipment
Automated material handling equipment is operated by means of a warehouse control system (WCS) that manages all machine movements. In this category, stacker cranes for both boxes and pallets stand out for their capacity and agility in storing and retrieving goods from the racks.
There are several types of stacker cranes, including single-mast, twin-mast and AS/RS trilateral stacker cranes. This last variety is an effective solution for warehouses already working with manually operated trilateral turret trucks and that want to automate without interrupting operations.
Roller and chain conveyors are another type of go-to material handling equipment in automated warehouses. Tasked with moving boxes and pallets internally, conveyors connect the different zones in a facility or link the warehouse with the production lines or production area. Just like conveyors, automatic guided vehicles (AGVs) and autonomous mobile robots (AMRs) are extremely helpful in environments with continuous and repetitive flows of materials, saving time and boosting productivity.
On the other hand, pallet lifts are a handy solution for overcoming height differences and moving goods vertically in automated storage and retrieval systems (AS/RS). Finally, while transfer cars transport goods from one point to another, solutions such as the automated Pallet Shuttle move pallets in the storage channels inside the racking.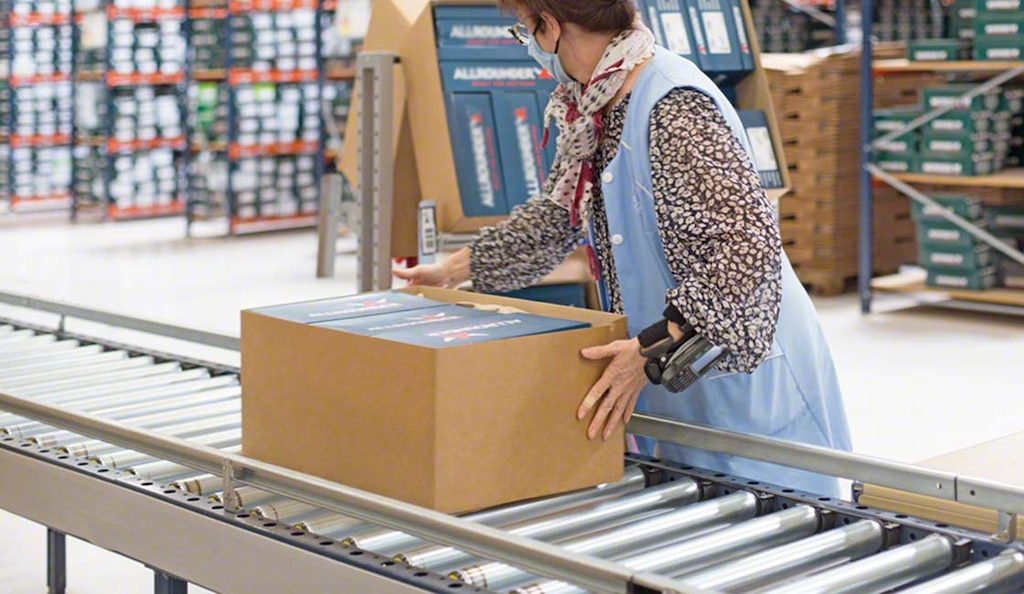 The importance of choosing the right material handling equipment
Which material handling equipment do I need for my warehouse? This question has been asked by countless logistics managers when choosing handling equipment for their operations. It's imperative to select the appropriate handling equipment because its use will condition the warehouse layout design and the number of operators needed in the facility.
The storage system(s) implemented and the goods housed will call for one type of handling equipment or another. For instance, with cantilever racking for storing long products, it's standard practice to use side loader forklifts. Meanwhile, order pickers and picking carts tend to be employed for picking small products.
During the selection process, you should also determine whether it's best to invest in manual or automated material handling equipment. It's true that manual equipment is less expensive and requires no previous installation. But depending on the company's business volume and logistics requirements, automated material handling equipment could be your best bet for streamlining operations in the warehouse.
Material handling equipment: the driving force behind the warehouse
Racks are the cornerstone of every logistics facility — without them, goods could only be stored at floor level. But it's just as important to have suitable material handling equipment to transport, load and unload the goods from their locations.
The material handling equipment and racks go hand in hand to achieve efficient logistics operations. Both elements are key for the smooth operation of the warehouse and the choice of one is intrinsically linked to that of the other.
Looking to ramp up the throughput of your storage systems and material handling equipment? Get in touch and one of our experts will be happy to get you on track towards logistics efficiency.