21 Jul 2022
Web-based warehouse management software is a digital solution companies can employ to cope with any changes in their supply chains.
This program provides an overview in real time of everything occurring in a logistics facility, from stock status to the performance of operations.
What's web-based warehouse management software?
Web-based warehouse management software is a warehouse management system (WMS) whose functionalities you can access from a browser.
To connect to the WMS via any device with an internet connection, the program is installed in the software as a service (SaaS) model — i.e., in the cloud.
Companies planning on operating with web-based WMS software should have access to a low-latency network. Flexibility, scalability, and paying only for the service you want are some key advantages of the SaaS model.
In a constantly changing market, web-based warehouse management software is a solution that can be adapted to the particular features of your facility, helping you to analyse its status and make strategic decisions.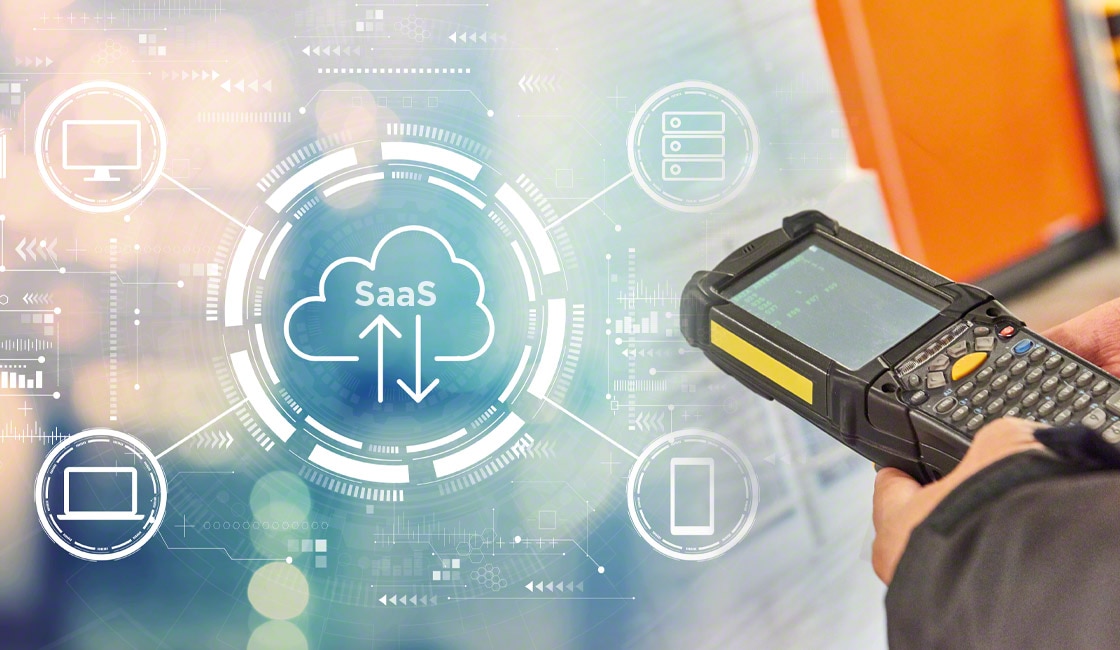 5 benefits of web-based warehouse management software
A web-based WMS is synonymous with transparency: logistics managers have access to all pertinent information from any browser with an internet connection. These are some of its advantages:
1. Fast rollout
One particular feature of a web-based WMS is that it's implemented on external servers. Since the hardware isn't installed in your facility, that's one less cost you have to bear.
This makes the software deployment quick and easy. The system provider takes care of everything, from the configuration of the program to its hosting on the servers.
2. Scalability
Web-based warehouse management software is a scalable tool that can increase or decrease resources as your business evolves.
Cloud software is updated and kept up to date so that it can continue to perform its functions efficiently. Thanks to the updates, it responds rapidly to changes, e.g., the preparation of a larger number of orders.
3. Multi-facility management
One of the advantages of a web-based WMS is multi-location inventory management. That is, you can monitor the movements your products make in your different warehouses in real time.
With cloud software, you can access the system from anywhere with a basic internet connection and verify the status of the stock in your multiple facilities.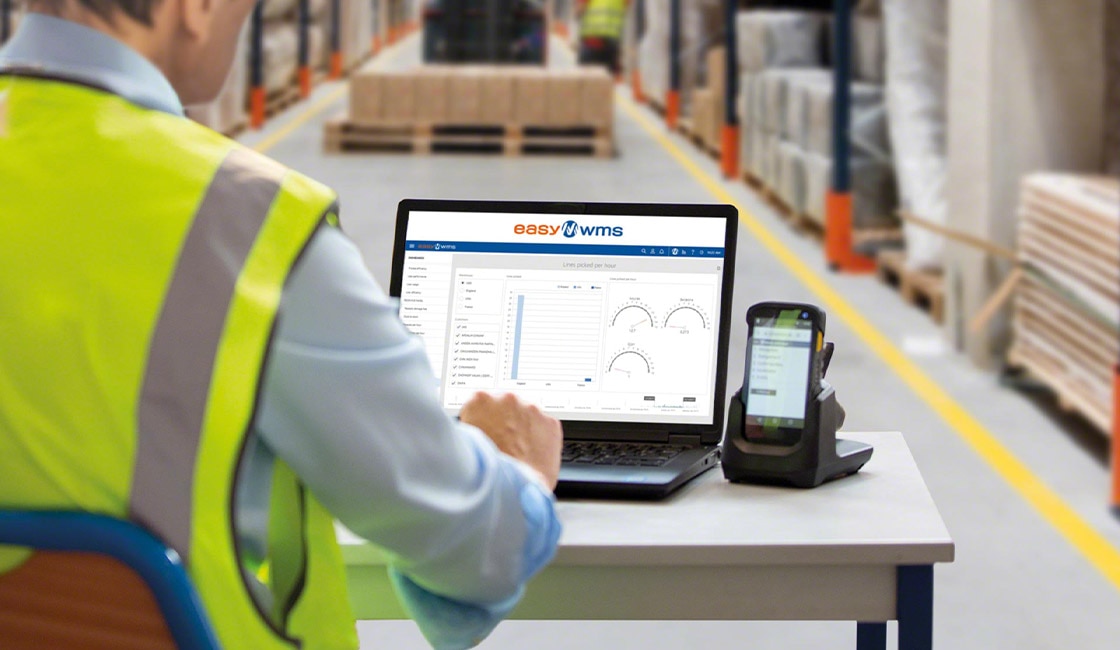 4. Lower upfront costs
Another benefit of a web-based WMS is the cost savings obtained by not having to purchase or maintain hardware. Hosting this software in the cloud does away with investments and expenses relating to servers, equipment, and computer devices.
The SaaS model provides direct access to the WMS's functionalities and features without the need to allocate a specific hardware budget or dedicate additional resources.
5. Enhanced security
Any company would be concerned about the protection of data on warehouse processes. Cybersecurity is essential in web-based warehouse management software: it's vital for guaranteeing safe transactions between businesses and customers.
With a web-based WMS, the provider is charged with ensuring the security of the computer systems and implementing advanced cybersecurity measures.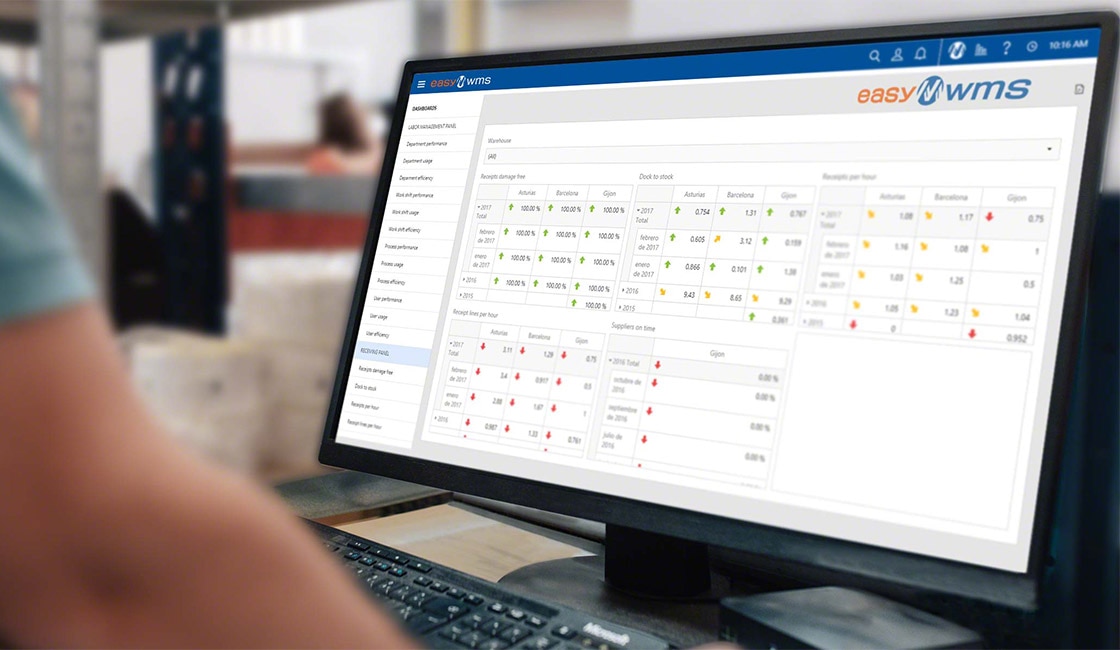 Easy WMS: web-based warehouse management software
Easy WMS software from Mecalux can be deployed in the SaaS model, with a 100% web-based interface. With this solution, logistics managers can strictly control all operations from any web browser.
Companies from numerous sectors have integrated Easy WMS in the cloud to manage their logistics operations:
In the US, for example, machine tool distributor Yamazen manages its facility with Mecalux's cloud software. With this solution, the company knows the status of its 5,000 SKUs of different sizes and characteristics and has real-time inventory visibility. The WMS also organises all operations, including the preparation and dispatch of 100 orders a day. James Hansen, Executive Vice President of Yamazen, says: "Eliminating server maintenance tasks is a huge time-saver for our IT team."
Another business that uses Easy WMS in the SaaS model is Casintra, in Spain. The logistics provider implemented our company's cloud software to organise operations in its five warehouses simultaneously. This technology helps Casintra to manage its multiple facilities and customers efficiently, tracking the 2,000 SKUs belonging to its various clients. It can also work online with each of them and know what processes they require individually. "To check the status of their inventory, customers access Easy WMS with a password," says Javier García, Operations Manager. The web-based WMS software helps Casintra to organise its day-to-day supply chain processes.
Web-based warehouse management software and strategic improvement
Web-based warehouse management software is a tool that enables companies to manage their supply chains strategically.
Easy WMS from Mecalux is designed for businesses to control their logistics operations with maximum effectiveness. In the SaaS model, warehouse managers can access via a web browser all the data collected from the flows in their logistics facilities and use that information to make strategic decisions. Be sure to get in touch. We'd be happy to explain how Easy WMS can boost your business.