26 Sep 2022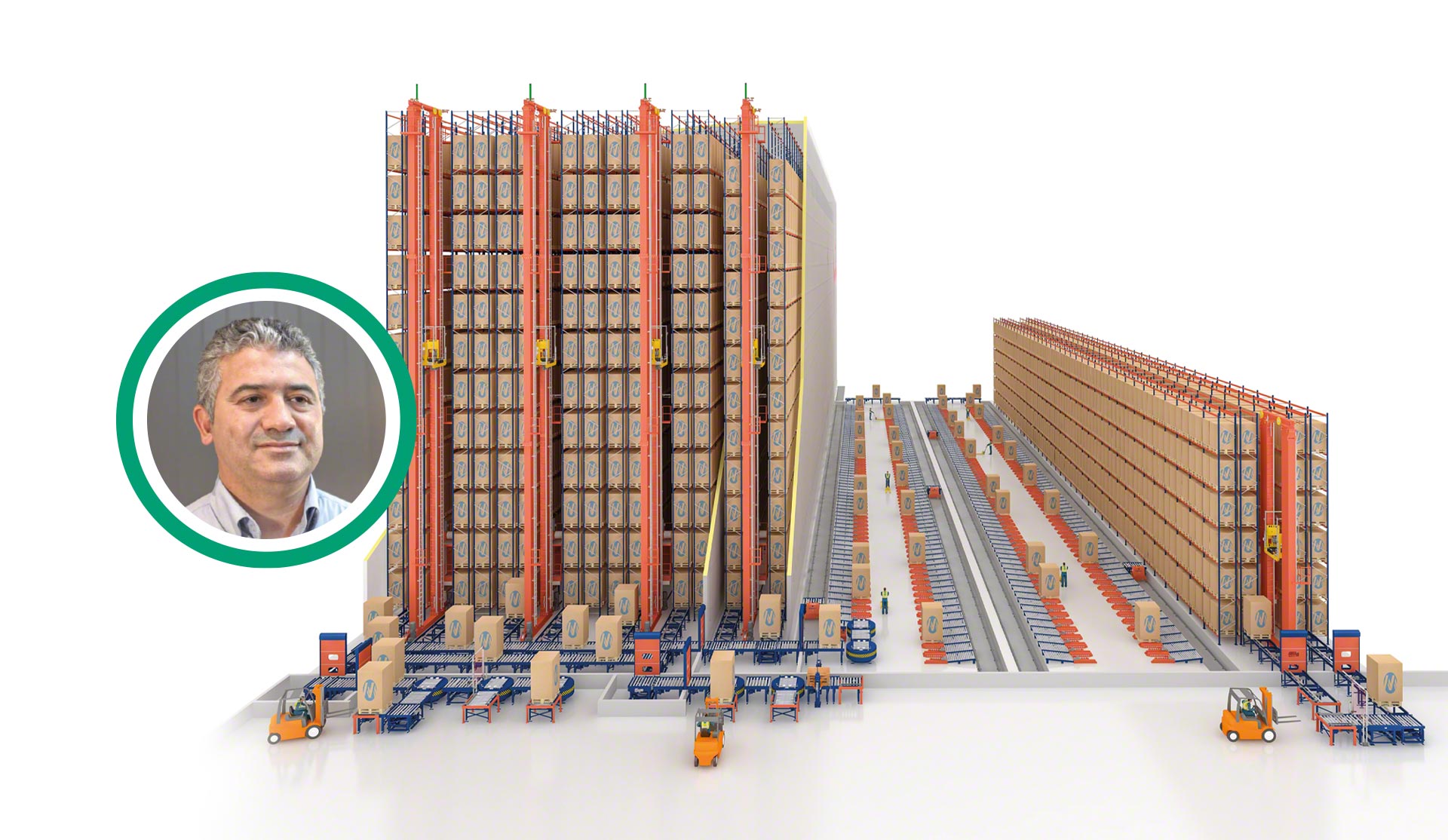 "Automation has enabled us to pivot to market changes"
Interview with Itamar Ferrari of Copacol
Copacol (Cooperativa Agroindustrial Consolata), which specializes in food production and marketing, has centralized its logistics operations with the installation of two automated storage and retrieval systems in the town of Corbélia, Brazil. The company has also implemented the Easy WMS warehouse management system from Mecalux to control the traceability of 17,486 SKUs in real time and ensure food safety. Itamar Ferrari, Logistics Manager at Copacol, explains how technology has enabled the company to scale up productivity by 20% and streamline the distribution of 1,020 tons of meat a day.
Mecalux interviews Itamar Ferrari, Logistics Manager at Copacol, who explains how technology has increased the throughput and traceability of this Brazilian business specializing in food production and marketing.
When did you realize Copacol needed to modernize its logistics infrastructure?

Copacol's production centers have grown in step with our company's product portfolio. Consequently, at a certain point, our storage capacity could no longer house all our goods. It was then that we realized that we had to provide better service and that we lacked the necessary capacity to store all our stock and that of our customers. Obviously, this caused problems for us.

What kinds of problems?

For example, when preparing orders, we had to go and look for the goods, which were distributed among different areas. This resulted in a high number of product and operator movements in the warehouse, and, at times, we couldn't serve our customers: we didn't have the item exactly where and when we needed it. Our main issues were labor shortages and lack of process control.

Now, we can move pallets automatically with a single click

So that was when you decided to automate your logistics operations?

We wanted to be sure that what we used to do manually we would now be able to do just as well or better automatically. When we finally considered building an automated warehouse, before making our final decision, we visited other facilities that were already using this technology to make sure it was the best choice for us. When we went ahead with the implementation, we were convinced that automation would satisfy our needs. We designed all the operations in the automated warehouse so that the machines and robots would work seamlessly, following instructions from the software.

What other logistics needs did you have?

When starting up this distribution center, another priority was to facilitate the management and handling of temperature-controlled food. To do this, we knew our operations had to be automated. Automation would allow us to ramp up productivity, reduce the presence of staff in low-temperature environments, and improve our customer service.

"With Easy WMS, we've enhanced our productivity, efficiency, and product traceability. We now have full visibility of all processes"

If you had to choose between the improvements you've seen, which would you pick?

We used to depend on forklift operators to remove products from the racks. They had to lower the goods to the floor, move them to the docks, and load them onto the delivery trucks. Now, we can move pallets automatically with a single click, making our processes faster and safer. Thus, when we receive an order from a customer, we can be certain that the software will organize its processing and dispatch efficiently, as all the data are already in the system.

How important is traceability for a food company like Copacol? How has Easy WMS warehouse management software contributed to this?

Easy WMS assures us that we're operating more quickly and more optimally. The software has enabled us to enhance our productivity and efficiency while providing us with full product traceability and visibility of all processes in real time. For a large company like ours, traceability is a top priority to guarantee excellent service for end customers. Consumers are more and more demanding, and we need to satisfy their requirements while ensuring the effectiveness of our processes. If we didn't operate with complete traceability and there was a problem, we wouldn't be able to solve it as quickly and nimbly as we would with Easy WMS, which makes that possible.

What role did logistics and automation play during the pandemic?

Logistics played a vital role in the pandemic, without a doubt, because we had to make sure customers would always find the products they needed. And thanks to automation, we were able to pivot to market changes and safety protocols to protect the health of our employees, partners, and consumers.

What are Copacol's plans for the future?

Our mission is to produce healthy, tasty food. That's why we're so demanding when it comes to food safety. On a logistics level, automation allows us to take on more ambitious challenges. We have decentralized distribution centers that may not need to implement an automated system like the one we have here. But the fact that we know we can count on this type of system means that process automation is always a good option.