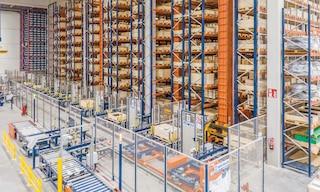 Logistics automation: the road to maximum efficiency
19 Aug 2021
Logistics automation consists of the implementation of automated storage and transportation systems in warehouses and distribution centres. The aim of this is to maximize throughput, ensure process safety, and optimize the logistics operations that take place inside and outside the facility.
With this trend in full swing, more and more organizations are choosing to automate their logistics processes. In this post, we analyze the reasons why automated systems are becoming more popular, the technologies that will set the pace in the coming years, and the most common solutions for automating the main logistics operations.
The rise of automation in logistics
The consolidation of e-commerce and changes in consumer habits have represented major logistics challenges for companies, such as same-day deliveries and e-commerce returns management. Against this backdrop, the only way to stay competitive is through efficient logistics operations that streamline processes, limit errors, and cut costs.
Therefore, logistics automation — that is, the replacement of manual operations and handling equipment with automated facilities and processes — has become a must for any logistics centre to reach its full potential. In fact, every day, an increasing number of businesses draw on new technologies — such as AI, big data, and the Industrial Internet of Things (IIoT) — to automate various processes in their warehouses. This tendency is reflected, for instance, in the growing use of automatic guided vehicles (AGVs) and autonomous mobile robots. This equipment maintains nonstop workflows while redeploying operators to higher-value tasks.
Automated solutions are proving to be the best tools for optimizing the efficiency of logistics processes, which explains why so many businesses are installing automated storage and retrieval systems (AS/RS) and automated transportation solutions. These guarantee speed and reliability when moving large volumes of goods while offering additional benefits, such as reduced energy costs and the smooth supply of nearby production lines.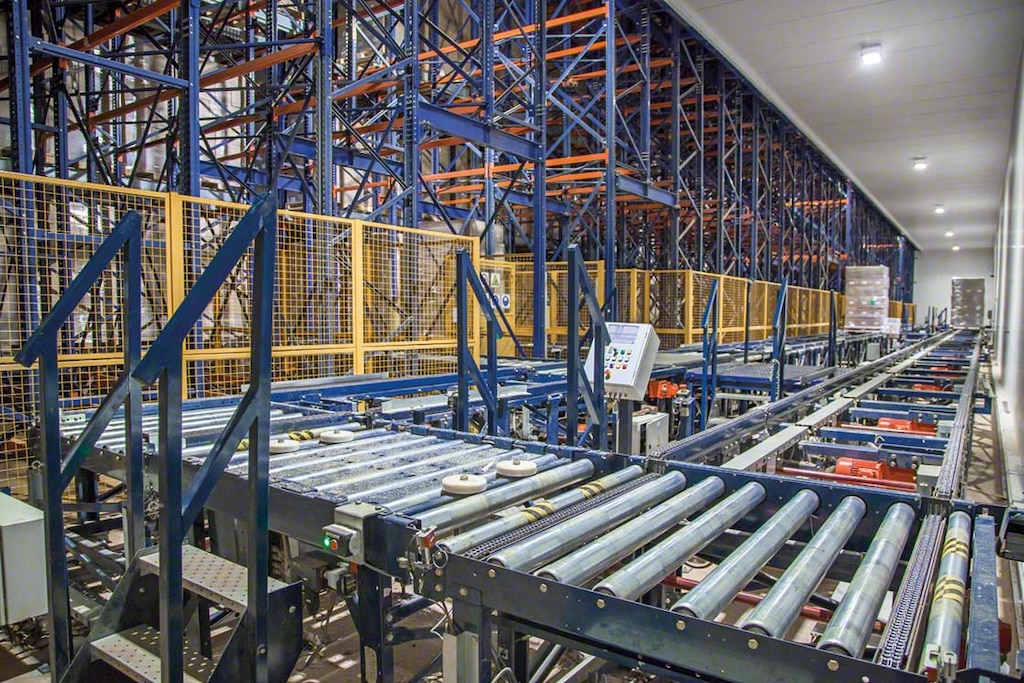 Logistics automation advantages
Implementing automated storage and transportation solutions allows for:
Maximum throughput in goods receipt, storage, and dispatch processes. Continuous operation ensures uninterrupted workflows 24/7.
Lower logistics costs. Automation limits numerous warehouse cost overruns, such as those resulting from order picking errors or impacts and wear and tear on the flooring caused by manual handling equipment.
Error eradication. Automated solutions guarantee the elimination of mistakes in locating, transporting, and slotting goods in the warehouse.
Improved safety for the staff and the goods. Automated processes do away with damage to the products stemming from manual intervention. They also prevent accidents involving machinery, unit loads, and operators.
Tight stock control. The warehouse management systems (WMSs) that coordinate the AS/RS make it possible to monitor all logistics operations taking place inside and outside the facility.
Space maximization. The AS/RS store the goods in a compact way, making use of the warehouse height to gain storage space.
The automation of warehouse processes is most cost-effective when applied to repetitive tasks. As such, this technology is typically implemented in logistics maneuvers such as the extraction and insertion of goods in AS/RS, order preparation and dispatch, and stock movements between the various areas in the facility.
Automation of goods flows
One of the most common solutions for moving towards logistics automation in the warehouse is the installation of fully automated storage systems capable of transporting large volumes of stock uninterruptedly.
Pallet conveyor systems and roller conveyors for boxes, for instance, streamline goods flows from production or even from a buffer to the various storage zones. These transportation systems make it possible to create circuits that adapt to any type of facility.
Semi-automated solutions such as the Pallet Shuttle can also be deployed. This compact storage system consists of a shuttle powered by an electric motor that's placed in the storage channel to cut down considerably on product loading and unloading times.
Another solution for automating goods flows is to replace traditional handling equipment such as pallet stackers and forklifts with stacker cranes for pallets or miniload systems (AS/RS for boxes), which comprise machines that boost productivity when removing and depositing goods on the racks. These automated transportation systems move up and down the aisle along guide rails.
Automation of order picking
The costliest operation of any warehouse is picking. It demands the most time of operators and produces the most errors. To streamline it, warehouses can swap person-to-goods picking with the goods-to-person method, an automated solution that delivers the products directly to the pick stations.
To ensure effective automation of order picking, it's crucial to implement a warehouse management system (WMS) that coordinates the entire operation: from the slotting of the various SKUs to the instructions to the automated equipment on where to locate the merchandise, among its other tasks. Additionally, a WMS makes it possible to employ semi-automated picking techniques such as pick-to-light and voice picking, in which the software guides operators in picking tasks, showing them what quantity of stock to pick for each order.
Companies with much higher demand volumes will find pick and place robots to be the perfect solution. These machines, coordinated by the WMS, substitute human intervention at the pick stations, minimizing times as well as the risk of error.
Automation of order dispatch
Another prime candidate for logistics automation is order dispatch. To do so, it's vital to equip the various storage areas and loading docks with automated transportation systems. Depending on the type of load handled, these solutions can include, for example, conveyors or sorters, which classify the goods by carrier. Likewise, it's essential to be armed with a program such as Mecalux's Multi Carrier Shipping Software module. This syncs the WMS in the warehouse with the transportation agencies' software and allows the sorter to automatically dispatch each parcel according to the exit order sequence.
Meanwhile, traditional loading docks can be traded for automatic truck loading and unloading systems, designed for firms with a high number of shipments. These systems, formed by conveyors and lifting platforms, among other elements, speed up the loading of palletized cargo onto trucks.
Automation and logistics: maximum productivity for a 100% efficient warehouse
In today's competitive landscape, speed, accuracy, and complete product traceability are an absolute must. Thus, implementing automation solutions is the best alternative for optimizing warehouse operations, bringing down costs, and, above all, meeting the demands of increasingly discerning customers.
Logistics automation requires a provider with ample experience that can design personalized solutions that adapt to the particular needs of each organization. Mecalux has been implementing automated solutions in multiple countries on different continents. If you're thinking about automating all or part of your warehouse, don't hesitate to contact us. One of our expert consultants will analyze your needs and come up with the best solution for your business.