Hispack 2018 showcased the synergies between packaging and logistics
19/07/2018
Once again, Mecalux attended Hispack, one of the world's largest packaging industry events, which took place in May of this year in Barcelona. On this occasion, logistics occupied a much more significant space than in previous years, proving the influence packaging has on the entire supply chain. More and more companies are considering packaging from a logistics point of view and are taking into account which types of packaging best suit their products' distribution and marketing phases.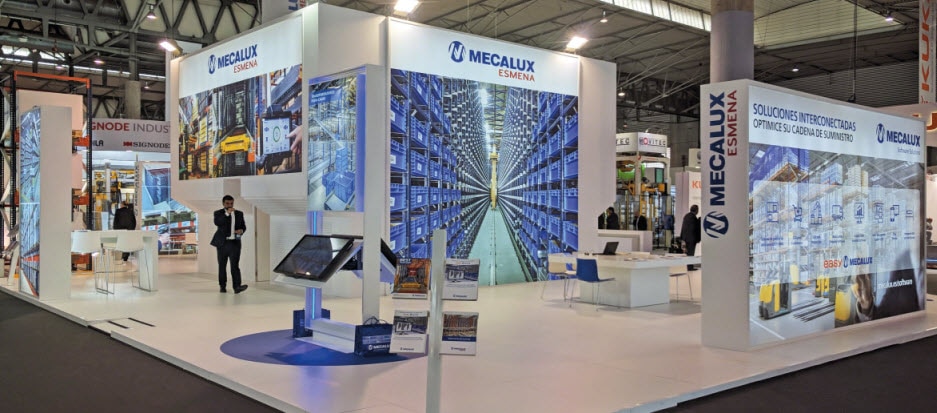 During the four days of the fair, Mecalux showed off its new products at its stand located in Pavilion 3. Visitors discovered the new software solutions developed to control all supply chain operations. These tools and applications allow their users to configure the Easy WMS warehouse management system to the needs and characteristics of their business with full freedom and flexibility.
The solutions are tailored to each sector (automotive, pharmaceutical, retail, technology etc.) and are designed to help companies meet new demands from consumers. The Supply Chain Analytics Software, Labor Management System, Multi Carrier Shipping Software, WMS for e-commerce and WMS for Manufacturing guarantee maximum competitiveness and multiply warehouse efficiency.
Fair guests were also able to view the semi-automatic Pallet Shuttle, a high-density storage solution that uses motorised shuttles to handle the pallets inside the storage channels. The shuttle, which follows orders sent by an operator using a Wi-Fi connected tablet, deposits the load in the first free location in the channel without the need for human intervention.
Mecalux also has a version of the Pallet Shuttle System with automatic machines. There are two possible solutions, with different applications and characteristics: the Pallet Shuttle with a stacker crane or with transfer cars. In this version, the shuttle's main source of electrical power comes from a system of supercapacitors, which can be recharged in a matter of seconds.
The visitors also discovered the latest projects on which Mecalux has been working from the five continents. They all have one thing in common: technology. Mecalux has a great deal of experience in building fully automated warehouses and those that enable companies to achieve their full growth potential. The company develops customised solutions to meet the specific needs of each customer.
Finally, attendees were able to visit the showroom and technology centre, located in Cornellà (Barcelona). The showroom displays Mecalux's wide variety of systems and solutions for optimising the performance of the supply chain processes of any business.
Hispack and FoodTech 2018 in figures
Square metres: 55,000 m2
Visitors: +38,000
Exhibitors: +1,100
Countries: 30
Brands represented: +2,000
Conferences: +70
Speakers: +185
Organised every three years, Hispack is Spain's largest packaging industry fair. It is held jointly with FoodTech, an exhibition of machinery, technology and equipment for the meat and food industry in general.