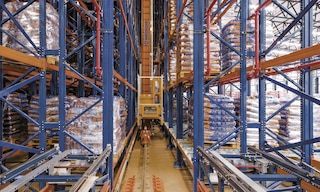 Automated stacker cranes: definition and applications
28 Dec 2021
Automated stacker cranes have become practically indispensable in Logistics 4.0 because they're the perfect solution for boosting efficiency in warehouses with a high flow of movements.
There are different types of stacker cranes available on the market — for both boxes and pallets — depending on the logistics needs of each company. Knowing all about the characteristics of an automated stacker crane will enable you to get the most out of your supply chain.
Automated stacker cranes defined
Automated stacker cranes are handling equipment that moves horizontally and vertically in the storage aisles of a logistics facility. They're tasked with transporting, storing, and retrieving goods from their locations in the racks by using extendable forks installed in the cradle of the machine.
Stacker cranes can operate in single- or double-deep pallet racks, pallet flow racks, and can even work with a motorized shuttle (the automated Pallet Shuttle system). This equipment is a vital part of any automated storage and retrieval system (AS/RS) for pallets and is especially useful in warehouses with high-turnover products and continuous inflows and outflows.
Storage and extraction operations can be performed independently (simple cycle) or jointly (combined cycle). The simple cycle refers to the natural movement a stacker crane makes to store a single item. With the combined cycle, the stacker crane deposits a load and picks up another in a single movement. Thus, combined cycles reduce movements, streamlining flows.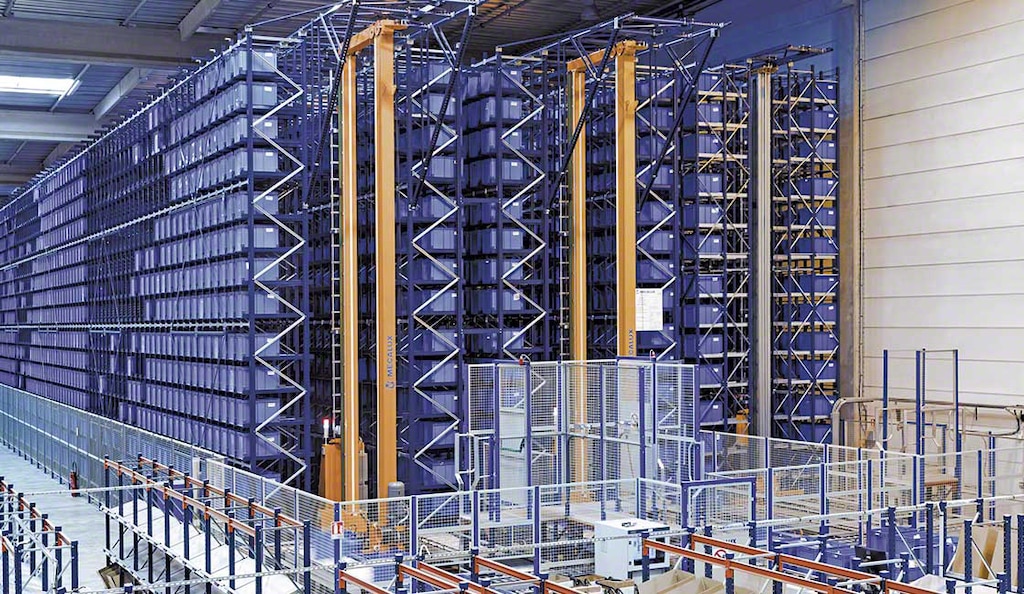 Benefits of automated stacker cranes
The main advantages of automated stacker cranes are related to automation. As these machines work nonstop, the flow of movements increases considerably, while errors are minimized. In other words, they offer a high degree of efficiency and productivity.
Another advantage of automated stacker cranes is space optimization, as they leverage every inch: they can move goods up to 45 metres high and move in aisles merely 1.5 metres wide, making it possible to create high-capacity facilities.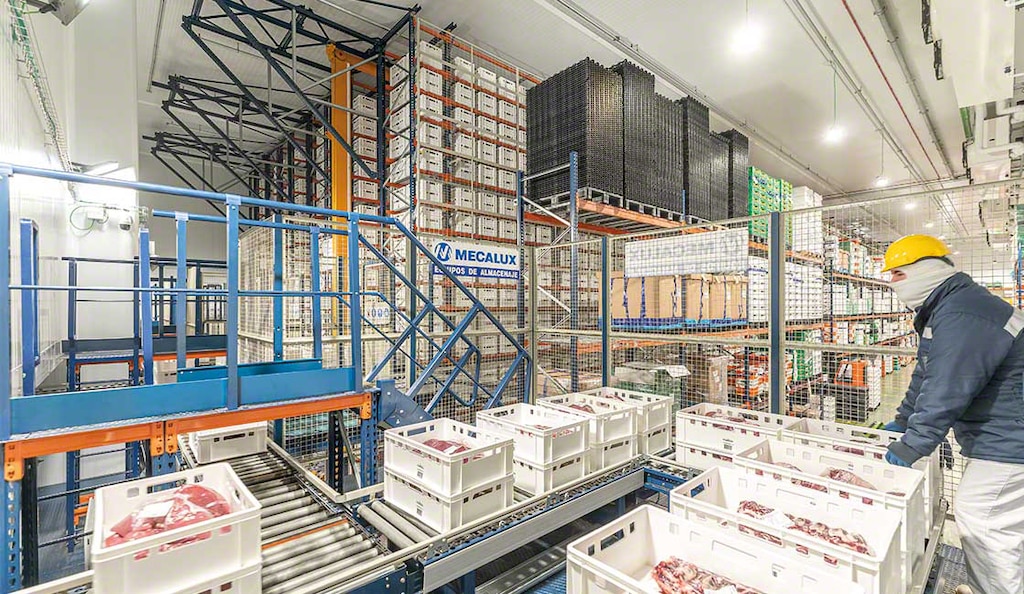 Problems solved with an automated stacker crane
The implementation of automated stacker cranes represents a step forward for a company's supply chain efficiency. That's why businesses with high-turnover stock and constant entries and exits turn to this solution to speed up their storage operations.
Automation in an already existing warehouse
AS/RS trilateral stacker cranes allow for easy automation of facilities with pallet racks without modifying their structure. Since they don't require an upper guide rail, they can be installed in any warehouse in which trilateral turret trucks are normally operated. The solution is extremely cost-effective when it comes to modernizing both already existing facilities and new buildings.
Disalfarm, a logistics company specializing in pharmaceutical products, swapped the trilateral turret trucks that served its pallet racks for 15 trilateral stacker cranes from the Mecalux Group. It did this to adapt to the increase in activity it was experiencing. Disalfarm Operations Manager Jaume Segrià says: "We now have maximum process efficiency and optimal safety for everyone inside the warehouse."
Conventional warehouse over 40 metres tall
Standard forklifts are incapable of working in facilities requiring height to raise storage capacity. Therefore, automated stacker cranes are the only handling equipment that can operate with racking over 40 m high.
Hayat Kimya, a leading manufacturer in the Eurasian fast-moving consumer goods market, built a new logistics centre to manage the company's heightened production and to cut goods inflow and outflow times. The solution consists of one of the tallest automated warehouses in Europe: 46 m tall.
Streamlined picking
Reducing the time between the receipt of an order and its preparation is one of the biggest challenges facing logistics nowadays, even more so with the e-commerce boom and the rise of quick commerce (q-commerce). With a miniload system (AS/RS for boxes), you can have an automated storage system for smaller products that works in line with the goods-to-person order picking method. Instead of the operator having to move, the stacker crane brings the product to be included in the order directly to the pick station.
Tool manufacturer SAM Outillage gave its logistics operations a makeover with an AS/RS for boxes that enables it to prepare and deliver orders in just 24 hours. Automation minimizes errors and reduces the number of movements made in the warehouse. SAM Logistics Manager Candice Aubert says: "The automated warehouse from Mecalux has helped raise our productivity by 25%."
Automation of a high-density warehouse
One of the best storage solutions for dealing with space shortages and optimizing surface area is to install a compact system. Stacker cranes speed up flows of goods with these types of racks, which have only the necessary working aisles, since the structure is compact.
Finieco, one of Europe's largest paper bag manufacturers, turned to the Mecalux Group for a storage system that would maximize space in its logistics centre in Portugal and, at the same time, ensure a high throughput. After exploring various options, it decided on the automated Pallet Shuttle system served by an automated stacker crane. Now, the warehouse makes the best use of all available space. Plus, as it's connected to the production zone, it's capable of absorbing the daily manufacture of 1.5 million paper bags.
Uninterrupted work at low temperatures
The main drawback with cold storage and freezer warehouses is working with manual storage systems in extreme environmental conditions. Exposure to low temperatures for long intervals can adversely affect the health of operators.
To avoid this, automated stacker cranes are an excellent solution: they can operate at negative temperatures as low as -30 °C, automating the storage and retrieval of unit loads and, thus, significantly limiting employees' exposure to the cold. Additionally, automation of cold storage warehouses guarantees hygiene in all logistics processes, a key factor in sectors such as the food and pharmaceutical industries.
Congelados Navarra, a leading European producer and marketer of deep-frozen vegetables, automated its four freezer warehouses in Fustiñana, Spain, with automated stacker cranes from the Mecalux Group. With this handling equipment, the business not only stores 160,000 pallets but has also streamlined movements in the goods loading and unloading processes.
Automation of product turnover
Ensuring optimal turnover of the SKUs stored by means of the FIFO (first in, first out) management method is a must when working with food, chemicals, or any other kind of product with an expiration date. One of the most common solutions for making sure the first pallet stored is the first to be dispatched are pallet flow racks. Typically used in conjunction with forklifts, operations can also be automated with a stacker crane.
Cosmetic and hygiene product manufacturer EcoWipes looked to the Mecalux Group to speed up management of its high-demand raw materials. Hence, our company installed pallet flow racks served by a stacker crane. This machine travels down a 54 m long aisle continuously, placing the pallets in the assigned locations as quickly as possible.
Management of different unit loads
One of the great things about stacker cranes is their versatility and capacity for handling different types of unit loads, particularly pallets and boxes. Many companies need to automate the storage and retrieval of these two unit loads.
Miguélez, a global benchmark in the manufacture of low-voltage electric cables, implemented two AS/RS (one for boxes and another for pallets) to store its various product types: drums, spools and reels. Automation has brought Miguélez numerous advantages, mainly increased productivity and availability, as it can now work 24 hours a day at maximum throughput. The two automated storage systems store over 35,000 tons of cable.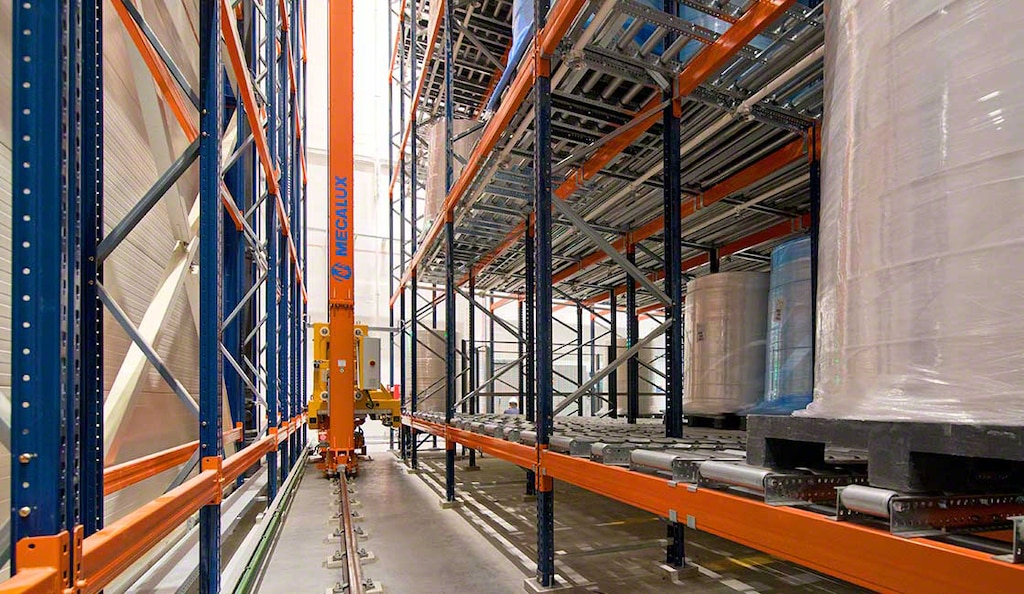 Stacker crane installation
The implementation of automated stacker cranes is conditioned by each company's logistics needs, flows, operations, warehouse characteristics, and products. There's a stacker crane for every storage height, for the number of cycles required, and for each type of good (covering various sizes and weights, up to 1.500 kg per pallet).
Mecalux has a wide selection of single-and twin-mast stacker cranes with different extraction systems. As a supplier, it offers models ranging from the MT-1, suitable for facilities with a lower height, to the MTB-7, reserved for warehouses up to 45 m tall and with a high volume of goods movements.
Automated stacker cranes: maximum efficiency, safety, and performance
Investing in technology solutions such as automated stacker cranes is the best way to benefit from an effective supply chain and successfully tackle the major logistics issues facing businesses nowadays. In recent years, automated stacker cranes have become essential in Logistics 4.0.
Companies in all sectors, from the food to the automotive industry, can take advantage of the improved productivity that comes with employing stacker cranes in a warehouse. To enhance your logistics performance with the help of an automated stacker crane, it's best to seek the advice of a trusted logistics solutions provider such as Mecalux. Get in touch, and one of our experts will help you come up with the right solution for your business.