16 Jun 2021
The concept of innovation in logistics is fundamental when it comes to meeting two of the most important supply chain goals: to ensure the best customer service and to reduce operating costs.
Logistics is one of the central pillars of any company, and optimizing it is vital to remain highly competitive. In this search for continuous improvement, there's a tendency to constantly renew their processes, sometimes through technology, sometimes by means of logistics strategies that meet the needs of any business.
In recent years, logistics has also adapted to economic, social, and technological changes that are transforming our daily routines. The advent of Industry 4.0 has caused logistics to improve even more, aiming for better distribution, increased efficiency in storage and order prep processes, and shorter delivery times.
Mecalux's extensive experience in designing and starting-up facilities of all kinds has enabled us to come up with innovative solutions for customers with complex needs that can't be met through the usual methods. In this post, we've put together some examples of innovation in logistics projects we've been a part of in recent years. You can check them out here:
Hayat Kimya: one of Europe's tallest clad-rack warehouses
Innovating involves taking on logistics challenges, such as erecting one of the biggest automated clad-rack warehouses on the European continent. That's the case of the facility our company built for Hayat Kimya in lzmit, Turkey. The complexity of the project was further compounded due to the high earthquake risk, as the city lies on the starting point of the North Anatolian Fault, a seismic area that makes up the majority of Turkey.
Hayat Kimya, a leading manufacturer in the fast-moving consumer goods market, needed to centralize its goods that were spread out among various warehouses into a single logistics complex. This would allow it to meet the rise in production and bring down goods transportation costs in order to satisfy the growing demand more efficiently and in the quickest time possible.
Our company was up against a monumental challenge, as it was tasked with building a facility with a capacity for 160,000 pallets in a location with a very high seismic risk. So, how was this done? By designing and erecting a clad-rack warehouse with measurements far exceeding those of a conventional warehouse: 120 m long, 105 m wide, and 46 m high. This has made it a construction milestone, as it's one of the tallest clad-rack facilities in Europe, in addition to being located in a seismic area.
Because of its particular characteristics, the warehouse couldn't be built with standard cold-formed profiles. Nor was it possible to erect a standard structure formed by hot-rolled profiles since this facility required extremely high-precision assembly. The solution? To combine both construction options. Additionally, given the area's high seismic risk, more than 11,000 tons of anti-seismic reinforcing steel were used. This solution is capable of absorbing all horizontal dynamic forces, mainly those in the longitudinal direction, which constitute the least rigid part of the racks.
The result is an enormous clad-rack warehouse with double-deep racking automatically connected to the production lines by means of four tunnels. Every day, an average of 6,500 pallets enter the facility, with peaks of 400 pallets/hour.
Gioseppo: minimizing environmental impact without losing storage capacity
Gioseppo, a company specializing in the design and sale of footwear in over 60 countries, needed a new facility to store up to two million pairs of shoes. Our company's technical team found itself up against a conundrum: the future warehouse space was in a coastal zone with strict environmental regulations whereby the size of the facility could not extend beyond a specific height. The logistics innovation requirements were clear: to gain height and, thus, storage capacity, while minimizing the impact on the local landscape.
So, if you can't build up, you need to dig down. Our company set up a 6 m deep pit in which it built a clad-rack AS/RS facility that stands 18,5 m tall, 79 m long, and 21,5 m wide. This made it possible to optimize the height to obtain the maximum possible storage capacity and, simultaneously, soften the impact on the environment, thereby preserving Gioseppo's image.
Cosmopak: one aisle, two temperatures, three unit loads, and three product types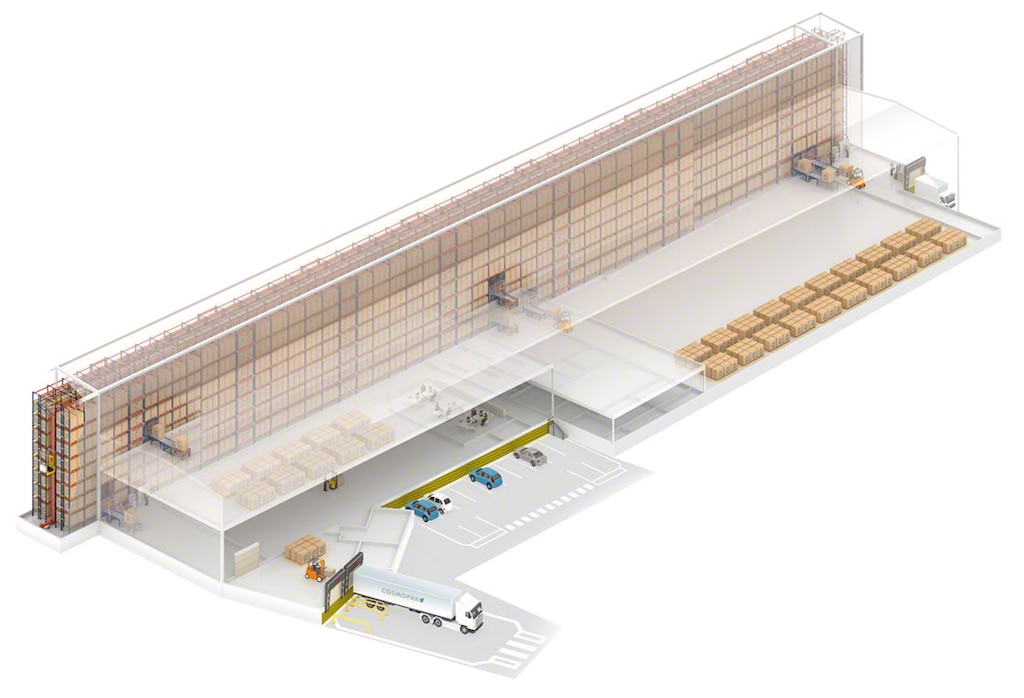 How can you store three product types at two different temperatures in one storage aisle? Cosmopak, a company specializing in cosmetics sales, boasts a production centre in Ovar, northern Portugal, where it manufactures products for all of Europe.
Recently, the firm opened new production lines to cope with increased demand. Accordingly, it had to update and modernize its warehouse. The issue? The new facility had to be set up next to the production lines, in a very limited space that couldn't be expanded, as it's located beside train tracks.
Changing the site of the logistics centre and production plant wasn't economically viable, so the only solution was to make the most of every inch of the available land. In addition, the warehouse had to store finished products, semi-finished goods, and raw materials in pallets, big bags, and IBCs (intermediate bulk containers) at ambient and refrigerated temperatures. That is, a single aisle would have to accommodate three kinds of products in three different unit loads and at two temperatures (ambient and cooled). No mean feat.
To fulfil Cosmopak's logistics requirements, our company decided to build a versatile, 148 m long automated warehouse that spans the entire length of the premises. This facility's stand-out features are its single storage aisle and its connection with production via entry points on three different levels on one side of the warehouse. With this setup, and by not installing a conveyor system at one end of the facility, the length of the storage aisle is optimized.
Easy WMS, the warehouse management system from Mecalux, plays a major role when organizing the goods: it decides where to place each pallet based on whether it's a raw material, semi-finished good, or a finished product and on its demand level and particular characteristics.
Espace des Marques: remote installation of a WMS in the midst of lockdown
Online apparel and footwear store Espace des Marques recently opened two distribution centres in France equipped with pallet racks and picking shelves on mezzanines, both supervised by our Easy WMS warehouse management system. The start-up of these facilities, however, wasn't as simple as expected.
Just after the first warehouse was finished and Easy WMS was about to be installed in the second, the COVID-19 pandemic broke out. Faced with such an unforeseen scenario, in which the lockdown measures prohibited any kind of non-essential activity, it would have been easier just to postpone the deployment. But this was not the case.
Encouraged by the excellent results obtained with Easy WMS at its first facility, and with steadily growing online sales, Espace des Marques chose to go ahead with the installation, albeit completely remotely to comply with the health measures adopted by the government and to protect its employees.
In spite of all these adversities, the project was an unprecedented success for both companies, which worked together online at 700 km away. In merely two weeks, workers at Espace des Marques were prepared to use Easy WMS efficiently.
Throughput was better than expected during lockdown: with only 20 employees, both facilities worked in sync to ship an average of 1,600 orders a day, almost triple the number they used to dispatch.
Sokpol: joining the warehouse and production, separated by a street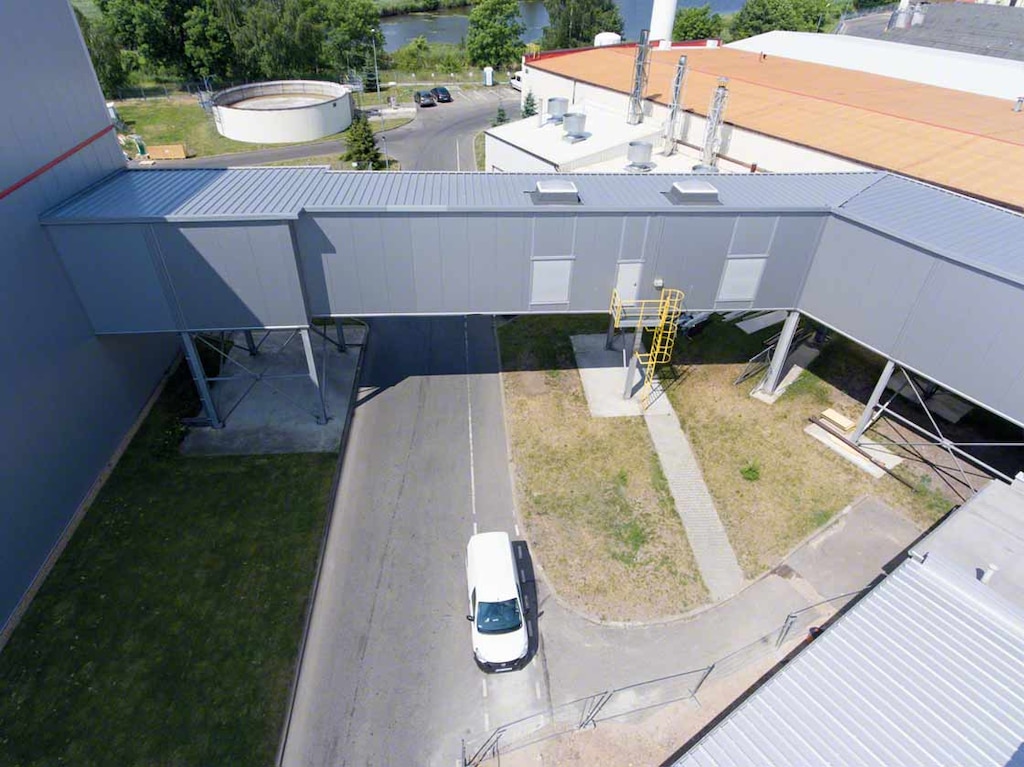 Sokpol is a Polish producer of juices, soft drinks, and fruit purees in most of Europe and the US. Its production plant, strategically located in southern Poland to streamline distribution of the goods throughout Europe, considerably ramped up its production volume, which overwhelmed the warehouse for finished products.
The company purchased the land adjacent to the production centre to build a new automated facility, the only drawback being the busy street that sits between the new warehouse and the old centre. Our company's objective was to automate goods movements between the two facilities, surmounting the obstacle separating them.
To do this, it built a covered overpass 5 m above the ground that joins production outputs with the new warehouse. Inside the overpass is an electrified monorail circuit, an agile, high-speed transportation system that goes up to 100 m/min and ensures continuous goods flows.
Innovate: don't get left behind
Logistics evolves alongside business requirements to respond to customer demands, cut costs, and improve profitability.
At Mecalux, we have a proven track record of commitment to logistics innovation, meeting the needs of any customer and providing latest-generation storage solutions. If you think the time has come to give your supply chain the boost it needs to be even more efficient, get in touch with Mecalux. We'll offer you a personalized, cutting-edge logistics solution.