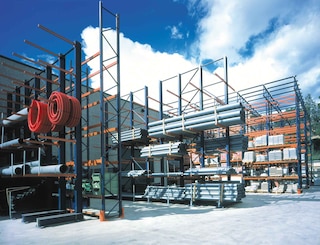 Outdoor warehouses: tips and solutions
15 Jan 2021
Among the different kinds of installations out there nowadays, we can find variations with respect to their infrastructure. In this sense, we've already examined the differences between conventional and automated warehouses. But we've always spoken about covered structures, logistics installations prepared to preserve and protect goods from external conditions.
However, there are situations in which companies opt to keep their products in outdoor industrial storage facilities or open-air warehouses. Exterior surfaces can be more economical, although you have to bear in mind that maintenance costs are higher, since the racking is more exposed to the elements.
Outdoor warehouses: open and semi-open
Outdoor installations are designed to house incorruptible goods with a high resistance to the effects of weather. One of the reasons why companies use open-air warehouses is their low cost. Depending on infrastructure, they can be classified as:
- Open warehouses:
These are completely exposed spaces. Their perimeter is marked by a concrete barrier or security fence. They're often meant to store heavy and bulky goods that, on the one hand, can't be stolen and, on the other, aren't affected by weather conditions.
In general, these installations house: construction materials, metallurgical material (pipes, iron, industrial reels, wires, sheets, cement tubes, etc.), properly palletised bulk commodities and wood, among other products.
- Semi-open warehouses:
These installations do have roofing and walls, but at least one side is completely open. In this case, the goods can be exposed to the outdoors, but they must be protected from the rain. This is the most common option for storing, for example, vehicles and construction materials, such as tiles, bricks, wood planks, etc.
3 tips for setting up an optimal outdoor warehouse
Let's look at them in more detail:
1. Choose corrosion-resistant racks
The level of corrosion will be greater, of course, in the case of outdoor industrial storage. It's true, however, that this also depends on the actual location of the installation and the weather conditions to which it's subjected.
In this vein, there are ways to protect the racks against premature oxidation. Damage to the structure's coating creates vulnerabilities for the safety of the warehouse.
In our article on systems providing protection against corrosion, we talk about the most appropriate finishes for various conditions. It's worth noting, though, that, for outdoor environments experiencing constant wet and dry periods, a highly recommended option is galvanised racking.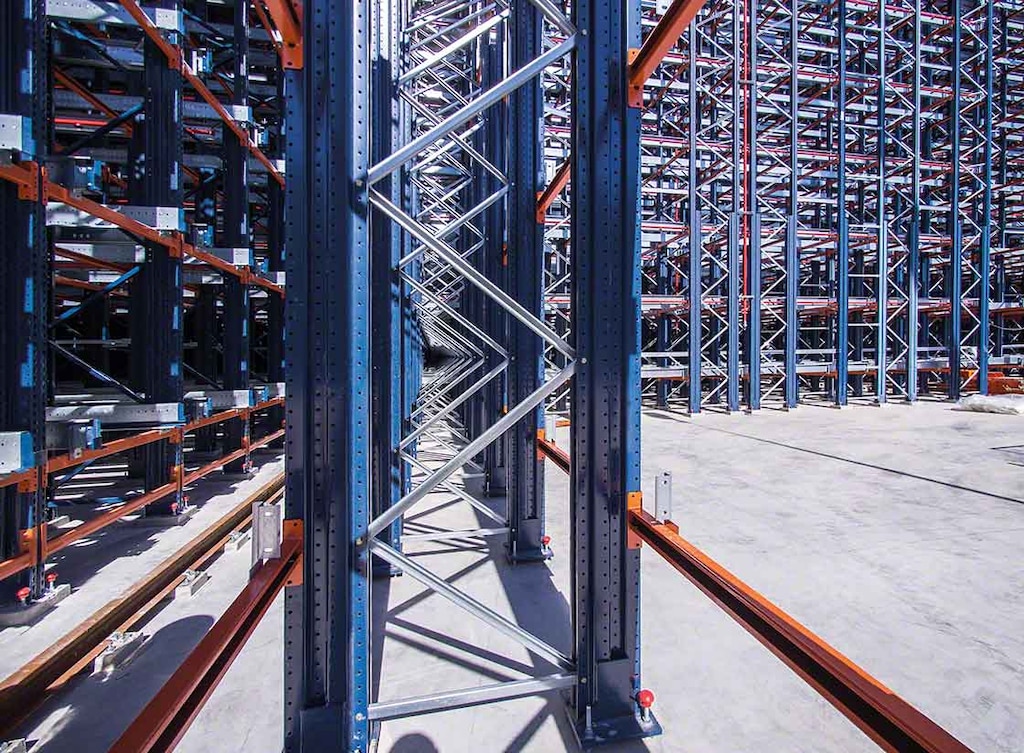 2. Provide the area with proper signage
This outdoor industrial storage area — usually located next to a covered installation — is where bustling goods transport activity often takes place. This is either because it's next to the loading docks or simply because of the intensive handling of the products kept in this zone.
That's why it's crucial to plan the outdoor storage space so that bulky goods can be maneuvered without risk. Traffic should be regulated with signs posted even though there are no aisles as such. Signage should be weatherproof and reflective.
3. Purchase the right handling equipment
When it comes to outdoor warehouses, goods are handled with forklifts. Depending on the amount of movement taking place outside, it's a good idea to use forklifts with enough output and grip to manage the types of materials stored here, which are usually cumbersome.
On that note, you'll recall that, indoors, only electric forklifts and those fueled by gases such as liquefied petroleum gas (LPG) and compressed natural gas (CNG) are permitted (those powered by diesel and gasoline emit noxious fumes, so they can't be used in closed environments). In any case, if operators are going to use electric ones outside, the batteries can't be recharged in damp spaces or those exposed to rain.
However, if the machines are going to be used exclusively outdoors, forklifts that run on fuel — such as 4x4 all-terrain and thermal counterbalanced fork lorries — are the ones that perform best on uneven or sloped surfaces.
If you're looking to buy racks for your outdoor warehouse, don't hesitate to contact us: a Mecalux expert will analyse the situation at your storage installation and advise you on the best type of industrial racking to suit its conditions.