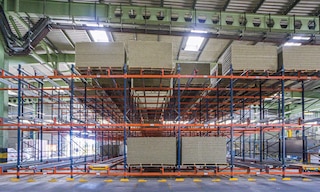 5 warehouses with oversized pallets
13 Dec 2022
Oversized pallets are load-bearing platforms that exceed standard pallet dimensions. They serve to store and transport all types of bulky and extra-large materials. The standard sizes for palletised goods storage aren't the same all over the world. In the US and Japan, for instance, oversized pallets are larger than the standard 1,200 x 1,000 mm. In Europe, meanwhile, they exceed 1,200 x 800 mm (the dimensions of the standard Euro-pallet).
Oversized pallets are used to store extra-large, bulky or extremely heavy unit loads that can't be placed on conventional pallets. When performing logistics operations with oversized loads, it's essential to adjust processes, workflows, handling equipment and storage systems to ensure the safety of the goods, the racks and the operators in the facility.
Examples of warehouses with oversized pallets
Below are 5 examples of facilities designed by the Mecalux Group for companies that use oversized pallets in their logistics operations:
Example 1: Delta Children (US)
Leading American crib and baby product manufacturer Delta Children relied on Mecalux to equip its new logistics centre in Fontana, CA. The solution optimises the company's storage space and facilitates order fulfilment. Half of the racking units hold three standard-size pallets per level, while the other half is designed to store two oversized pallets on each level.
With racking units measuring between 8.5 and 11 meters tall, Delta Children leveraged the full height of its centre and can now get the most throughput out of it. This Mecalux solution has enabled the manufacturer to increase its storage capacity by 33%.
Example 2: Rockwool Peninsular (Spain)
This Spanish business needed a logistics solution that would optimise the storage of specially sized pallets measuring 1,000 x 2,400 mm. To store and remove bulky products more quickly, Mecalux equipped the warehouse with high-density pallet racking and the Pallet Shuttle system. In total, this automated storage and retrieval system (AS/RS) offers a capacity for 336 oversized pallets.
This Mecalux solution was tailored to the customer's specific needs: the racking unit consists of 21 storage channels with a width of 2.6 meters. With this system, the operator uses a forklift to place an electric shuttle in the storage channel. This shuttle then moves the load to the first available location.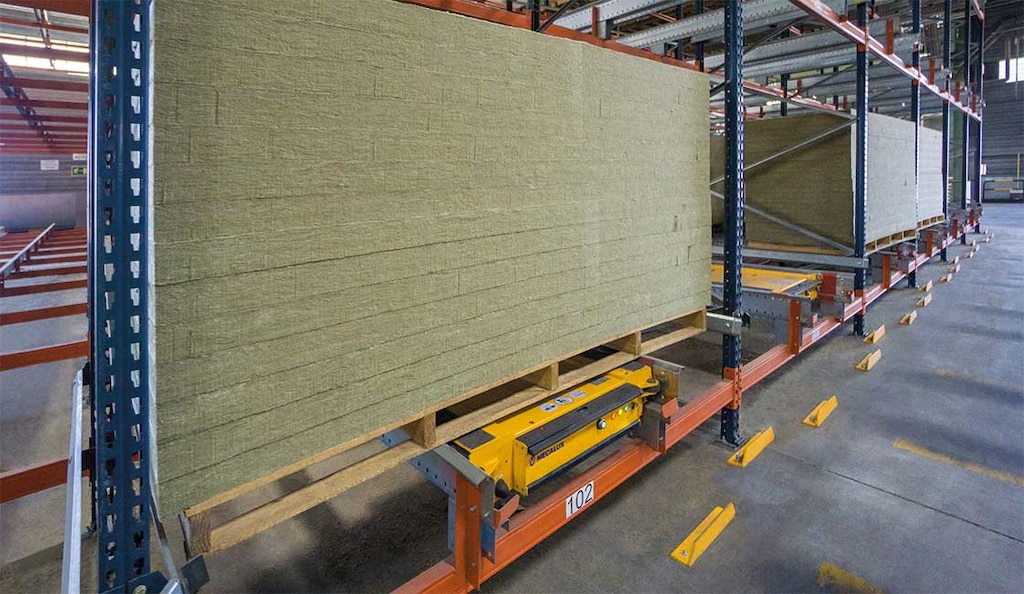 Example 3: Deguisetoi.fr (France)
The logistics centre of Deguisetoi.fr, a French online retailer of costumes and party items, is divided into two areas: one section with picking shelves with walkways and another with 10 meters-tall pallet racking with six levels. These locations house large unit loads measuring up to 1,800 mm tall. "The pallet racking fill a large surface area; they make the most of the storage space and provide greater capacity," says Quentin Drosson, Logistics Manager at Deguisetoi.fr.
Drosson also stresses the importance of properly zoning the warehouse: "The extensive picking shelves meet our current expectations. They enable us to deal efficiently with increases in order processing in as short a time as possible. Also, setting up one zone for pallet racking and another for picking shelves has helped us optimise operator movements considerably."
Example 4: Agata (Poland)
Agata, one of Poland's primary furniture distributors, equipped its logistics centre with pallet racking to store over 50,000 pallets of different sizes.
The storage solution conceived by Mecalux features double-deep racks. Here, forklifts reach the second pallet in each location by means of their extendable forks. "Setting up double-deep racking means we can really leverage every square foot of storage space. And we've cut costs compared to what we would have spent to build a new warehouse," says Marek Skiba, Logistics Director at Agata. The handling equipment meets the facility's technical specifications and contains extra-long forks to work with oversized pallets.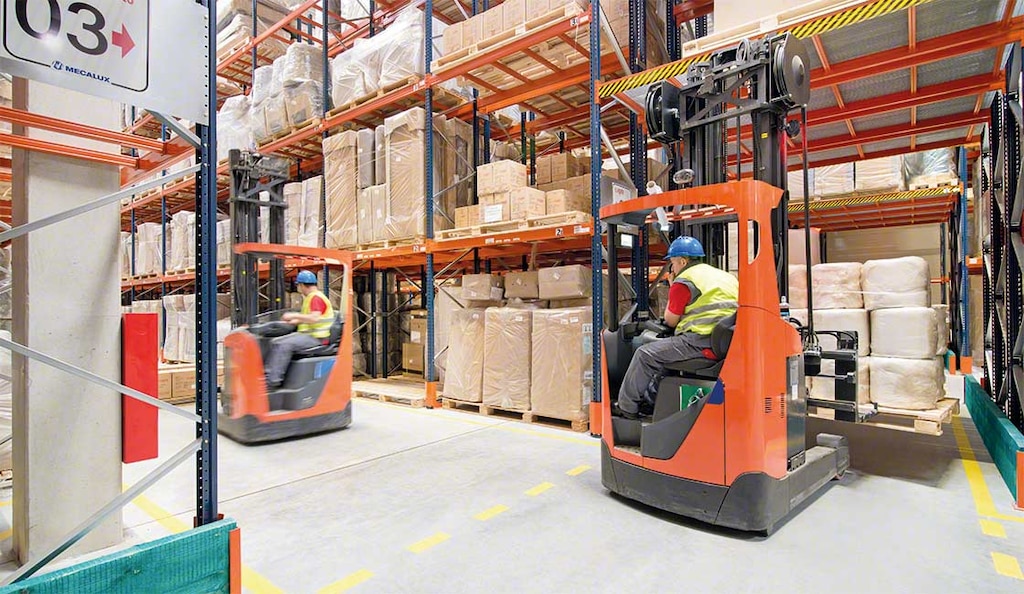 Example 5: Leroy Merlin (Spain)
Leroy Merlin is a French multinational specialising in DIY, home decoration and gardening products. Mecalux designed the two warehouses the business built in Torija, Spain. The solution is made up of a set of 10.5 m tall pallet racking that store different types of products, ranging from oversized pallets to stackable chairs.
The goods are distributed throughout the storage system by turnover: high-demand merchandise is located on the ends of the aisles, close to the loading docks, while low-turnover items are stored on the upper levels. The storage system is divided by an underpass that cuts through the racking units to facilitate order picking.
Oversized pallets to store bulky goods
Companies have to adapt their logistics and distribution processes as well as their workflows to the type of products with which they operate. Therefore, warehouses with irregular goods can opt to use oversized pallets to store and move stock that can't be deposited on standard pallets.
At Mecalux, we have more than 50 years of experience designing and implementing intralogistics solutions for all kinds of industrial sectors. Want to get the most out of your logistics operations? Don't hesitate to contact us. One of our expert consultants will advise you on the best solution for your company.