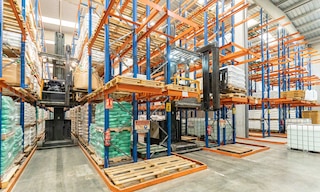 Racking pick and deposit (P&D) stations
06 Dec 2022
Racking pick and deposit (P&D) stations are parts attached to the sides of pallet racks to store goods temporarily until they can be housed in the relevant storage system or directly distributed.
They're a common solution in facilities that use forklifts, automatic trilateral stacker cranes and/or mobile pallet racking Movirack.
What are P&D stations?
P&D stations are platforms attached to the sides of pallet racks, forming cantilevered locations. They enable you to place materials inside the racking as well as on the P&D stations located on the ends. By leveraging the entire structure of the storage system in this way, you'll accommodate a greater number of products.
P&D stations fulfil a basic function in logistics: they hold goods for a limited time. Pallets remain there until they can be deposited in a slot inside the racking or directly sent where they're needed (e.g., to the production lines or the dispatch area).
P&D stations can also be used as locations for cross-docking, an order fulfilment practice whereby materials are distributed directly to customers without previously being stored. With this method, the loads are stored on P&D stations to avoid having to insert them in the racks, thus speeding up their distribution.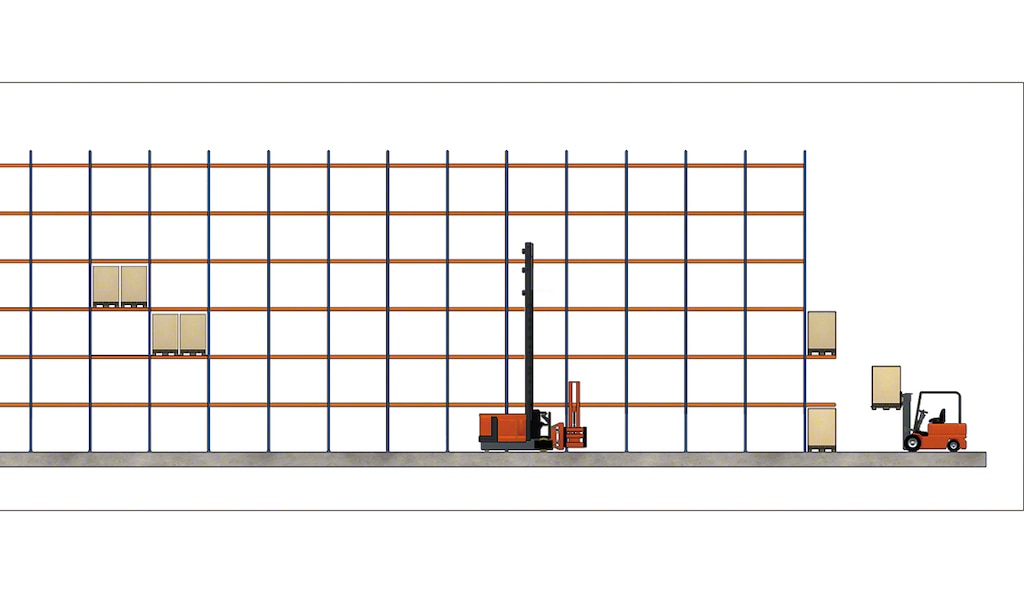 Uses of P&D stations
P&D stations are normally installed in warehouses operating with narrow-aisle forklift trucks or with AS/RS trilateral stacker cranes. These two types of machines circulate only in storage aisles, requiring other operators to move the pallets from the P&D stations to the rest of the production areas.
P&D stations are extremely effective in facilities with trilateral turret trucks and trilateral stacker cranes because they're located where these pallet exchanges take place: on the ends of the racking structures.
These platforms can also be installed in warehouses with mobile racking. Thanks to the mobile bases, this high-density solution offers direct access to all products.
This storage system requires a working aisle wide enough to allow forklifts to circulate, manoeuvre and, if necessary, for two or more operators to pass each other. A pedestrian walkway can cut through the racking, functioning as an emergency exit as well. In this case, P&D stations can be positioned at the top of the passageway. The first cantilevered level is usually outfitted with a shelf or mesh to prevent goods from accidentally falling.
Types of P&D stations
There's a different kind of P&D station for every need. For starters, the quantity of P&D stations installed on your racks will depend on the number of pallets to be accumulated for each of the working aisles.
Likewise, the platforms' dimensions and load capacity will depend on the type of products you handle in your warehouse.
P&D stations can also be equipped with pallet centralisers, which help operators position the goods with greater precision. These accessories are especially useful in facilities with narrow aisles and less room to manoeuvre.
Examples of warehouses with P&D stations
Companies in many industries employ P&D stations: to store loads temporarily and expand the capacity of their logistics facilities. Let's take a look at some examples:
Art Cosmetics
Makeup and skincare retailer Art Cosmetics has a warehouse in Fornovo San Giovanni, Italy. There, pallet racking house the components eventually sent to production and finished products ready to be distributed.
In the aisles, operators use trilateral turret trucks to store and remove goods from their locations. As these machines operate solely in the aisles, P&D stations were installed on the ends of the pallet racks. There, other operators pick up the materials using forklifts and move them to the manufacturing or dispatch area. The company also employs P&D stations to stack empty pallets.
Mooijer-Volendam B.V.
Dutch company Mooijer-Volendam B.V. is a wholesaler of a wide variety of frozen seafood, smoked fish, fruit and vegetables. Its freezer warehouse in the Netherlands is outfitted with Movirack mobile racking from the Mecalux Group. This compact system makes the most of the surface area to provide the highest possible storage capacity. In the storage area, Mecalux set up a pedestrian walkway with three levels of P&D stations on the opposite end of the main aisle, parallel to it. The business chose this solution to expand its storage capacity and accommodate the maximum number of pallets.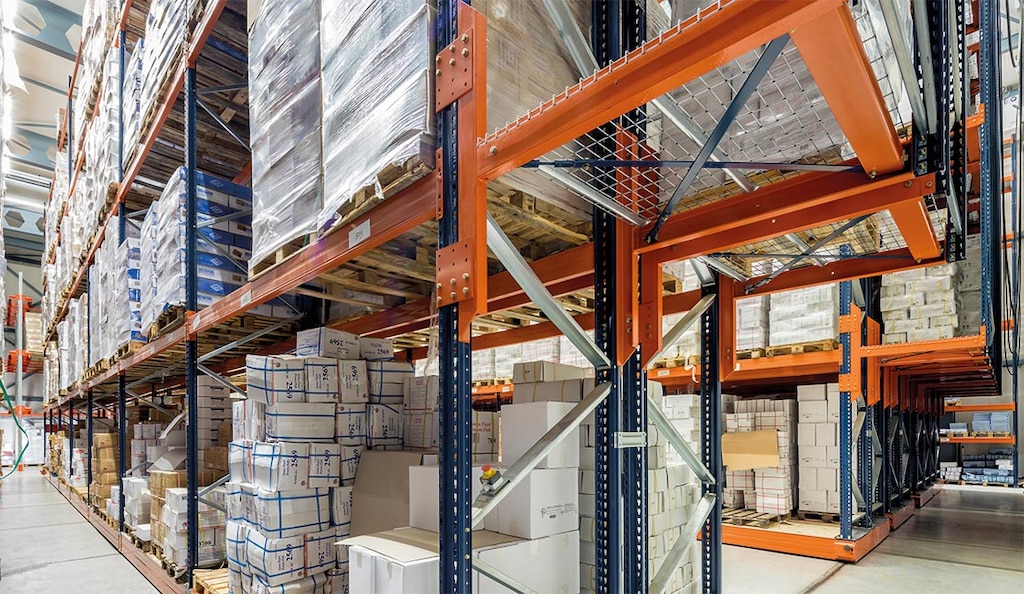 Elektro3
Elektro3 sells products for hardware, DIY, household appliance and gardening stores. Its logistics centre in Tarragona, Spain, was equipped with narrow aisle pallet racking by the Mecalux Group.
In the aisles, operators deposit and retrieve materials from their slots using wire-guided trilateral turret trucks. These operators place the loads they've removed from their locations on P&D stations on the ends of the racking units. Then, a different set of operators with reach trucks picks up the pallets and drops them off wherever required.
P&D stations: a temporary storage solution
A priority of any organisation is to find a solution that maximises storage capacity while making warehouse operators' work easier. P&D stations are components that can be installed on narrow aisle pallet racks and mobile racking systems to store more loads and facilitate operations such as cross-docking.
At Mecalux, we have extensive experience designing personalised facilities to meet any logistics need. Want to optimise your logistics processes and warehouse operations? Contact Mecalux — we'll come up with the best solution for you.