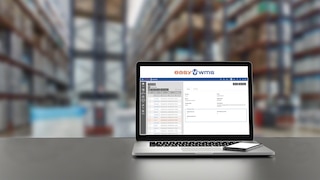 Perpetual inventory system: stock updated in real time
16 Jul 2021
A perpetual inventory system is a method for recording stock in the warehouse wherein inventory is updated in real time, making it possible to strictly control the goods.
Technology has brought about the creation of systems that automatically monitor product inflows and outflows, ensuring that logistics managers have accurate information on the status of all their goods at all times. This stock management method is especially useful in warehouses with multiple SKUs, as a high number of SKUs increases the risk of a stockout.
In this post, we examine the concept of perpetual inventory, its main differences from periodic stock recounts, and, particularly, how to implement it in the warehouse.
Characteristics of a perpetual inventory system
Also known as continuous inventory, a perpetual inventory system is a stock management technique that constantly counts and updates stock in the facility. This is achieved through implementation of software capable of automating inventory control.
One of the main characteristics of perpetual inventory is the use of a warehouse management system (WMS) that tracks every movement the goods make. The system automates the recording when goods are received, stored, and dispatched. The WMS also collects relevant product attributes such as expiration date and type of unit load, among others.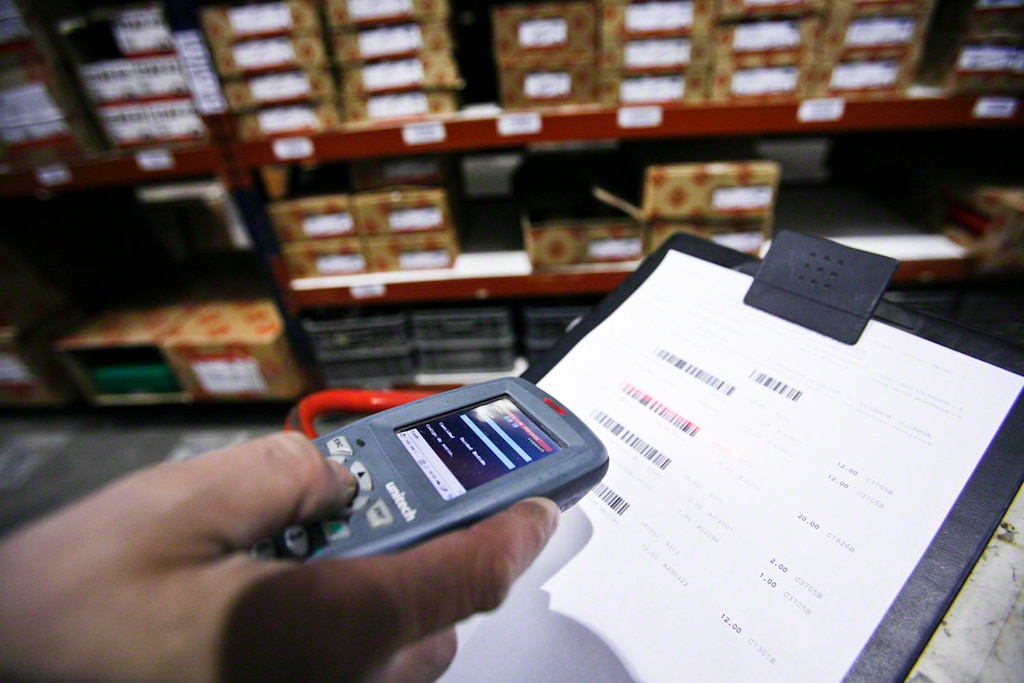 Operators work with RF scanners permanently connected to the WMS. This technology enables employees to easily read and identify the labels on each good, which include an identification code and the characteristics of the SKU. Additionally, the locations and picking carts have their own labels.
Therefore, by moving a product and scanning the code appropriately, the operator provides real-time information about the status of that product. This entire operation is managed by the WMS, which tells the warehouse operator what to do step by step, eliminating all doubt as well as any possibility of error.
In the case of automated storage and retrieval systems (AS/RS), the implementation of a pallet checkpoint guarantees perpetual inventory with hardly any human intervention. The pallets enter the warehouse via a conveyor and go through the pallet checkpoint (an arch with sensors), which verifies that the goods comply with certain measures and minimum quality standards. At that moment, the label is automatically read and recorded in the system, as are subsequent movements. As a result, the warehouse manager knows the location of each product without operator involvement in their management.
Thanks to these technologies, logistics managers have complete visibility of stock levels. Employing perpetual inventory is clearly advantageous for any type of business. However, they're especially beneficial for those that work with a wide variety of SKUs. In these cases, taking inventory solely by means of annual or periodic counts entails a high risk of imbalances from day to day. Perpetual inventory systems ensure that the record is a true reflection of reality.
Differences between periodic and perpetual inventory
When you don't have the adequate technology to maintain a perpetual inventory system, your alternative is periodic inventory. So, what are the main differences between perpetual and periodic inventory? The aim of both is to know the exact amount of stock (and their location) in a logistics facility and/or production centre.
As opposed to a perpetual inventory system, with periodic inventory, counts are planned and scheduled according to a set period (monthly, bimonthly or annual, for example). Hence, periodic inventory only gives us an accurate snapshot of the status of the merchandise on specific days of the year. This prevents businesses from having up-to-date stock data at all times, which is the only way to avoid imbalances and stockouts in the warehouse.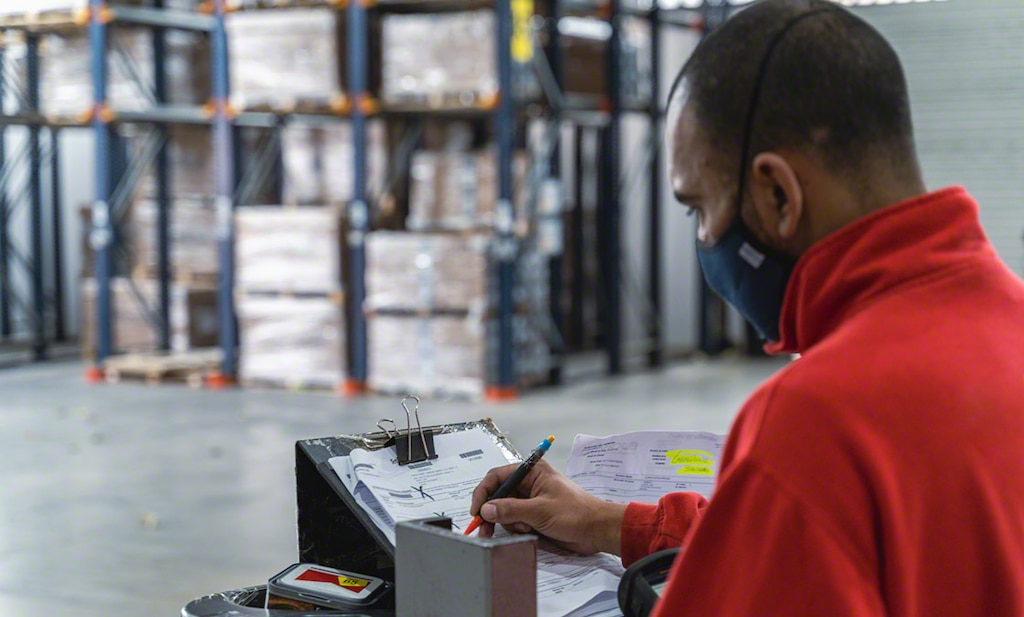 Periodic systems can be made more precise by ramping up the frequency of the counts (or by prioritising certain products, with the implementation of cycle counting). But this has a price, as in with manual counts, operators must leave their manual tasks to devote their time to taking inventory. On the other hand, a perpetual inventory system requires minimal staff intervention, and business activity doesn't have to be interrupted.
Advantages of perpetual inventory
The benefits of implementing a perpetual inventory system are clear. Let's run through the main ones:
Total stock control: the logistics manager has access at all times to information on where each SKU is located and how many are stored in each slot. The automated management of the stock by the WMS is especially helpful in operations such as returns and the preparation of multi-SKU orders.
Complete merchandise traceability: perpetual inventory facilitates total product traceability, by monitoring all the stages a product undergoes along the entire supply chain.
Reduced operating costs: this type of SKU stocktaking does away with stockouts by identifying errors at any time, significantly lowering warehouse logistics costs.
Positive corporate image: in an environment as competitive as e-commerce, a mistake in inventory can compromise the company's image in the eyes of the customer. A WMS ensures that the merchandise data shown in the store coincides with the actual stock in the facility.
Elimination of penalties: several marketplaces, e.g., Amazon, require accuracy and efficiency in order management and delivery to be able to operate on their portals. A WMS guarantees compliance with these strict demands, thus avoiding any kind of penalty.
Ultimately, perpetual inventory is becoming an essential condition together with the consolidation of omnichannel retail and e-commerce logistics. With more and more small-sized SKUs, deploying a software program that automates stock management is an absolute must for eliminating stock shortages and wrong orders.
Considerations when implementing perpetual inventory
Continuous stocktaking doesn't completely rule out the possibility of phantom inventory or lost merchandise. Nevertheless, perpetual inventory ensures more rigorous control of stock, which helps to pinpoint mistakes more easily. Thus, company losses incurred will be much smaller than with entirely manual inventory management.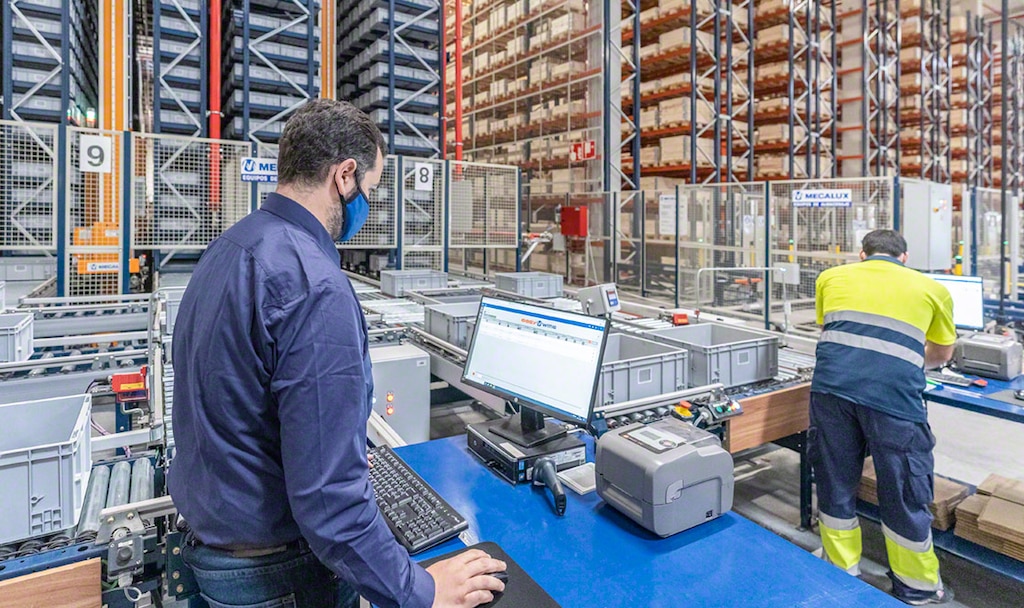 Moreover, although implementing a warehouse management system involves an initial investment, the WMS has a quick return on investment (ROI). This software lowers the error rate in the management of goods receipt and dispatch and, above all, makes it possible to take on a larger volume of orders. This way, the business can increase its turnover while bringing down its reverse logistics costs.
Examples of perpetual inventory in action
An increasing number of companies are adopting perpetual inventory systems, as stockouts and wrong orders can tarnish a brand's reputation. Let's take a look at some cases of firms that have deployed a WMS and that now reap the benefits of having their inventory updated in real time.
A prime example of this is metalworking company Alcorta Forging Group, which installed Easy WMS to efficiently feed its production lines. "With this automated solution, we've optimised stock control and order preparation," points out José Antonio Fernández, Warehouse Manager at this business, which distributes close to 20 million parts for the automotive industry worldwide every year.
Another example is logistics operator Luis Simões. Our company's software provides this firm with rigorous stock control in real time, automating goods entries and exits in a logistics centre that houses 100,000 pallets and dispatches 4,000 orders a day. Logistics and Innovation Manager Rui Simões notes, "Thanks to Mecalux's storage solutions, we've significantly ramped up our operational efficiency."
Perpetual inventory system: comprehensive control of warehouse stock
Perpetual inventory ensures reliable inventory counts in the facility, minimising the possibility of stockouts and overstock.
A warehouse management system is the ideal tool for employing this stocktaking method. Unlike other methods and solutions, the WMS automates control of stock inflows and outflows, in addition to guiding operators at every turn to make sure that every change in inventory is properly registered.
At Mecalux, we're experts in smart storage solutions. To benefit from a perpetual inventory system at your company, don't hesitate to contact us. A consultant from our software division will advise you on the best options for your business.