25 Jun 2021
A pharmacy robot is a mechanical arm that automatically delivers medication to pharmacy staff. This solution reduces travel to the stock room to locate the items requested by customers.
These robots fulfil two specific needs. On the one hand, they speed up product deliveries (they're ideal in drugstores with a large stream of customers that need quick access to their medication). On the other hand, they leverage the available surface area much better (typically, pharmacies are small establishments that manage multiple SKUs).
Differences aside, this solution is very similar to miniload systems (stacker crane for boxes) such as those designed by Mecalux, as they facilitate order preparation according to the product-to-person method. Companies that manage small items such as costume jewellery or electronic components can also benefit from these types of robots and more accurately manage their stock in automated warehouses.
Pharmacy robots: a definition
A pharmacy robot is an automated solution charged with locating medication in the back room of the store, extracting it from its slot, and placing it on a ramp for it to automatically be brought to the pharmacist at the point of sale.
The packaged medicine is stored compactly in channels (spaces in the racks). Each channel is assigned a single SKU, so all the boxes or bottles in a channel correspond to the same product.
For this system to work properly, the company needs management software to distribute the SKUs in the various channels based on stock turnover and, at the same time, to control the pharmacy robot's movements.
When to install a pharmacy robot
Should all pharmacies incorporate a robot? Obviously not. Only those establishments with busy customer traffic and a large number of SKUs.
Besides, it's not necessary to automate management of all the drugs, rather only those with a high turnover. According to the Pareto principle or the 80/20 rule, 20% of a pharmacy's SKUs represent 80% of its turnover. All these products can be deposited in the robot's working area, while the rest can be kept in other storage systems (on picking shelves).
Another limitation of pharmacies is the lack of space. They tend to be small stores (especially neighbourhood drugstores) in which every inch needs to be taken advantage of to accommodate all the products. With a pharmacy robot, medication is stored in a compact way, occupying the minimum amount of space.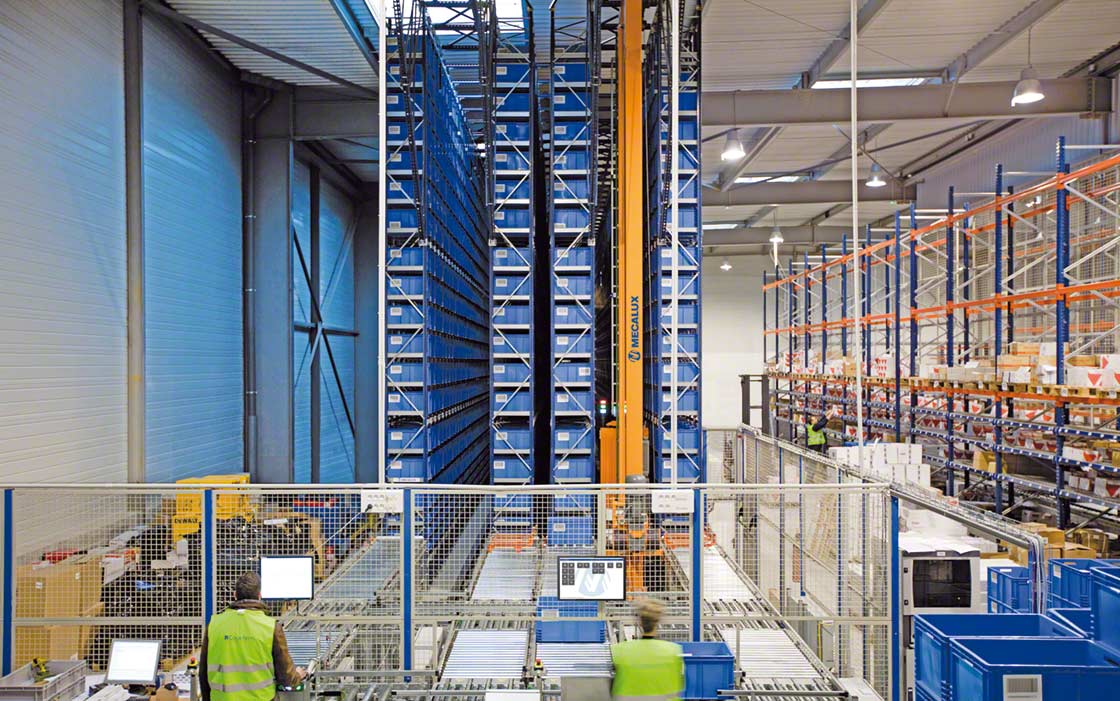 A pharmacy robot is in itself an order preparation system that follows the product-to-person technique: operators (in this case, pharmacy personnel) wait to receive the merchandise automatically. This concept, then, can be extrapolated and applied to manage other products, for example, jewellery and accessories, in facilities that are larger than a pharmacy.
From the pharmacy to the warehouse: automated management of small products
Some businesses, such as pharmaceutical and costume jewellery companies, require streamlined, correct management of small items. A pharmacy robot is a solution specially devised to be used in very small spaces.
The go-to storage system for meeting these needs is the miniload AS/RS, designed by our company specifically to facilitate the handling and movement of boxes containing small items. It has been implemented by companies in all varieties of sectors (automotive and spare parts, e-commerce, electricity and electronics, pharmaceutical, hardware and industrial supplies, components and machinery, textiles and fashion accessories, transportation and logistics operators, etc.).
Just like a pharmacy robot, a miniload system inserts and removes boxes from their locations, the difference being that the working space is larger than that of the robot. These boxes are moved to the pick stations automatically, where operators retrieve them to then prepare the orders.
Miniloads are run with a warehouse management system, such as Easy WMS from Mecalux, which organises the boxes based on their SKU and turnover and, at the same time, controls the movements of the system.
Examples of automated storage for boxes
The miniload system can be implemented as a facility's only storage system or can complement others (pallet racks, automated solutions for pallets, etc.). Likewise, the miniload is a great solution for both small and large warehouses. Let's examine some companies that use this AS/RS for boxes in their facilities.
Continental chose to install the miniload solution in its logistics plant in Guadalajara, Mexico, where it manages small products in 3,460 boxes. The main operation is picking , and 24 orders are prepared simultaneously according to wave picking solely with the miniload system.
This same configuration was adopted by Unidroco, a leading Spanish drugstore and perfume wholesaler. This company has a large warehouse (11,000 m²) in Barcelona equipped exclusively with an AS/RS for boxes. It is composed of seven aisles — built in three phases — that house 14,200 boxes.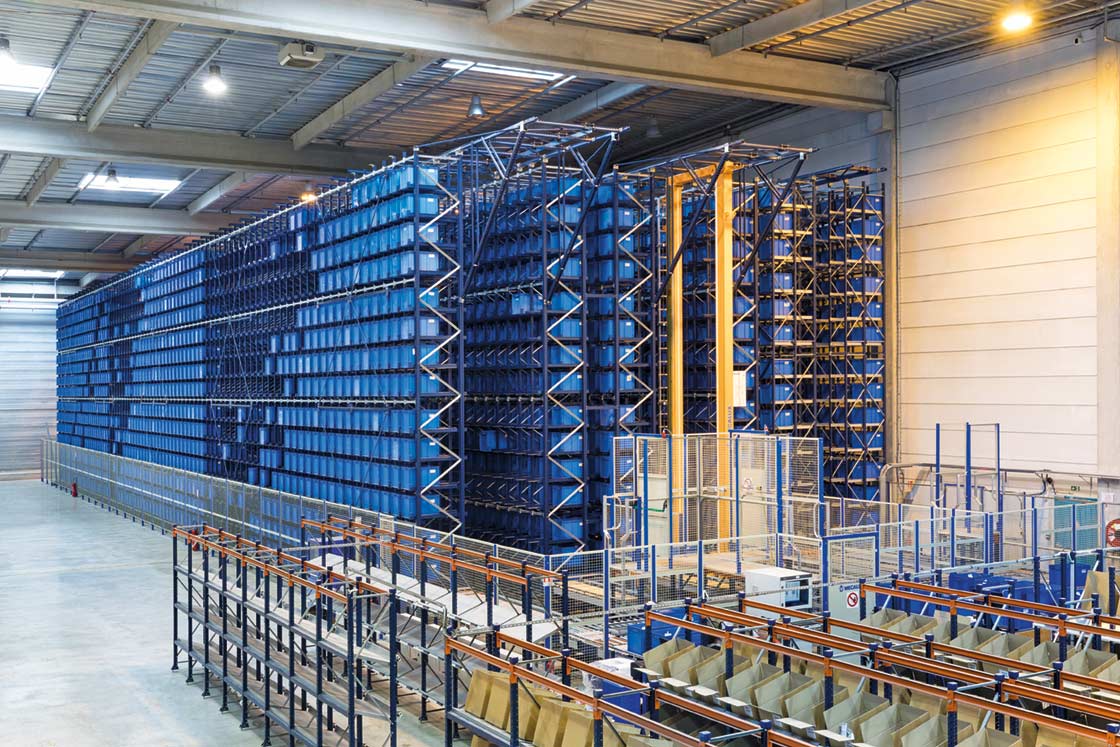 Meanwhile, AS/RS for boxes can also be installed in larger logistics centres and coexist with other storage solutions (both automated and non-automated). This is the case of pharmaceutical firm Kern Pharma. It has an automated rack-supported warehouse in Terrassa, Spain, with a storage capacity of 10,000 pallets, as well as an AS/RS for boxes with 9,700 slots for smaller products. Management of the goods, both pallets and boxes, is carried out by means of automated handling equipment.
For its part, jewellery and fashion accessory company Groupe Rand outfitted its facility in France with pallet racks, picking shelves, and the miniload system. The stacker crane for boxes streamlines order prep, making it extremely fast and accurate. The operators receive the goods from the warehouse and sort them into orders in the picking locations equipped with put-to-light devices.
Product-to-person: efficient picking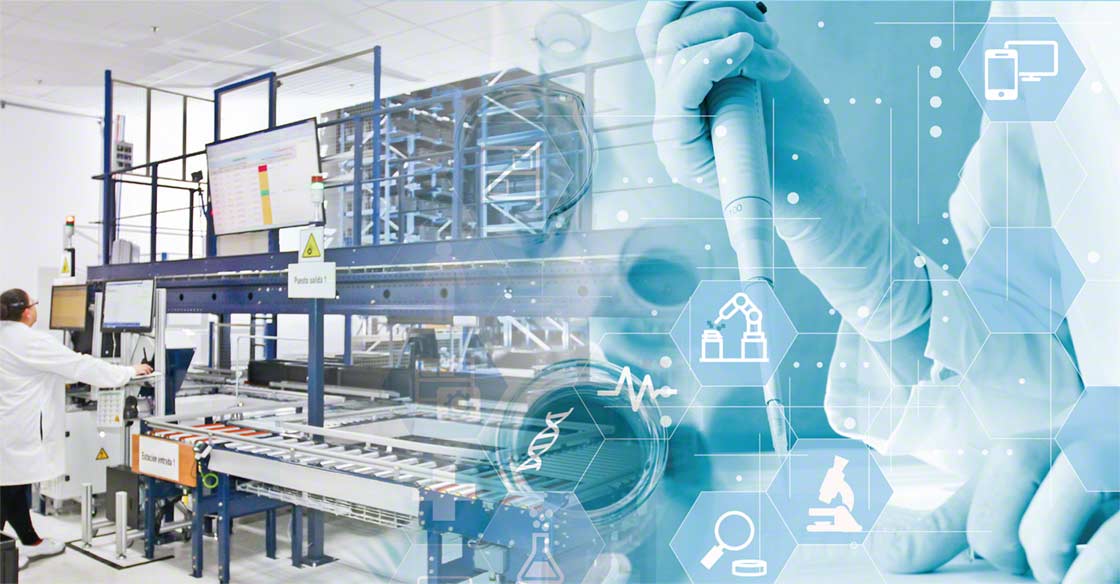 Pharmacy robots are perfect for drugstores with a high volume of customers. The robot automatically supplies the medication so that staff can serve more customers. When the principle of this system is applied to a bigger space, such as a warehouse, the most appropriate solution becomes the miniload.
The idea is to limit staff travel so that employees can devote their time to operations that add more value. This reduces costs and errors while ramping up productivity, which is of paramount importance for companies with a broad variety of SKUs and high turnover rates.
At Mecalux, we have extensive experience in the design, manufacture, and installation of miniload systems (stacker crane for boxes), as well as in specific solutions for preparing orders according to the product-to-person criterion. Get in touch — we'll help you find the best solution for your facility.