30 May 2022
RF picking is a manual order preparation system that's very widespread in the logistics industry, as it manages and optimises the work of operators.
Radio frequency is an electromagnetic spectrum that, when coupled with antennas and transmitters, can be used as a wireless communication system. With RF picking, operators employ wireless devices to connect with the warehouse management software to perform any operation, including goods receipt, order picking, kitting, and dispatch.
What's RF picking?
RF picking is an order preparation system in which operators use wireless devices to receive instructions from the warehouse management system (WMS). This software indicates, for example, the items to locate, their exact location, and the quantity to pick. After completing a task, the operators merely have to confirm this on their RF scanners to receive new instructions.
Radio-frequency identification (RFID) enables data to be exchanged wirelessly between two or more devices. While one device emits radio-frequency waves, the other responds according to the signal received.
RF picking is the evolution of paper-based picking, a working method whereby operators use printed lists that specify the items required to put together each order. But paper won't cut it for businesses with a large number of orders, as it entails a high risk of errors when managing inventory data.
Preparing orders with RF scanners is an increasingly widespread solution for boosting the efficiency and productivity of warehouse operators. According to a report from consulting company McKinsey, RFID technology improves inventory accuracy by 25%.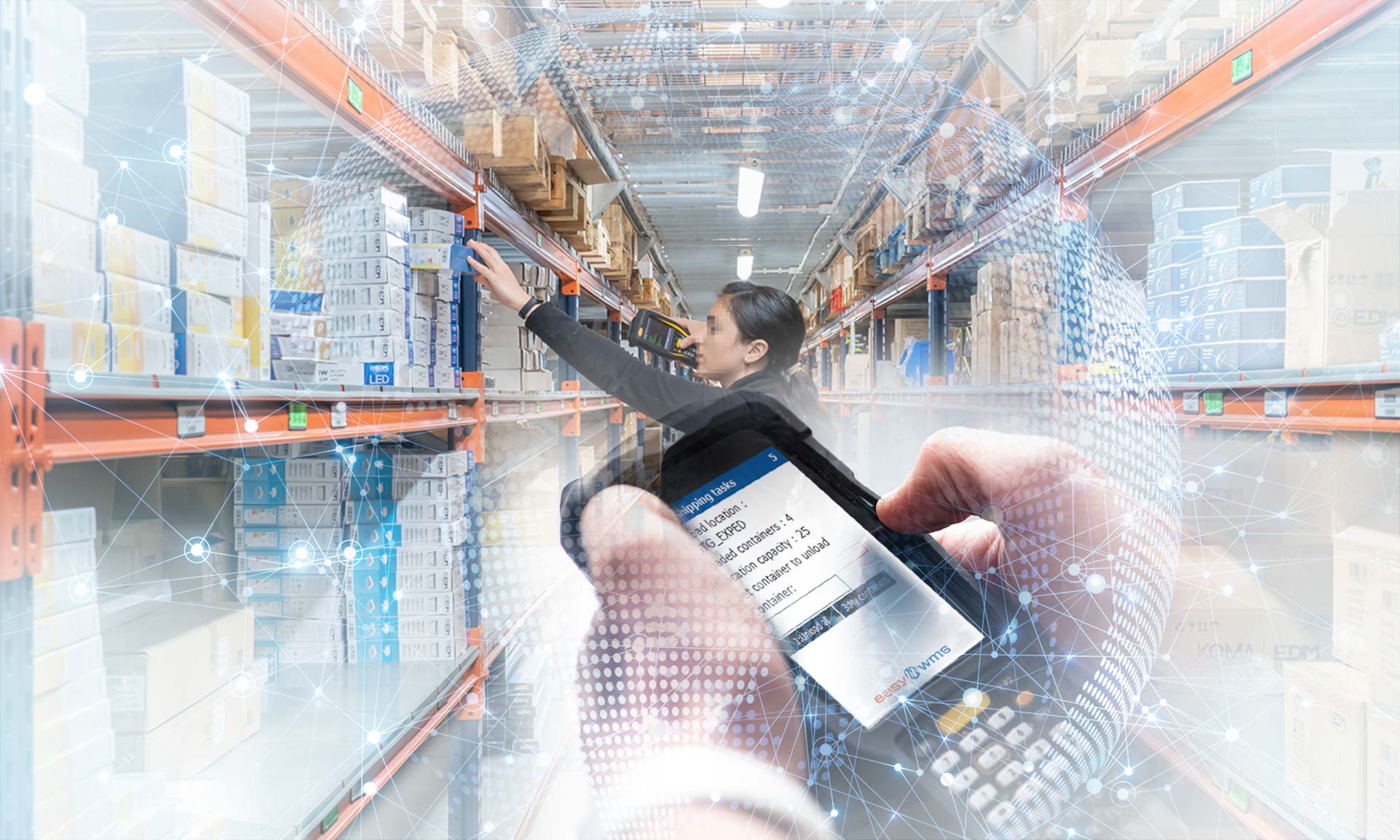 How does RF picking work?
To perform RF picking, companies require RF scanners and a warehouse management system (WMS). There's a wide variety of RF scanners on the market, from those mounted in fixed positions on handling equipment to those for manual and individual use by the operators themselves.
At times, operators might need both hands to handle certain items. In these cases, companies can invest in wearables, i.e., devices attached to personal elements such as belts or that come in the form of everyday objects such as bracelets or glasses. The advantage of these models is that they provide better ergonomics for picking and leave operators' hands free. Some of the most popular wearables in warehouses are voice-picking devices, ring scanners (worn on a finger to capture and read barcodes), and wearable computers (small computers fastened to operators' arms).
Although radio frequency is a standalone warehouse management solution, it can also be combined with other methods that help to optimise manual order picking, e.g., put-to-light technology. These light displays are connected to the WMS, which informs operators by means of LED lights of the number of SKUs to place in each package or box. One of the advantages of pick/put-to-light systems is the speed they bring: they enable operators to quickly identify the containers or slots and the number of SKUs to retrieve from or place in each one. Therefore, it's a good solution for orders made up of high- and medium-turnover products.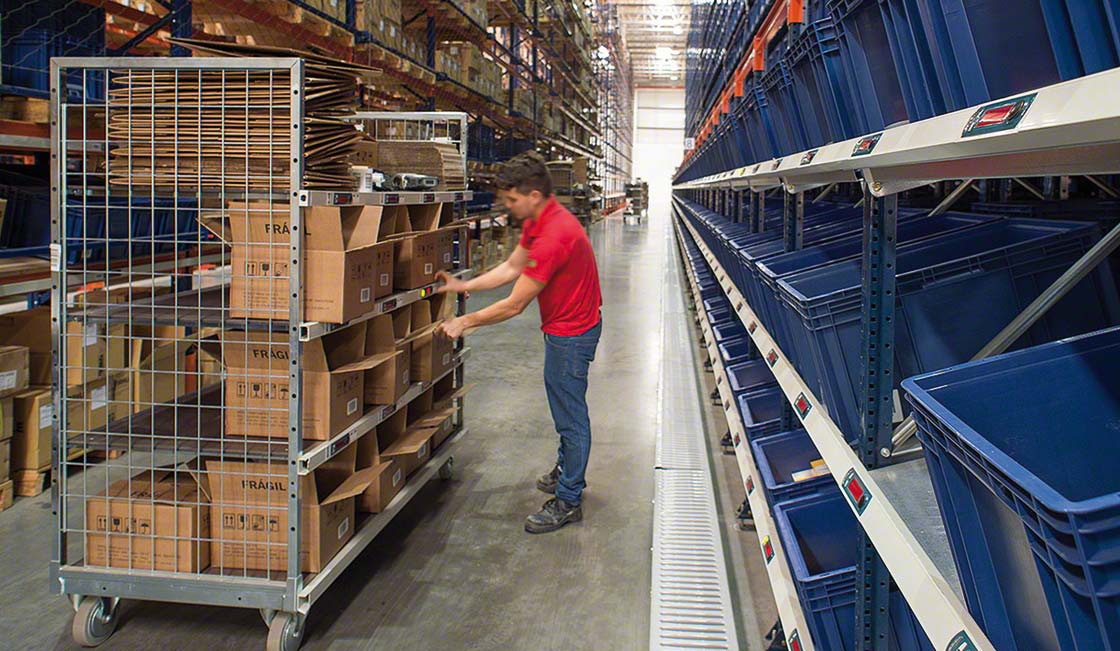 Advantages of RF picking
Incorporating RFID technology in a logistics facility is a way to optimise operations. RF picking not only helps operators to be more agile and productive, but also allows them to more accurately monitor orders in progress. These are some of the benefits of RF picking:
Cost savings. Managing goods properly and minimizing the time dedicated to order picking reduces logistics costs.
Up-to-date stock information. The permanent communication with the warehouse management software allows managers to keep track of the products available in the facility and to monitor the progress of the various operations.
Error elimination. By following the instructions of the WMS step by step, operators complete orders more rapidly and without making mistakes.
Increased productivity. With RF scanners, operators' work is faster and more rigorous. By preparing more orders in less time, businesses raise their warehouse productivity and are more flexible and responsive in the face of unforeseen events.
Creating delivery notes and locating items are the two most repetitive tasks when preparing orders in a warehouse. With RF technology, all information is stored digitally. Likewise, workers find the products they need more quickly by following the instructions on their scanners. Ultimately, RF picking is a solution designed to improve the work of operators and thus ensure better logistics service.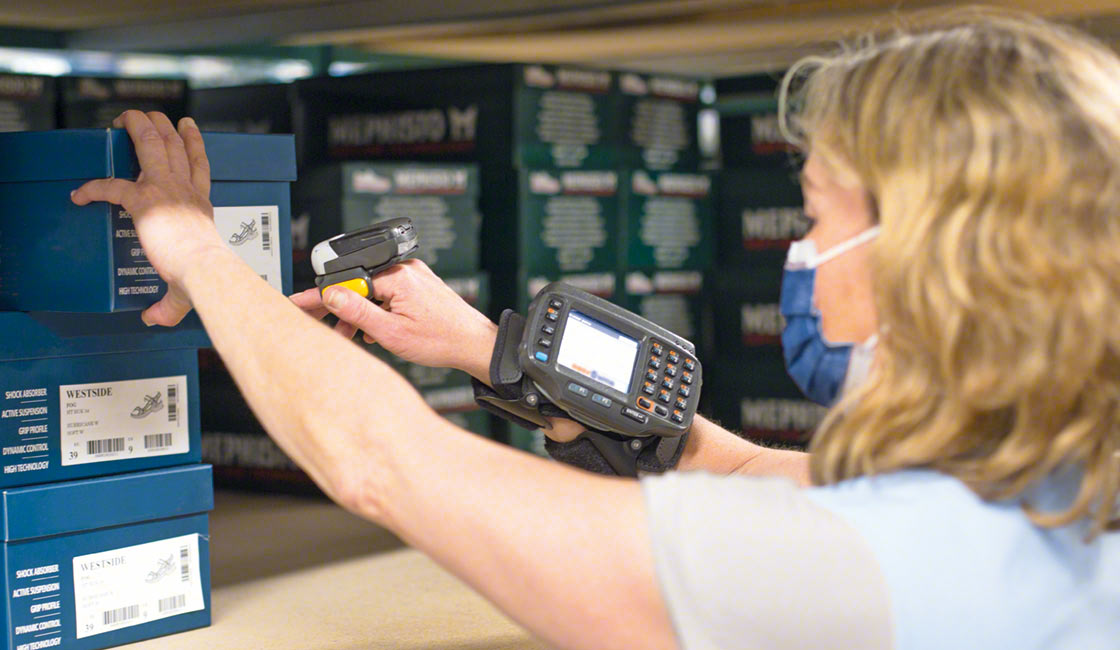 RF picking: things to keep in mind
RF scanners are extensively used in warehouses due to the advantages they offer. Although they're extremely popular, they do have their downside.
Going from paper-based picking to RF picking in a warehouse involves a transition process. It's advisable to implement RF technology in the warehouse during a period of low workload to avoid interference and interruption to service.
Lastly, RF scanners also have maintenance costs: they're susceptible to damage and may need to be repaired.
Fast, simple, and safe order picking
RF picking is a way to improve efficiency in order processing, especially in warehouses with a large number of SKUs. Using their RF scanners, operators follow the instructions from the warehouse management software to finish orders more speedily and without making mistakes.
For RF picking to be satisfactory, it's essential to be equipped with a WMS. This program distributes the work among the operators, sending each of them personalized instructions. At Mecalux, we have considerable experience developing these types of solutions for businesses from all sectors. Get in touch, and we'll tell you how you can optimise order picking in your facility.