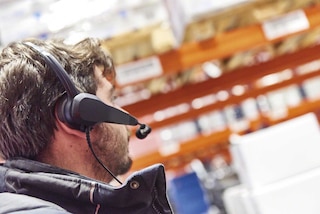 Safer manual picking for operators and goods
15 Apr 2022
If safeguarding warehouse operators and goods is a priority, manual picking is a process that requires special attention, as it directly concerns people. This process begins with the order's receipt and ends with it being packed for shipment.
Let's look at some of the keys to ensuring safe, ergonomic picking via the use of a WMS, help from automated systems and occupational health and safety measures. This is especially true for e-commerce warehouses, as they need very strict logistics management to deal with huge order volumes in a short time.
Keys to safe manual picking: software, machines and prevention
Manual processes in a warehouse require staff who are trained in both tasks and safety. Manual picking is a very labor-intensive process. So, understanding the main risks and minimising them is the key to total operator and product safety.
1. WMS software for safer manual picking
Manual picking can be optimised using a WMS or warehouse management system. This software is in a position to efficiently manage any type of warehouse. Let's look at the advantages of using Easy WMS in the manual picking process and how it helps ensure operator safety and ergonomics:
It adapts itself to changes in the pick process.
It controls the existing stock at all times.
It optimises times and virtually eradicates pick errors.
It reduces unnecessary movements and decreases handling operations by up to 30%.
It maintains the task distribution balance among operators.
The number of hands-on actions that an operator must carry out to prepare orders is considerably reduced with a WMS, thus optimising handling. Pickers report a lower incidence of muscular and skeletal medical conditions, since using a WMS reduces repetitive movements and saves them from making extra trips.
2. Pick assistive devices
Assistive picking systems such as voice picking or pick-to-light also contribute to safer manual picking, especially in warehouses with a high number of orders. These support systems are connected to the WMS software:
Pick-to-light is an automated system connected to the WMS that visually guides the operator to the exact in-house locations where order items are then collected. Numerical displays tell the worker which goods to extract and in what quantity.
Voice picking also has a hand in safety issues. The warehouse management system sends audible instructions via headphones and the operator confirms the tasks through the microphone. So, they don't need to use their hands to hold the device or other controls and get better ergonomics and freedom of movement.
3. Safe manual picking with other systems
Carton live storage for picking: since they are sloped, these make for easy access to your boxes. They are ideal for high-volume picking areas of a warehouse.
Conveyors: due to their ergonomic, compact design, conveyors reduce operator trips and mean much less physical effort required by workers.
Mechanical load lifting systems such as hydraulic arms or height-adjustable prep tables. This type of machine makes it possible to handle heavy loads and to adapt the order picking conditions to the operator, which reinforces the ergonomics of the entire process. How these systems are applied is well illustrated in the Venis warehouse (Porcelanosa Group), which was designed by Mecalux.
4. Occupational health and safety
Another important cornerstone for achieving 100% safe manual picking (for both operators and goods) lies in providing information and preventing risks. In logistics management, the more you plan, the higher the efficiency index.
The most common worker injuries during manual picking include:
Musculoskeletal injuries.
Physical trauma.
Entrapment
Fatigue.
Overexertion.
Exposure to harmful substances.
Planning, foresight and risk detection are essential for safe manual picking processes in logistics. Even if the workload is high, you should always consider the:
Optimal working height: which is located above the knee and below the shoulder. Keep this in mind when organising product placement in your warehouse.
Proper arrangement of items on shelves to avoid uncomfortable postures and overstretching.
Mechanical supports for moving heavy objects or working at height.
One of the priorities for any warehouse management that strives for excellence is to ensure the safety of both operators and the goods being stored. Mecalux is a pioneer in providing manual picking systems that prioritise safety and ergonomics. Contact our experts: they are always on hand to help and answer your questions.