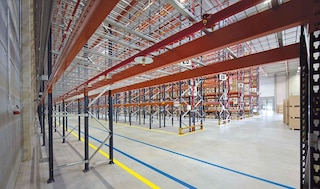 Maximum warehouse safety: 3 successful projects
23 Nov 2020
Ensuring maximum safety in storage facilities is paramount in any warehouse redesign and/or fit-out project. As we have seen, the risks that exist in warehouses are many and varied and, for this reason, safety and prevention measures must be in harmony with these risks.
So, how do you adapt each warehouse area to deal with specific risks? What strategies should be employed to minimise accidents and create a center that is immune to setbacks? We answer these and other questions using our experience with companies like Cepsa, Bracchi and Cofan.
Maximum safety in Cepsa's AS/RS
Clad-rack-warehouses are known for their inherent advantages in terms of safety, efficiency and optimisation of available space. This was the solution around which revolved the project that Mecalux developed for Cepsa. As a company devoted to the fuel sector, the issue of warehouse safety is an enormous challenge in its installation, as it handles a huge volume of dangerous goods.
In this case, the design and construction of Cepsa's warehouse in Algeciras (Spain) was based on four essential cornerstones:
There was limited space available for the warehouse, so it was decided to opt for compact storage racks at heights, which also constitute the building's own structure.
The handling of a massive flow of dangerous goods such as lubricants and petroleum derivatives prompted the automation of operations with the use of stacker cranes and roller and chain conveyors, among other systems.
The need to install state-of-the-art automatic fire-fighting systems that comply with the safety standards required for this type of product.
Managing a wide variety of cases, as well as the complexity involved in handling boxes and/or pallets of different sizes in the same warehouse, made it essential to have the Easy WMS warehouse management system.
With regard to occupational and goods safety, the warehouse is equipped with automatic fire doors and also has strategically placed fire-resistant curtains. Picking is carried out automatically and pneumatic arms are located in the order picking area to facilitate the safe and ergonomic handling of loads by operators.
The layout of a safe warehouse: Bracchi's logistics operations
When we talk about safety in warehouses, it is common to associate the concept with the use of automatised transport systems for loads and to those that assist in order preparation tasks. However, other aspects such as the different types of storage systems, fire-fighting systems and signaling have quite a lot to do with this issue. This is the case of Bracchi's logistics warehouse in Germany.
The challenge facing Bracchi was to furnish a 30,000 m² distribution center that would be versatile enough to accommodate goods of many different sizes and features and that would comply with local fire safety and prevention standards.
Mecalux then decided to install conventional pallet racking for standard pallets and cantilever racking for very long load units. The storage system structure was equipped with automatic sprinklers.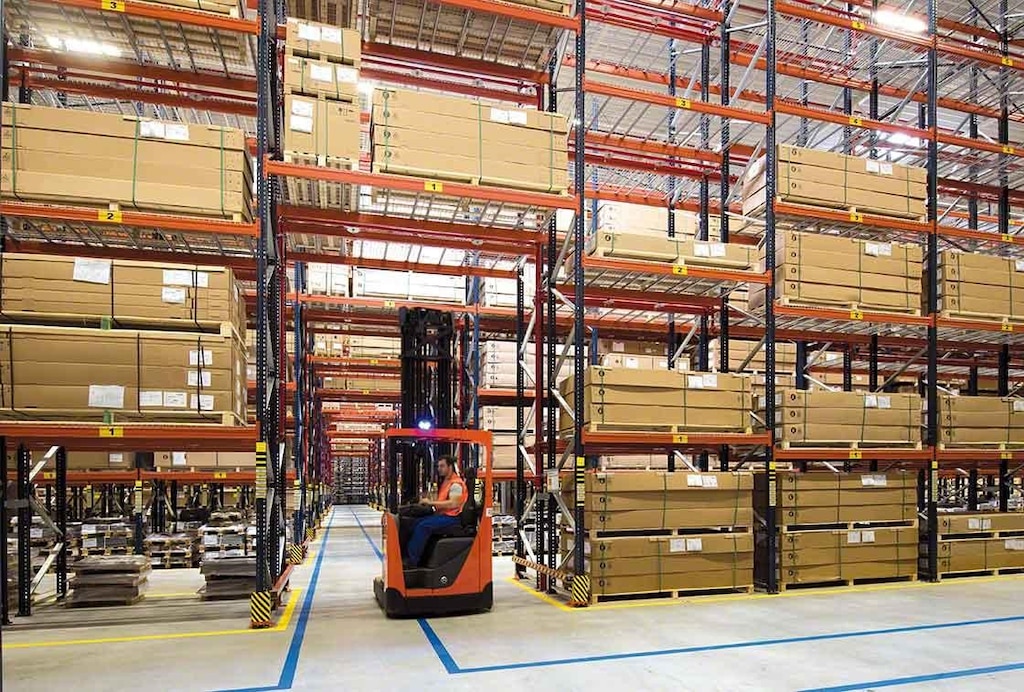 Furthermore, the warehouse's maneuvering areas were thoroughly signposted in order to improve forklift safety. The installation also has an underpass that passes through the racks crosswise to facilitate the flow of goods, but which also functions as an emergency exit.
The Cofan warehouse, an example of fast, safe picking
The restructuring of the Cofan distribution center in Ciudad Real (Spain) is a clear example of how to organise a warehouse based on an ample catalogue of items with highly diverse rotations.
The objective for warehouse safety was to provide fast, safe picking for the operators, as well as to ensure proper protection of their most sensitive goods. In particular, the project developed by Mecalux for Cofan envisaged:
The automatisation of merchandise movements with a conveyor circuit: as a company specialised in industrial supply products, hardware and DIY items, most of the units it handles are small. With this solution, the picking process is quickened by saving time in the operator's trips. What moves is the package itself, and in this way the physical effort required of workers is considerably reduced.
The sectoring of the warehouse into different zones based on the product features and its rotation: for example, an stacker crane for boxes has been set up for small low-rotation products. Apart from this, the flammable products area is separated from the rest of the warehouse, which is protected by fire walls.
With these modern facilities, Cofan is able to operate with maximum safety for workers and goods guaranteeing a 24-hour delivery service.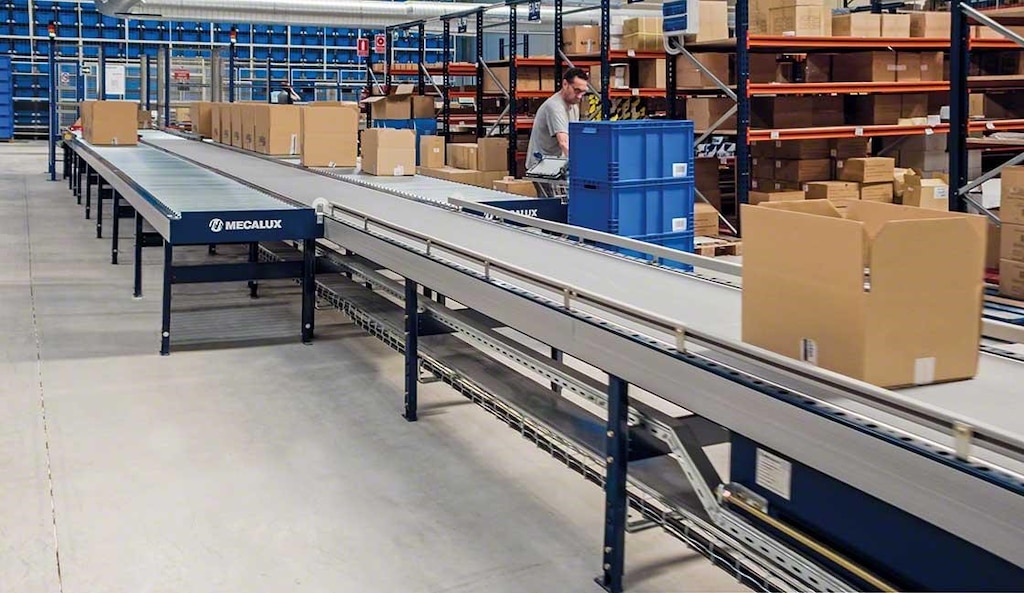 Automated systems, fire safety and maintenance of storage systems are key elements in achieving maximum warehouse safety. Do you want a risk-free installation? Contact us and one of our specialists will analyse the situation in your warehouse.