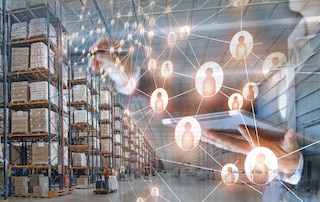 Smart warehouses: from automation to big data
01 Jun 2021
Smart warehouses are logistics centres that use the latest technology to increase efficiency in processes such as goods receipt, order preparation, and product storage.
With an overall market volume set to reach $27 billion by 2025, according to consulting firm Logistics IQ, these installations have become the goal of companies seeking to optimise their processes.
In this post, we'll delve into smart warehouses, the advantages of deploying a logistics centre of these characteristics, and the technology they incorporate.
What's a smart warehouse?
An evolution of automated installations, smart warehouses are facilities in which the majority of logistics processes are executed by robots or automatic handling equipment. These elements are managed by software and complemented by advanced technologies such as machine learning, AI, big data, augmented reality, and IIOT-connected sensors.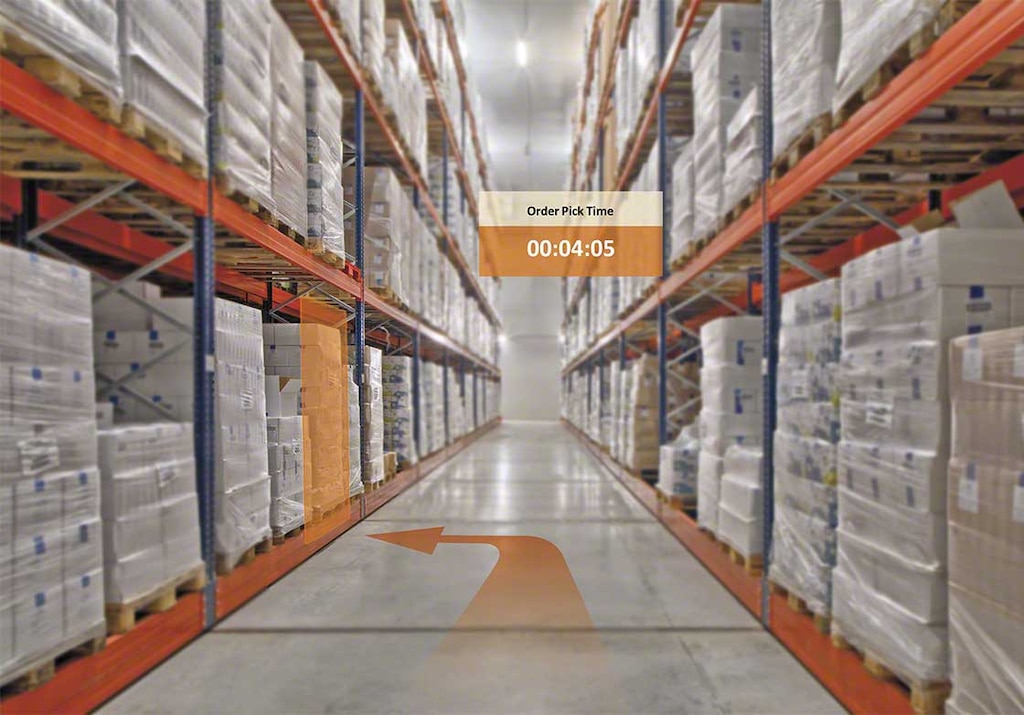 These types of logistics centres, which fall under the umbrella of Industry 4.0 and smart factories, use cutting-edge technologies to eliminate more repetitive tasks, allowing operators to focus on operations that add value to the product.
In addition to replacing standard handling equipment, such as counterbalanced forklifts, with stacker cranes or even drones and robots, smart warehouses operate under the control of a warehouse management system (WMS). This system guides operators and handling equipment in processes such as goods receipt and picking (among many others) to optimise warehouse resources.
These types of facilities comprise four key technologies:
Warehouse automation.
WMSs and other applications, such as ERP, WCSs and MESs.
Radiofrequency identification (RFID) systems.
Disruptive technologies: blockchain, big data, AIoT (Artificial Intelligence of Things), etc.
Smart warehouse pros (and cons)
Moving from a traditional installation to a smart storage facility brings major benefits to a company's logistics systems. These are some of them:
Resource optimisation in the warehouse.
Boosted productivity (increase in the number of goods extraction and storage cycles).
Real-time inventory.
Efficient order prep (optimised picking routes).
More streamlined logistics processes.
Improved safety for employees, storage systems, and products.
Expansion of the installation's storage capacity.
Supply-chain KPIs updated in real time.
Total control over the status of the goods.
More accurate demand forecasting.
Automated and exhaustive product traceability.
However, implementing the latest technologies in a logistics centre does have its disadvantages:
High initial outlay, due to the cost of the automated storage systems and the deployment of a WMS. Not surprisingly, the return on investment of such a project ranges from 4 to 7 years, (depending on the country and sector), while the ROI of a WMS shouldn't exceed 18 months.
The cost of training operators, who will have to learn to work in conjunction with the automatic handling equipment.
Ultimately, companies incorporate automated solutions gradually to turn their logistics centres into smart warehouses. Despite the initial effort involved, real-time stock control and the guarantee of maximum productivity make it possible for these installations to reduce their companies' logistics costs.
Automation of the facility
The hallmark of a smart warehouse is the replacement of manual work with robotic labor. Multiple automated solutions can be integrated in an installation: from stacker cranes that make goods extraction and slotting operations more agile, to cobots (collaborative robots) that speed up the picking process. Let's take a look at the most common ones:
Automated storage systems: this category includes elements that simplify the slotting and extraction of unit loads in and from the racks. Some popular options include stacker cranes for pallets, the Pallet Shuttle, miniload systems, and AGVs (wire- or laser-guided).
Automated transportation systems: these accelerate transfers of products from one area of the installation to another. For example, conveyors for boxes or pallets, electrified monorails, drones, and autonomous robots.
Order prep: automated systems make picking more agile for operators. This category includes solutions such as pick-to-light and voice-picking to robotic arms and high-performance pick stations.
Software for smart warehouses
The implementation of logistics software is vital for ensuring full control over your warehouse stock and, above all, traceability of products in their journey throughout the facility — a logistics attribute in demand by more and more businesses. As a result, there are a wide variety of apps that, synchronised with the company's ERP system, enhance the efficiency of all operations. These are the most popular ones:
Warehouse management system (WMS): this is the brain of the facility, as it is charged with coordinating all processes taking place there, from goods receipt to exit orders. In fact, Easy WMS, the WMS from Mecalux, incorporates up to 80 advanced functions ranging from the management of shipping routes to cross-docking and wave picking.
Warehouse control system (WCS): this application coordinates the tasks of multiple automatic handling equipment with the orders from the WMS. It is, thus, a basic part of smart warehouses, as it guarantees the proper operation of the entire facility.
Manufacturing execution system (MES): in smart warehouses with production lines, this IT system facilitates the sequencing of manufacturing activities, the assignment of tasks to each operator, and quality control for both the raw materials and final product.
Radiofrequency ID systems (RFID)
In smart warehouses, RFID tags are more and more common. An example is item coding systems as opposed to traditional barcodes. Why is this?
The RFID system uses radio waves to exchange information, making it possible to know the location of all stock without having to read the individual labels.
At any rate, it's not a prerequisite for smart warehouses, since they can run perfectly well with barcodes; this is actually how most of them still operate.
Advanced technologies: IIoT, big data, and blockchain
Fundamental characteristics of automated warehouses consist of innovation and the search for and implementation of new technologies in the company's logistics systems. While it's true that new knowledge is constantly emerging, affecting both the industry and the population as a whole, these are the trends most likely to revolutionise warehouses:
AIoT: the combination of AI and the IoT, which constitutes the ability of objects to interact with each other without human intervention. This technology will support the implementation of facilities run without operators, for instance, dark warehouses.
Big data: continuous improvement techniques are crucial for ensuring a company's competitiveness. The gathering and analysis of procedures is crucial to understand which of them have room for improvement. Applications such as Supply Chain Analytics Software help logistics managers to enhance the value of their operations, as this app collects and organises information on everything taking place in the warehouse.
Smart warehouses: optimisation and productivity in the new logistics era
Smart warehouses are designed to make companies' logistics systems more efficient, making it possible to cut costs and increase inbound and outbound product cycles.
That's why an increasing number of firms are deploying automated storage systems and digitising their processes — it's the only way to ensure productivity and control over product traceability.
At Mecalux, we have over 50 years of experience offering personalised solutions for each of our customers' needs. Don't hesitate to contact us. An expert consultant will be happy to advise you on your logistics project.