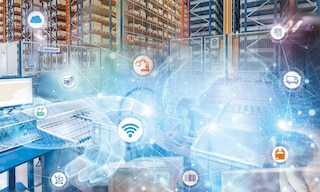 Warehouse automation technology to boost efficiency
27 Jun 2022
Warehouse automation technology promotes productive, efficient, and safe logistics environments. The implementation of automated solutions and warehouse management software increases a facility's throughput and eliminates the possibility of error in operations taking place in it.
Logistics 4.0. is characterized by a commitment to advanced technologies such as 5G connectivity, the Industrial Internet of Things (IIoT), augmented reality, and big data. Below, we explain how warehouse automation can make your facility efficient.
What's warehouse automation technology?
Automation technology applied to warehousing consists of the implementation of robotized storage, internal transport, and control systems capable of moving goods in a facility without the need for human intervention. These automated solutions are coordinated via the deployment of an advanced software program, i.e., a warehouse management system (WMS).
Warehouse automation makes it possible to build smart warehouses, which employ digital and automated solutions to raise productivity in logistics operations such as goods receipt, product slotting, and order picking, among others.
According to McKinsey analysts and authors of the publication Automation in logistics: Big opportunity, bigger uncertainty, "[w]arehouse automation technologies can be broadly categorized into devices that assist the movement of goods and those that improve their handling."
Warehouse automation can be partial ― the implementation of technology solutions in one or several parts of the facility ― or full, i.e., dark warehouses, which can operate with the lights off because all operations are robotized. The degree to which a logistics facility is automated will depend on the company's needs, the quantity of SKUs to be managed, the number of goods movements made in the building, the unit load, and even the growth outlook.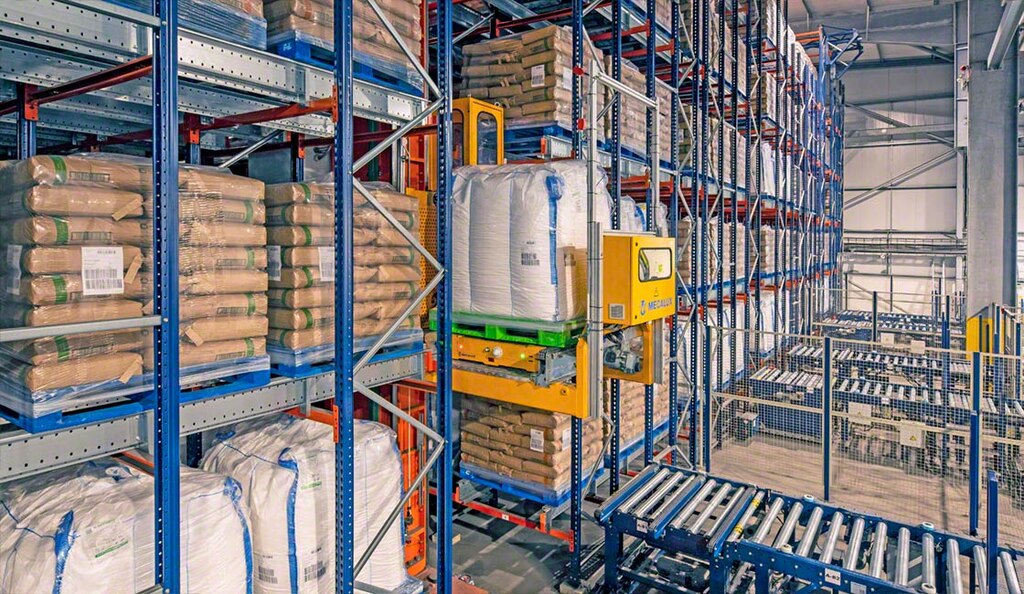 More and more companies are incorporating automated solutions to resolve their logistics complexities. An ABI Research analysis finds that the compound annual growth rate (CAGR) for robotic solutions in warehouses is set to exceed 23% from 2021 to 2030, reaching a global market volume of $51 billion by 2030.
And this isn't the only analysis forecasting an upward trend in warehouse automation technology. The study 2020 Warehouse of Tomorrow, prepared by British consulting firm ARC Advisory Group, also points to this growing trend. When logistics managers were asked what warehouse automation technologies they expected their companies to invest in, 49% of respondents opted for shuttle system–robot hybrids, 45% for robotic case picking, and 43% for autonomous mobile robotics–collaborative (AMRs and cobots).
What are the types of warehouse automation technologies?
The aforementioned McKinsey study forecasts that "[m]any operations could be automated by 2030, as artificial intelligence takes over the many repetitive activities that logistics companies perform."
Among the technologies indicated by McKinsey are those that use motorized shuttles. An example of this solution is the automated Pallet Shuttle, a robotized storage system that employs stacker cranes and an electric shuttle to ramp up the movement of pallets per hour in a facility. The version for boxes — the Shuttle System — makes use of transfer cars to supply the pick stations continuously, thus speeding up order fulfillment.
Another technology that McKinsey expects will be more successful in warehouses of the future are conveyors. In both the pallet and box versions, this internal transport solution makes it possible to move, accumulate, and distribute goods to the specific locations required by the operations in the facilities. Conveyors can also be used to streamline the movement of stock from the production lines to the storage zone, as in the case of the automated warehouse of Cistér in Portugal. Additionally, conveyors can supply raw material to the manufacturing area, as seen in the production center of Nestlé in Girona, Spain.
Warehouse automation also includes other technologies that can significantly impact logistics throughput in the coming years, such as 3D manufacturing, automated guided vehicles, picking with smart glasses, and pick and place robots, among others.
Lastly, McKinsey highlights warehouse management systems as pillars of the new logistics paradigm. Besides controlling inventory in real time WMSs coordinate all the automated equipment and workers operating in the facility.
These advanced management programs monitor warehouse productivity. A WMS such as Easy WMS from Mecalux has functionalities for segmenting and structuring all data produced in the facility so that logistics managers can make decisions based on the real performance of the warehouse.
How can automation improve warehouse throughput?
The growth of automation is a response to new logistics challenges, i.e., omnichannel, last-mile delivery, and free product returns. This is reflected by McKinsey in its article Automation has reached its tipping point for omnichannel warehouses: "Many of these technologies — for example, automated guided vehicles (AGVs) or the next level of automation AMRs as unmanned transport next to warehouse employees — have proved their effectiveness at scale in addressing the challenges of traditional e-commerce warehouses, such as labor shortages, SKU-complexity growth, and increased service expectations."
Technologies such as the IIoT, artificial intelligence (AI) and digital twins have contributed towards the development of intralogistics solutions that maximize a facility's productivity, stepping up operation cycles and eliminating the risk of error.
Automated storage and retrieval (AS/R) and transport systems ― conveyors and stacker cranes for boxes ― facilitate goods-to-person order picking, whereby the products arrive at the pick stations automatically. This method fosters more agile order picking, as it ensures the continuous supply of goods to the picking area.
New technologies also maximize throughput in picking operations. In facilities with high-density order picking, operator tasks can be complemented with pick and place robots. These machines handle and sort products in tasks that are repetitive or demand excessive effort from warehouse workers.
Automated solutions are based on the implementation of warehouse management software, which syncs everything occurring in the facility to ensure its efficiency. In addition to exercising strict control over stock and operations in the facility, a program such as Easy WMS from Mecalux coordinates the employees and automated solutions to boost the performance of the warehouse.
Automation technologies for an efficient warehouse
In such a demanding logistics environment, more and more businesses are investing in solutions that automate the management and handling of goods in their facilities. New logistics centers incorporate storage and internal transport systems based on technologies such as machine learning and the IIoT.
Warehouse automation creates efficient facilities that achieve maximum productivity in logistics operations. Want to benefit from an automated, efficient warehouse? Don't hesitate to contact us. An expert consultant will offer you the best intralogistics solution for your facility.