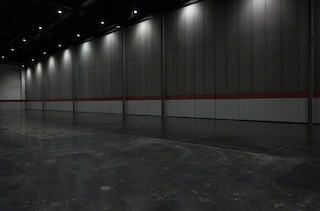 Dark warehouses: say hello to full automation
17 Mar 2021
The gradual automation of operations in storage installations has given rise to dark warehouses. These are completely automated installations requiring no light, since no human interaction takes place inside them.
More and more companies are choosing to incorporate automated elements in their processes. A study by consulting firm Logistics IQ puts the turnover of the automated warehouse sector at 27 billion dollars by 2025.
In this article, we'll describe dark warehouses, their advantages and their arrival on the scene due to the implementation of automation in logistics.
What's a dark warehouse?
Installations face increasingly complex challenges. Logistics 4.0 has allowed customers to be especially demanding in terms of not only quality, but also product delivery times. And the resulting omnichannel retail and same-day-delivery standard have become impossible to fulfil without increasing efficiency in the installation.
This has led to the emergence of dark warehouses, that is, facilities in which lighting isn't necessary, given that all processes are automated, operating without the use of human labor.
In these warehouses, employees are not required to carry out storage, preparation, or dispatch tasks; it's the machines, guided by software, that are charged with performing these operations. There may be minimal human intervention in lights-out warehouses when it comes to more complex processes, such as goods receipt and the packaging and labelling phase, but the majority of the installation is automated and remains dark.
So, when is it possible to automate to the point of doing without staff entirely? These types of warehouses are especially recommended for installations with continuous workflows and consistent entry and exit orders, such as those in the automotive sector.
In addition, the complete automation of these logistics centres facilitates strict compliance with safety and hygiene standards, a key asset in the chemical and food industries. In fact, an increasing number of businesses in these sectors are opting for dark warehouses; at -22 ºF, only robotics can ensure efficiency in workflows.
On the other hand, in the case of very variable operations, full automation is unrealistic and/or excessively costly. Therefore, the presence of workers is fundamental in slotting, storage and order prep processes.
Advantages of dark warehouses
Adopting solutions that guarantee complete warehouse automation, foregoing the use of light, fosters:
Significantly boosted productivity: the number of movements increases at a considerable rate.
Maximum use of storage space: high-density racking (with higher, more narrow aisles) can be set up, as there's no need for operators to work inside them.
Elimination of mistakes resulting from manual labor: automating operations does away with potential errors made by warehouse employees.
Energy efficiency: lighting costs are slashed, since energy consumption goes down.
Resource optimisation: dark warehouses make it possible to reduce personnel costs. Human capital, meanwhile, is geared towards more technical tasks in another area of the facility.
Stock control: the use of software ensures the proper functioning of the installation and real-time inventory monitoring.
Compliance with hygiene and safety standards: full automation of logistics processes enables facilities to operate safely, even in adverse environmental conditions, such as low temperatures or the absence of oxygen (common in chemical storage).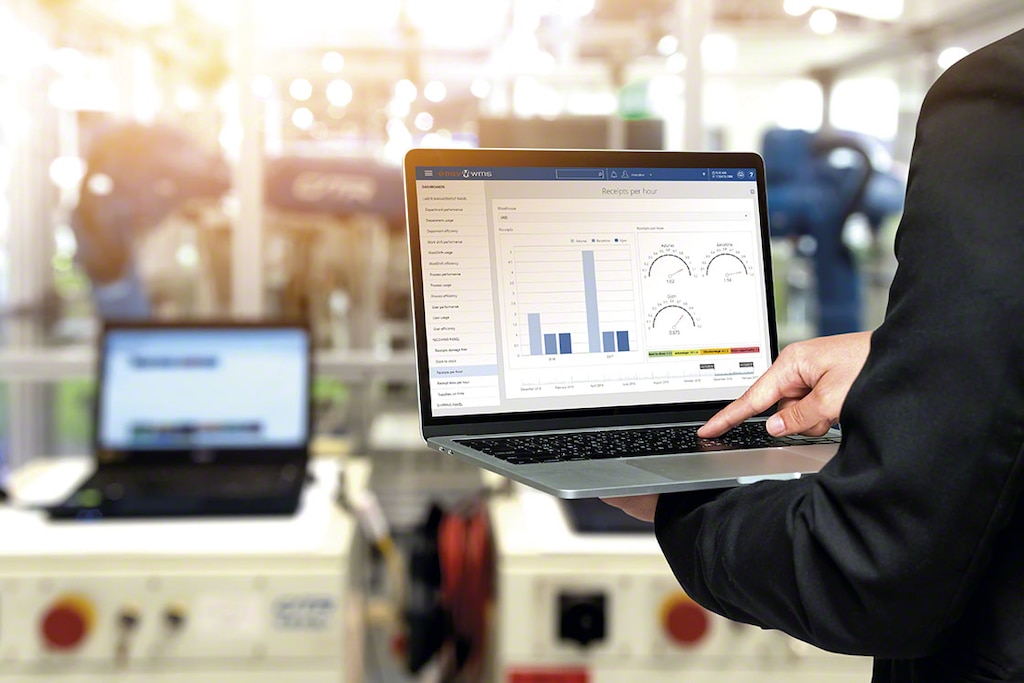 Dark warehouse solutions
A lights-out warehouse is created by fully automating the various processes that take place in the installation, including goods receipt, slotting, picking and order dispatch, among others. This automation is achieved through the combination of different types of solutions: robots, machines, appropriate racking and software that manages the installation.
Thus, dark warehouses are made up of:
Racks: in these lights-out installations, drive-in pallet racking and vertical storage solutions (such as clad-rack warehouses) tend to predominate.
Handling equipment: these devices are automated and can comprise stacker cranes for pallets and stacker cranes for boxes. In the case of pallets, this equipment can be supplemented by the automatic Pallet Shuttle to raise warehouse productivity.
Conveyors: dark warehouses have a conveyor system ― for pallets or boxes ― that automates goods flows in the installation. If the company's storage system is governed by pallets, the warehouse should have a checkpoint to verify the condition of both the product and the corresponding pallet.
What's more, none of the automated processes that take place in a lights-out warehouse could be carried out without the presence of software. In fact, it's important to distinguish between two essential systems for commissioning a dark warehouse:
Warehouse control system (WCS): this manages the operations of the various automated elements in the installation (in the case of Mecalux, our WCS is called Galileo).
Warehouse management system (WMS): this software sets the pace for the WCS and organises the slotting, extraction, picking and order preparation tasks in lights-out warehouses (Easy WMS is Mecalux's WMS).
When it comes to these solutions, making the right choice individually and in terms of their functioning as a whole is what makes it possible to fully automate warehouses, without human intervention and in a safe way.
Welcome to the warehouse of the future
Complex operations can only tackled by means of two processes: automation of the various logistics phases and digitalisation of the warehouse.
In this vein, dark warehouses constitute the example of a storage solution that multiplies productivity, optimises resources and eliminates inefficiency. To what end? Well, to maintain the company's competitiveness, above all. In short, these types of installations stand out as the future standard for logistics centres with high-density inflows and outflows and a large order prep volume.
In recent years, as a provider of comprehensive warehouse solutions, Mecalux has established itself as an integral partner to its customers. At Mecalux, we have extensive expertise in automation: get in touch if you need personalised advice on the design, installation, or fine-tuning of your Industry 4.0 facility.