14 Feb 2022
Warehouse technology boosts the throughput of logistics operations, eliminating errors and improving service quality for end customers.
The market features several technologies that raise efficiency and reduce cost overruns in the warehouse to respond to challenges such as same-day deliveries, just-in-time supply to production centres, and free returns.
What's warehouse technology?
Warehouse technology is used in the logistics sector to equip facilities with tools that enhance productivity and maximize efficiency. These technology solutions increase accuracy in processes such as inventory control, order fulfillment, and internal movements of goods in the warehouse.
Companies tend to implement warehouse technology to minimize errors due to manual product handling, optimise the throughput of their logistics processes, foster a safer working environment, and avoid stockouts. In a warehouse, any logistics operation can be automated. This includes movements of stock by means of mobile robots or conveyor systems for boxes, product slotting management via automated guided vehicle (AGVs) or stacker cranes, and load consolidation with robotic stretch wrappers.
Warehouse technology also makes it possible to digitize logistics management. A warehouse management system (WMS) is a technology solution that automates inventory control and syncs the different processes taking place in the facility. It also coordinates the tasks of the operators and order pickers as well as the automated transportation and storage systems operating in the centre.
Advanced logistics solutions such as warehouse management systems work by integrating new technologies in the operations of the facility. For instance, blockchain, 5G, machine learning, and big data are some of the basic cornerstones of the Industrial Internet of Things (IIoT), technology that enables robots to operate autonomously using data collected by the software during the performance of warehouse operations.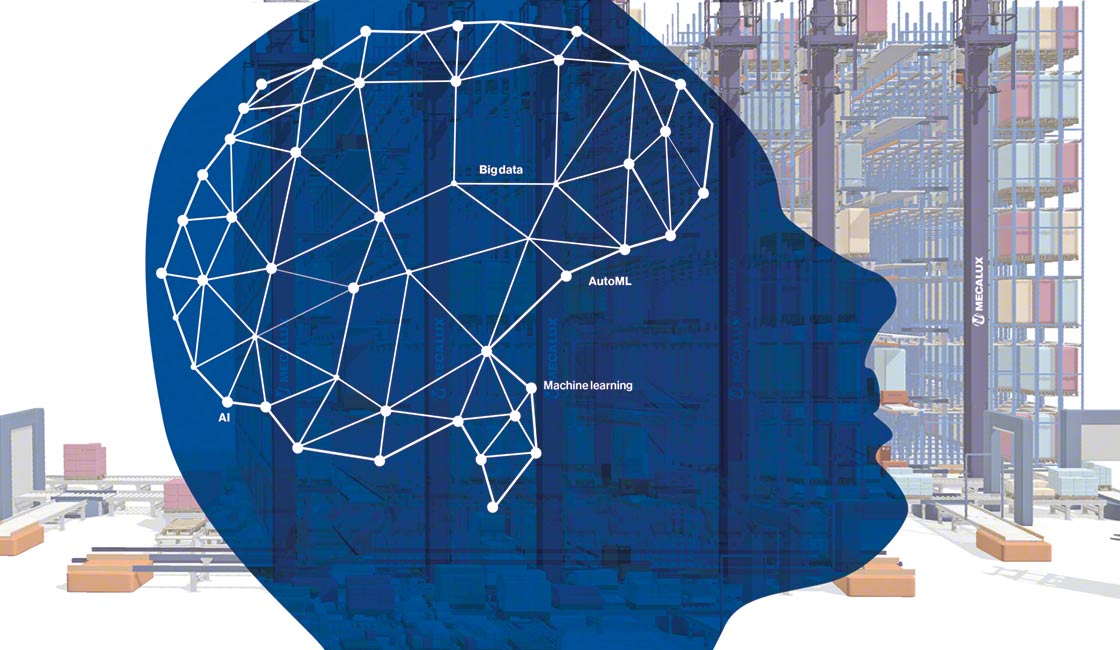 What technologies are used in warehouses?
Warehouses apply multiple technologies to improve the throughput of their processes, relying on big data, artificial intelligence (AI), and predictive analytics solutions. These are some key warehouse technologies according to their role in the facility:
Technologies for warehouse operations and stock control
Implementing software that automates control over logistics operations is crucial for leveraging opportunities afforded to facilities by big data and machine learning technologies, for example. Warehouse management systems (WMSs) coordinate the multiple logistics processes taking place in a facility, in addition to syncing the tasks of the operators and machines working in it.
WMSs also allow for real-time stock control. The software, connected to each operator's RF scanner, monitors the movement of products throughout the different operations in the facility, from goods receipt to order dispatch.
Warehouse technology enables the WMS to coordinate with other digital programs ― e.g., an enterprise resource planning (ERP) system or a manufacturing execution system (MES). This enables businesses to sync storage, picking, and goods receipt tasks with other processes, such as production line sequencing and management of the item master, i.e., the list of SKUs for sale.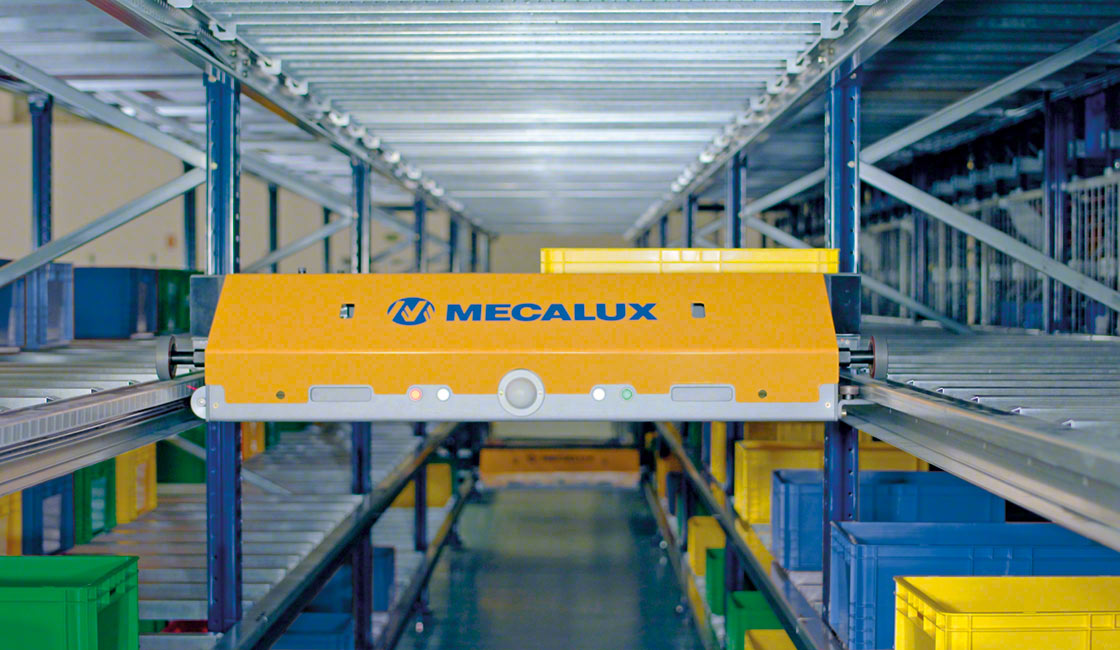 Technologies for the movement of loads
New warehouse technology is used to replace manual handling equipment with automated conveying systems that streamline the flow of loads between the different areas of the facility.
One example of these systems are conveyors for pallets or for boxes, which can be adapted to the layout of the warehouse and speed up the movement of goods to the pick stations or production lines. This category also includes AGVs, robots that automatically transport goods by means of laser- or wire-guided technology.
Technologies such as AI and the IoT have also contributed towards the development of autonomous mobile robots (AMRs), devices capable of moving around the facility without the need for human intervention. These machines interpret the environment in which they operate, transferring unit loads to the different areas in the warehouse. AMRs are connected to the warehouse management software, which assists them in moving goods to the pick stations.
Technologies for automated storage and retrieval systems (AS/RS)
Warehouse technology has also stepped up throughput in depositing and removing stock from storage systems. Solutions such as stacker cranes (AS/RS) for pallets and miniload systems (AS/RS for boxes) provide for continuous, agile, and safe operations. These AS/RS comprise racking served by one or more stacker cranes that accelerate product storage and removal.
There are multiple technology solutions for speeding up warehouse operations. For example, in warehouses for boxes with high order volumes, it's common to use AS/RS such as the Shuttle System. Connected directly to the WMS, this automated solution consists of a set of racks in which shuttles remove boxes and deposit them on a lift, which moves the goods between the different levels of the facility. A conveyor line then transports the designated products to the pick stations.
All these automated warehousing operations are managed by the WMS. Thanks to technologies such as predictive analytics and big data, among others, this software automates storage according to rules and criteria set by the logistics manager. Likewise, it can recommend new locations based on the expected demand for each product. This is one of the main functions of the Warehouse Slotting Software module from Mecalux. This program suggests to the logistics manager new product classifications in line with both demand and sales forecasts.
Technologies for automated picking
Warehouse technology is especially implemented in more costly processes or those with a higher risk of operator error. Order picking, for example, is an operation that can be optimised with automated solutions. For instance, picking assistance systems such as pick-to-light and voice picking guide operators thanks to the WMS.
As indicated in the report The Future of Warehouse Work: Technological Change in the U.S. Logistics Industry drawn up by the University of California, Berkeley, "The combination of labor-intensive order picking and the speed with which these orders must be shipped has made e-commerce a leading driver of growth in warehousing employment, and is motivating experimentation with new technologies to support the order fulfillment process."
Therefore, facilities with larger volumes of orders generally make use of cobots (collaborative robots) or industrial machines ― e.g., anthropomorphic robots ― to boost throughput in order picking. These machines are commonplace when order preparation involves heavy products.
Automation of the picking process can be supplemented with solutions that supply goods to the pick stations, such as conveyor lines fed by one or more stacker cranes. In cases of higher product density, anthropomorphic robots can be installed to maintain uninterrupted productivity in order picking.
Warehouse technology: maximum efficiency in logistics processes
New warehouse technology has enabled the development and implementation of automated solutions such as robots for moving goods, machines for extracting product, and automated picking systems for both boxes and pallets. All these solutions expedite storage operations, optimise warehouse resources, and, particularly, cut the margin of error that comes with manual process management.
Warehouse technology has also introduced digital management of logistics facilities, making it possible to coordinate the operations of the various automated solutions installed in them and to maximize inventory control. Want to know more about the benefits of warehouse technology? Don't hesitate to contact us. Mecalux has a wide range of intralogistics solutions to get the most out of your operations.