06 Jul 2022
By:
» BEATRIZ ROYO, Associate Professor at the MIT-Zaragoza Program
» TERESA DE LA CRUZ, Project Manager at the Zaragoza Logistics Center
City logistics is crucial for economic development and business activity, ensuring the efficient transport of goods between suppliers and consumers in urban areas.
The ways in which logistics processes are performed in cities has changed over the last decade due to several factors. Usually, the first thing that comes to mind is the rapid increase in demand for urban distribution services due to the development of e-commerce (B2C e-commerce turnover grew by 16% in 2021). However, a significant amount of urban traffic also derives from non-electronic commercial goods deliveries to businesses in the hospitality industry and to conventional bricks-and-mortar shops.
Consumers' behaviour and new consumption patterns are also forcing this transition. Indeed, there is consensus among some experts that Covid-19 accelerated the adoption of e-commerce — an already upward trend — by up to 10 years. A side effect of the e-commerce explosion is the burden to urban mobility (accessibility issues, congestion and inefficiency in general).
New business models enabled by digital technologies are changing the landscape of urban transport services for both passengers and goods
Eurobarometer Surveys show that Europeans' environmental consciousness increases over time, and in recent years, the European Commission has increased its focus on urban issues and environmental policies. At the same time, the limitation on the type of vehicles or the time that they can enter specific urban areas, for example, has created new challenges and opportunities for innovative logistics solutions such as electric vehicle fleets, cargo bikes and urban consolidation centres, among others. Additionally, new business models enabled by digital technologies are changing the landscape of urban transport services for both passengers and goods. Several related solutions have also become more prominent, as in the case of smart lockers, which allow for contactless delivery in the new pandemic reality.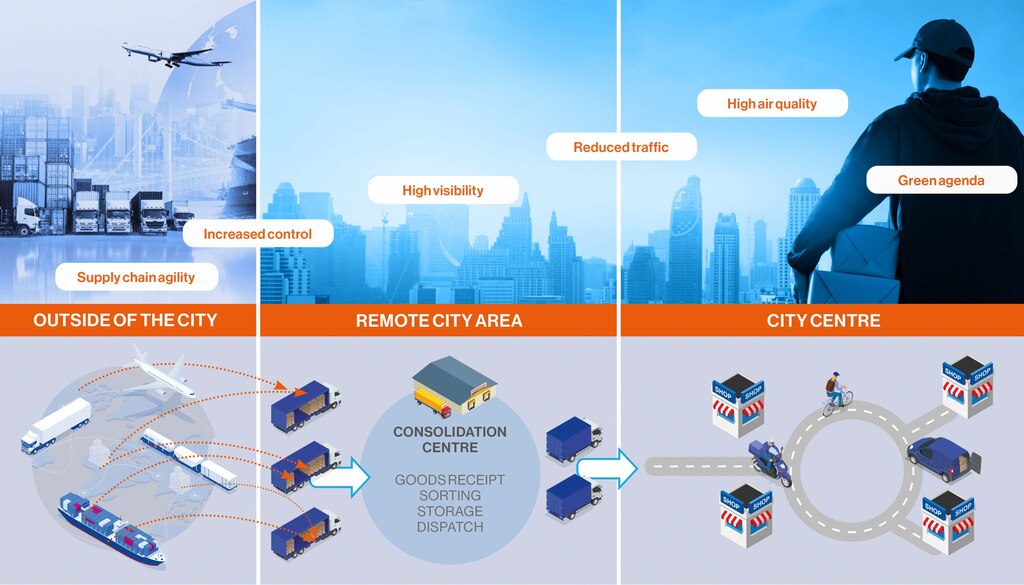 Digitisation evolves with and also fosters four major ongoing techno-economic developments in logistics: automation, connectivity, electrification and shared ownership. These technologies and the combination thereof are expected to lead to huge changes in the transport market in the upcoming years. However, this revolution also entails risks arising from its social and environmental impacts. Strong public policies should be developed to steer digitisation towards fostering sustainability in urban transport.
In other words, environmental awareness, Covid-19, the rise of digitisation and the e-commerce boom are four essential drivers boosting innovation and forcing companies to adapt their services.
Dark stores are those dedicated exclusively to online sales, similar to virtual or ghost restaurants, where meals are prepared entirely for delivery and pick-up. Dark stores act as warehouses where orders are prepared and packed but are closed to the general public. Their main features are speedier purchasing processes and shortened delivery times, improving the customer experience. Again, the concept supports social distancing, without customers needing to enter a crowded shop, as they follow a process taking place entirely online. Spanish delivery start-up Glovo is deploying this strategy, opening new fulfilment centres (Glovo Express) in Europe and Africa.
Likewise, autonomous retail shops — especially supermarkets such as Amazon Go or Continente Labs in the Iberian Peninsula — are appearing in our cities. An AI camera system allows shoppers to pick items in the store and walk out, getting a receipt via app. Yet, there are technological and cultural challenges to overcome in the coming years, in the areas in which this concept is expected to take off.
Cities worldwide are collaborating with the logistics industry to address the forthcoming last-mile logistics challenges
Against this backdrop, cities worldwide are collaborating with the logistics industry to address the forthcoming last-mile logistics challenges and smoothly introduce innovative mobility solutions. London, the pioneer in improving city logistics, is deploying a wide variety of business models based on combining facilities close to final delivery points with electric vehicles and manual bikes. One successful development is the storage and distribution centre CEVA Logistics. It centralises and manages supplies for Guy's and St Thomas' hospitals and minimises the 160 daily deliveries to the hospitals to just one, reducing city pollution, traffic congestion and the amount of packaging waste produced by the hospital. As an illustration of how the Covid-19 pandemic has also impacted levels of innovation, UK supermarket Sainsbury's has repurposed unused central London convenience stores into dark stores that stockpile essential groceries and household products. Orders are then distributed to consumers by means of five electric bikes within a radius of approximately two miles.
Another disruptive business model enabled by digital technologies is the concept of shared mobility for passengers and freight. Carvelo2go in Switzerland and Outspoken Delivery in Cambridge and Norwich (UK) are just some samples of shared cargo bikes.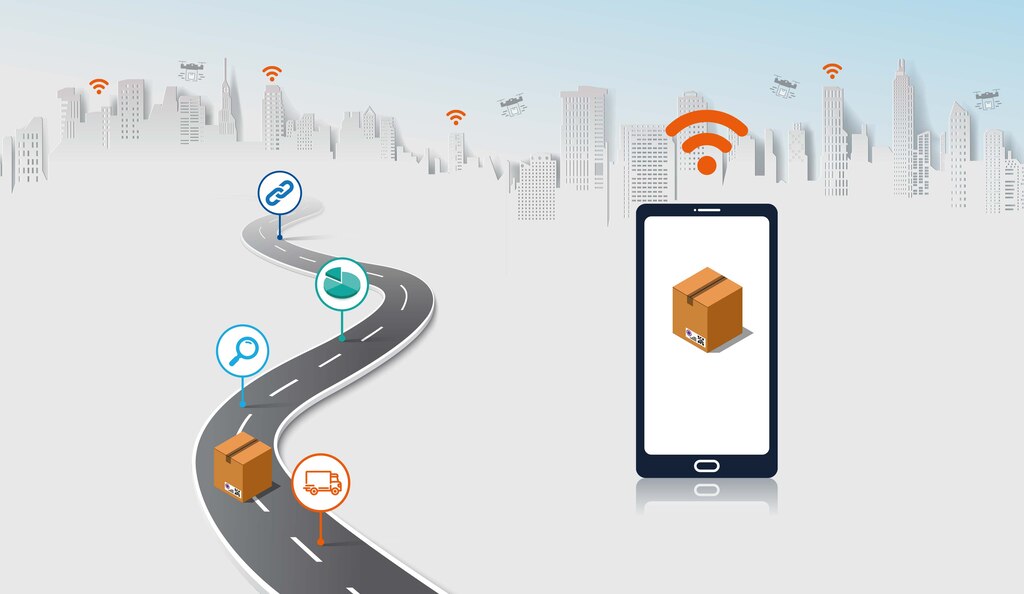 In the future, city logistics will continuously explore innovative mobility solutions and logistics operations, becoming smart and autonomous. The physical and virtual worlds will seamlessly merge in a single environment. On the road to this concept, the development of digital twins plays a fundamental role. According to IBM's definition, "a digital twin is a virtual representation of an object or system that spans its life cycle, is updated from real-time data, and uses simulation, machine learning, and reasoning to help decision-making." A city digital twin, in particular, aims to improve the efficiency and sustainability of logistics, energy consumption, communications, urban planning, disaster risk reduction, building construction and transport. It requires converging digital technologies (IoT, 5G, collaborative computing, blockchain and simulation) to create hyperconnected data-rich environments across the city's entire ecosystem.
In the future, city logistics will continuously explore innovative mobility solutions and logistics operations, becoming smart and autonomous
The world is becoming more digital, and consumers are requesting tighter and more frequent deliveries, resulting in reduced order sizes. Building efficient logistic systems that generate large amounts of data to be gathered by a digital twin has to be a priority. This involves the implementation of autonomous systems comprising vehicles, warehouses and city logistics hubs. This future environment calls for new technologies, the transformation of public space allocation in cities, the definition of new policies, the identification of appropriate new labour resources skills and the modification of existing warehouse and city hub layouts. In this vein, DHL is implementing digital twins in some of its warehouses.
During day-to-day operations, this virtual representation of the warehouse is constantly updated with IoT data collected in connected platforms, as well as inventory and operational data, including the size, quantity, location and demand characteristics of transport cargo. A dynamic 3D model of the entire facility is created, allowing the company to optimise space utilisation and simulate the movement of products, personnel and autonomous material handling equipment. In Europe's PLANET project, this digital twin will be combined and complemented with other disruptive technologies, such as the use of demand forecasting in the warehouse to create an AI-enabled smart contract service for booking vehicles and hiring staff.
In the near future, logistics systems will be autonomous, connected, shared and electric. Indeed, the transition has already started, and the Covid-19 pandemic and related events have accelerated it. Now is the time to know more about how the sector is evolving and to understand how to avoid risks and adapt to change. This will put your business on the right track in a world in which the line between the digital and physical spheres is blurry.
---
Dr. Beatriz Royo is an Associate Professor at the MIT-Zaragoza International Logistics Program (Spain). Dr. Royo's main research areas are urban mobility, network design, supply chain collaboration, digitisation and sustainability.
Dr. Teresa de la Cruz is a Project Manager at the Research Office of the Zaragoza Logistics Center (Spain), where she conducts research and management activities in the fields of urban mobility and sustainable supply chains and transport systems.
---
References