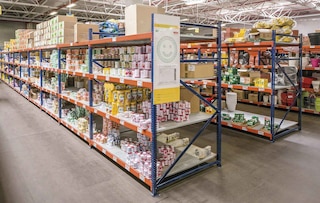 Dark stores speed up online supermarkets' logistics systems
02 Mar 2022
Dark stores are the answer of online retailers (normally supermarkets) to new consumption trends. In this sense, e-commerce companies have developed a new warehouse model: dark stores, which are installations focused on order fulfillment but with the appearance of a physical store, replacing customers with operators.
A study by IGD, a consulting company specializing in food retail, highlights the rise of online groceries, between 2018 and 2023. The sector is set to grow by 20.4% annually during this period, reaching a total business value of almost $375 billion in the 10 countries in which online supermarkets have the greatest market share. This ranking is led by China, followed by the US, Japan, the UK, South Korea, France, Australia, Germany, Canada, and Spain.
Dark stores: definition and origin
Dark stores, also known as dark supermarkets and dotcom centers, are distribution centers and order fulfillment platforms specially geared towards the online grocery sector. These warehouses are normally located in the vicinity of major urban hubs in order to provide better e-commerce logistics service. Thus, the main characteristics of these spaces is that they look like typical supermarkets — aisles are even set up — but inside are operators instead of customers.
Although most supermarkets still prepare orders from the stores, the same-day delivery standard and new consumer trends, increasingly focused on the web, have forced businesses in the sector to reinvent themselves in order to offer agile and efficient service. In fact, although the dark store trend emerged solely in conjunction with online groceries, it has been spreading to other retail areas.
But how do dark stores work? After receiving the orders, instructions are sent to the operators (known as personal shoppers or pickers) who travel around the supermarket with a tablet and a picking cart.
The warehouse is governed by a warehouse management system (WMS) that automatically generates the most efficient operator routes.
We should note the difference between dark stores and dark warehouses, which are often confused. A dark warehouse refers to an installation without lighting (and, hence, without operators) that's run in an automated way. This is a common solution for warehouses that require special environmental conditions.
What are the advantages of dark stores?
This system brings considerable benefits to supermarkets:
Effective last-mile delivery management: these warehouses constitute an effective response to last-mile delivery — the costliest stage of Logistics 4.0 — as they facilitate shipments of products from a distribution center located near the end customer.
More efficient picking operations: operators are guided by instructions from a WMS, which prevents errors in the order prep process. The picking phase is further optimized due to the fact that these establishments usually incorporate multiple automatic elements in their operations, such as pick-to-light systems.
Non-stop operations: although they look like stores or supermarkets, these installations aren't subject to business hours, allowing for various shifts and, thus, improving warehouse productivity.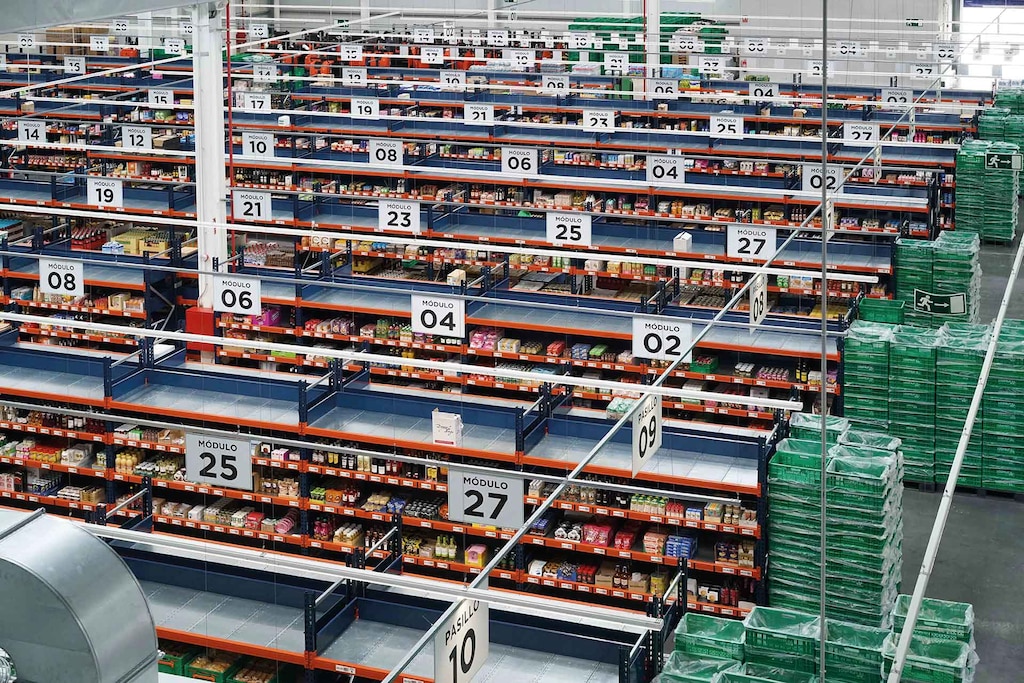 All of this results in enhanced service quality and, in turn, improved end-customer satisfaction.
From Amazon to Mercadona: the dark store trend
Dark stores have popped up all across the US and Europe in recent years. Businesses such as Amazon, French multinational Carrefour, and, most recently, Spanish supermarket leader Mercadona already have establishments of this type up and running.
For example, Mercadona invested 12 million euros with us in 2018 to create a dark store as a preparation and distribution center for online orders. The warehouse occupies more than 13.000 m² and has over 300 picking shelf modules where it stores all the product ranges sold by the supermarket: dry, refrigerated, and frozen goods. According to the company's own calculations, this dark store has seen a four-fold increase in productivity and efficiency compared to the previous order prep system.
Likewise, several food companies have partnered with others specializing in e-commerce in markets with smaller logistics networks. This is the case of Carrefour, which has teamed up with Colombian home delivery startup Rappi to open dark stores in Brazil.
The answer to omnichannel retail
The growth of the online supermarket business worldwide is undeniable. These new consumption trends are compelling companies, especially those in the retail sector, to innovate to remain competitive.
Faced with the challenge of omnichannel retail, dark stores have been established as one of the best solutions in the e-commerce sector for optimizing order preparation and effectively managing last-mile delivery, one of the most complex stages of the supply chain.
This model, which is already being exported to other industries beyond the online grocery sector, will make it possible to respond efficiently to the increase in online orders seen by companies nowadays.