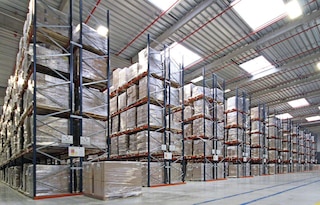 Industrial racking: the logistics choice
06 Apr 2022
Industrial racks are a storage solution utilised in warehouses, logistics staging point and shops. They can combine various racks between them made of industrial rack blocks or systems.
These racks let you store all sorts of unit loads: heavy-duty, light, long, breakable, etc. However, with so many options to choose from, it's not easy to pinpoint what solution will make good on your company's needs. However, this crucial logistics choice stands at the very centre of your operations. Nowadays, Mecalux has more valuable information on hand about the main types of industrial racking and their uses, as well as the issues that must be considered when adopting the most meaningful option.
1) What are you slotting?
What are the intrinsic and extrinsic features of your goods? Like we said in the article How to be a skilled product organiser, even before you chose industrial racks, you must absolutely know the ins and outs of your products.
In fact, not all storage solutions adapt to all types of merchandise. For example, if you store beams, pipes or other long goods, keep cantilever racking in mind, as it is undoubtably fits the bill.
2) Are pallets part of your power-play?
If you raised your hand, you need an industrial rack adapted to pallet storage instead of boxes or totes.
For example, if your company handles large pallet volumes, the Pallet Shuttle could be a good alternative to other standard systems.
3) What stock output principle works for me? FIFO or LIFO?
The more you hammer out your needs properly, the more likely you are to get the industrial rack you need. For example, standard live rack systems must be explicitly designed for FIFO storage, and others, like the push-back, for LIFO method pallet outputs.
We recommend that you take your time when making your selection. And, ask storage professionals who can advise you, to avoid making a hasty decision that will reflect poorly on your bottom line.
4) What handling equipment do you use?
If you are reworking your warehouse, or simply going about a redesign, you must analyse your needs in terms of handling equipment.Have you got the material you need to move your products?
If you are going to use forklifts, keep warehouse safety in mind and choose specific racks and practices for running forklifts.
5) Are you keeping it cool?
Figuring out the ambient temperature of your warehouse means looking out for the safety of your goods. Some installation settings are humid, require special maintenance and are subject to specific regulations. If, for example, a company stores food in a frozen-storage installation, it must be sure that its industrial racks fulfil current standards to do with food contact.
6) How big in your warehouse?
This question outstrips all others in terms of importance. Space and ceiling height are another couple of vital factors to be aware of. In fact, these factors let you know which industrial rack will best adapt to all your requirements regarding storage.
Even though it's true that proposed market products can adapt to your warehouse, not all satisfy your company's needs.
Each company's warehouse and logistics platform is unique to that business. However, a company's business activity is what determines its storage material requirements. You must lay all your cards on the table if you want to discover the best industrial racks for your installation. Some companies, like Mecalux, offer customised industrial racks that suit any storage need. Get in touch with us for more information; our customer care professionals would be glad to help you in your search for the ideal industrial rack.