16 Dec 2022
Warehouse management software is a core element in an ecommerce warehouse. This digital program provides real-time information on stock and organises all operations. The goal? To dispatch the largest number of orders without delay.
The priority of any ecommerce retailer is to meet consumers' expectations by ensuring on-time deliveries. Warehouse management software has become an essential ally for offering faster, more efficient service.
Why install an ecommerce warehouse management system?
A warehouse management system — such as the Mecalux Group's Easy WMS ― is the mastermind that directs and supervises all processes in a logistics centre. In ecommerce facilities, digitisation is vital for responding to the challenges of omnichannel. These involve many orders arriving from different sales channels, orders with few units and tight delivery times, among others.
Warehouse management programs are one of the main drivers of ecommerce facilities: they keep strict stock control and organise operations while eliminating the margin of error. The software sends operators instructions on their RF scanners so that they can prepare large volumes of orders more quickly.
These logistics programs also help ecommerce companies to fine-tune their processes and detect opportunities for improvement. How? The warehouse management software collects information about everything occurring in the facility, e.g., the origin, destination, size, weight and contents of the orders sent every day. It then analyses these data so that logistics managers can make strategic decisions.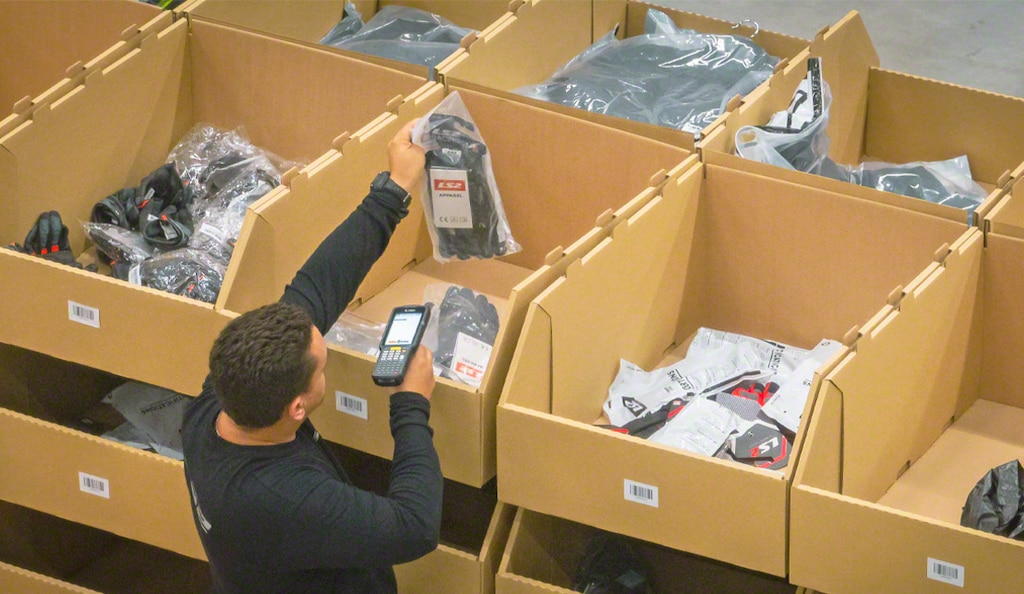 20 functions of an ecommerce warehouse management system
Warehouse management software intervenes in all processes in a logistics facility. These include the receipt of products sent by suppliers or arriving from the production lines to the packaging and distribution of orders to customers.
In general terms, an ecommerce warehouse management system can perform the following functions:
Know the exact location of products to be picked for order fulfilment.
Generate pick lists to organise order picking.
Group orders by assigning different selection criteria.
Segment orders by warehouse zone or picking strategy.
Design routes that minimise operator travel.
Process orders via cross-docking.
Coordinate picking assistance devices such as RF scanners and pick-to-light, put-to-light and/or voice picking systems.
Guide operators in all operations carried out.
Update inventory in real time while performing order picking.
Consolidate orders in an agile, error-free way.
Control stock continuously.
Minimise the use of paper in management processes.
Generate and print labels and the necessary documentation for dispatches.
Sort orders by shipping route.
Monitor operations in real time.
Organise replenishment automatically.
Calculate order volume.
Manage manually run, semi-automated and fully automated warehouses.
Create reports on operational performance.
Organise product returns (reverse logistics).
Warehouse management software is a strategic tool in ecommerce centres because it tracks a wide variety of merchandise in real time and organises operator tasks to ensure efficient order picking.
Benefits of an ecommerce warehouse management system
Equipping an ecommerce facility with warehouse management software brings multiple advantages. The program controls goods inflows and outflows as well as all product movements in real time. Detailed stock monitoring makes it easier to organise operations such as order picking.
Keeping strict control over goods is also crucial for syncing orders and the product catalogue between warehouses and ecommerce platforms. With a specific software program — e.g., the Mecalux Group's Marketplaces & Ecommerce Platforms Integration module — the levels of stock available in the logistics centre are automatically updated on the ecommerce platforms.
Ecommerce warehouses are facilities characterised by the frenetic movement of operators and merchandise. Warehouse management software organises all these operations and puts the facility in order. It assigns a location to each item based on characteristics such as SKU type and product turnover. The program also distributes tasks between operators and designs efficient pick paths, guaranteeing that operators walk the shortest possible distances.
With the support of an advanced warehouse management system, ecommerce retailers can boost the productivity of their logistics facilities. By following the instructions of the program step by step, operators pick larger numbers of orders at top speed. The software assists them at every turn, making them more efficient in their tasks and thus increasing the throughput of the entire logistics facility.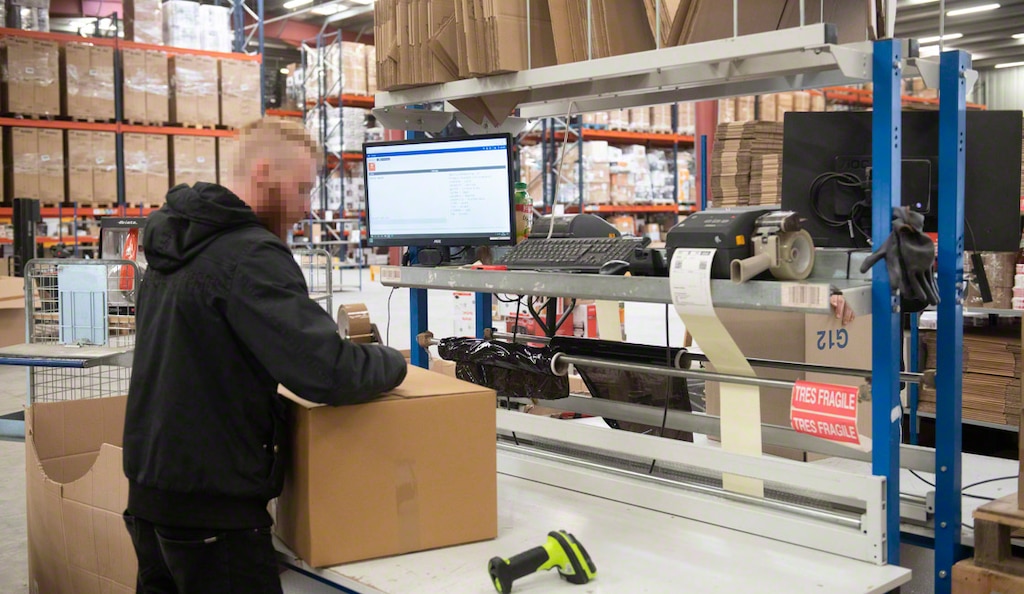 Examples of Easy WMS in ecommerce warehouses
The Mecalux Group's Easy WMS warehouse management system has helped ecommerce companies around the globe to optimise their logistics processes. Here are three examples:
Padel Nuestro (Spain). This ecommerce retailer specialises in the sale and distribution of padel gear and accessories. It equipped its facility with the Mecalux Group software to streamline deliveries of up to 2,500 orders a day during peak season and accurately manage 30,000 SKUs. "Previously, we managed all our logistics operations manually, without any IT support. Easy WMS ensures complete product traceability, adjusts to market changes and enables us to optimise our operations. We've done away with manual work and consequently we've achieved greater efficiency in all areas of the facility, especially in order picking," says Pedro Martínez, General Manager of Padel Nuestro.
Gibon (Slovenia). Easy WMS has optimised operations in the warehouse of Gibon, an ecommerce fashion retailer present in over 20 European countries. Gibon has more than 10,000 SKUs, which include lingerie, swimwear, handbags, shoes, pants and jackets. With Easy WMS, the business fills 3,000 orders a day, which are distributed to customers throughout Europe. In peak periods, this figure can double. "Easy WMS has improved the way we work, particularly because it assigns specific tasks to each operator and can control their execution. Staff throughput has also increased dramatically — by nearly 30% — thanks to a more accurate distribution of the goods and traceability of operations," says Gregor Rančnik, CEO of Gibon.
NEXECOM (France). This ecommerce home goods business uses the Mecalux Group's Easy WMS software to control thousands of SKUs of different sizes and characteristics and to fill multiple orders a day made up of few units. The company has tripled its picking productivity from 100 to 300 lines an hour. "We're thrilled with the Mecalux software. Easy WMS has reduced both time and errors in picking, so we're convinced it will help us achieve our growth objectives," says Laurent Brutto, Director of Operations at NEXECOM.
Solution to drive ecommerce facilities
A warehouse management system is a tool increasingly used in all kinds of businesses. Through strict product control and efficient organisation of warehouse operations, any company can take its logistics processes to the next level. In ecommerce businesses, logistics software is a must for streamlining processes and guaranteeing that orders are delivered to customers as fast as possible.
The Mecalux Group's Easy WMS is a warehouse management system that helps ecommerce retailers optimise their supply chains. The program features specific modules to respond effectively to all ecommerce needs: from online sales to order picking and subsequent shipment by carriers. Be sure to get in touch. We'd be happy to talk to you about the benefits of Easy WMS and how it can meet the logistics needs of your online store.