05 Nov 2021
A finished goods warehouse is a space designed to store products that have come off the production lines and are ready to be sold or distributed.
The role of these types of warehouses in the supply chain is critical, as they have a direct impact on customer satisfaction. There's no point in optimizing management of raw materials and production processes if, in the end, the finished goods warehouse lacks efficiency.
Generally, these facilities are located near the production lines, where the raw materials have been transformed into semi-finished and finished products.
These warehouses can store finished products ready for distribution — classified by SKU, shipping route, and final customer — or products that will be used to prepare orders.
Finished goods warehouse: definition and characteristics
Typically, finished goods warehouses are facilities that manage pallets with few SKUs and a high turnover. These facilities usually serve as storage buffers, since they house merchandise temporarily until it's distributed to the end customer.
When configuring the layout design of a finished goods warehouse, the most common storage solutions are those that maximize space, such as compact storage systems. This category includes drive-in drive-thru pallet racks and push back racking systems, although the Pallet Shuttle system is the one that provides greater storage capacity and agility.
The Pallet Shuttle incorporates a motorized shuttle that moves the pallets inside the racking, optimizing operations and storing products in their locations with remarkable speed. Additionally, this high-density solution organizes products efficiently: each channel is allocated to a different SKU.
Another option is to store orders pertaining to a specific transportation route in the same channel. This is the case of the Nestlé warehouse in Argentina, designed to house all the products manufactured in its production plant in Villa Nueva. "We needed to recover storage capacity without having to build another building, and we didn't want to resort to external warehouses either," says Claudio Marmo, Development Manager at Nestlé Argentina. The company equipped its logistics facility with the semi-automated Pallet Shuttle system, a solution that's provided storage capacity for 2,668 pallets and has streamlined the entry and exit of 500 pallets a day.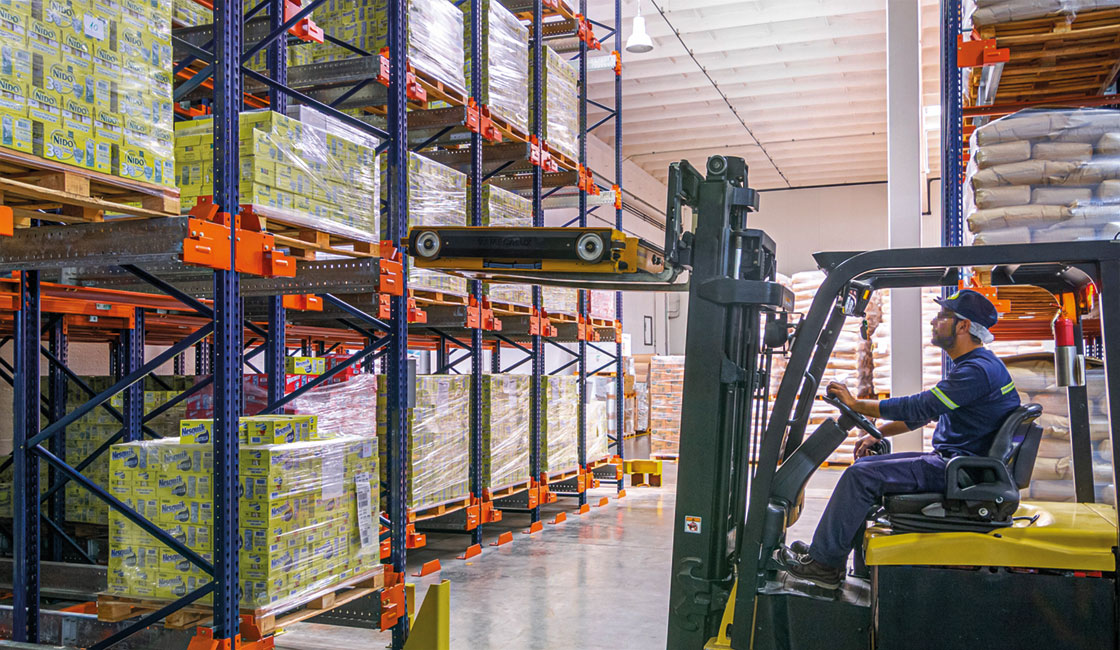 Another characteristic of finished goods warehouses is their use of automated storage and retrieval systems (AS/RS). Increased speed, improved safety, and better leveraging of space are just some of the reasons more and more businesses are investing in AS/RS.
Of all the AS/RS, two stand out for their effectiveness: the miniload system and the automated Pallet Shuttle.
Miniload systems (AS/RS for boxes) are designed to store small finished products used to prepare orders. This automated solution makes the most of the space, speeds up the movement of boxes, and facilitates picking tasks. Multinational company Continental reaps the benefits of this solution in its facility in Mexico, which houses spare car parts and accessories. The company chose this storage system, which ensures very high inflows and outflows of goods while facilitating the preparation of a high number of orders.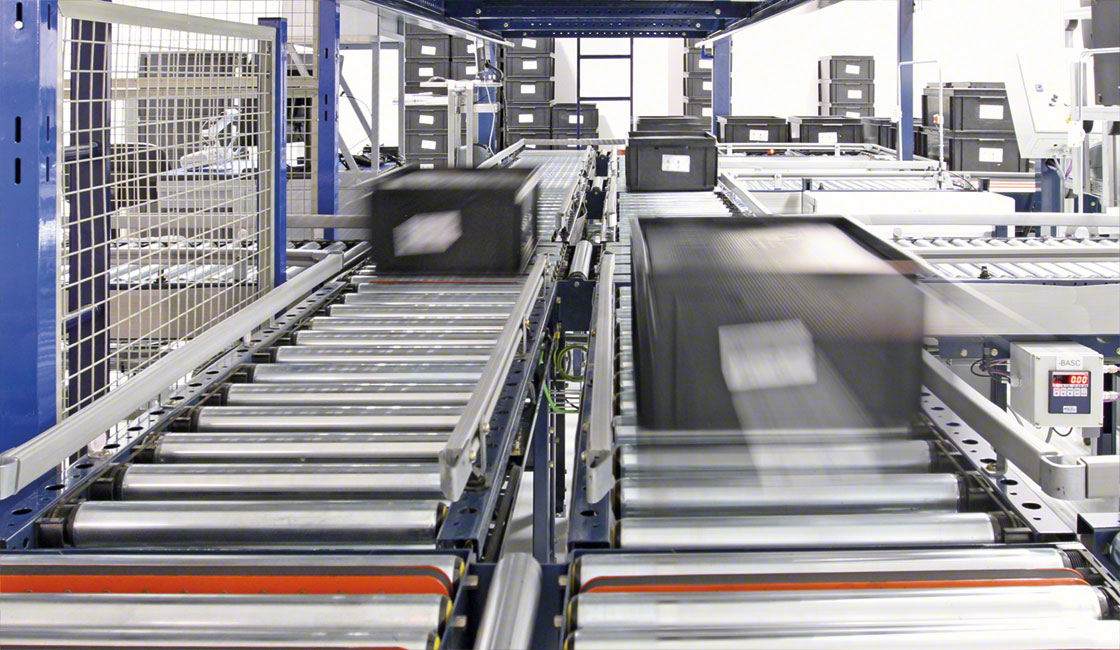 To store full pallets containing finished product, one of the most widespread solutions is the automated Pallet Shuttle with a stacker crane or transfer cars. This is one of the most efficient compact storage systems on the market, as it guarantees very high flows of inbound and outbound product. Logistics operator Luís Simões has installed the automated Pallet Shuttle system with transfer cars in its centre in Guadalajara, Spain, to organize prepared orders for distribution. With automation, the business maintains continuous inflows and outflows.
Broadly speaking, the layout of a finished goods warehouse should offer agility, a high turnover rate, and accurate product control so that the merchandise is delivered to the end customer in the best conditions.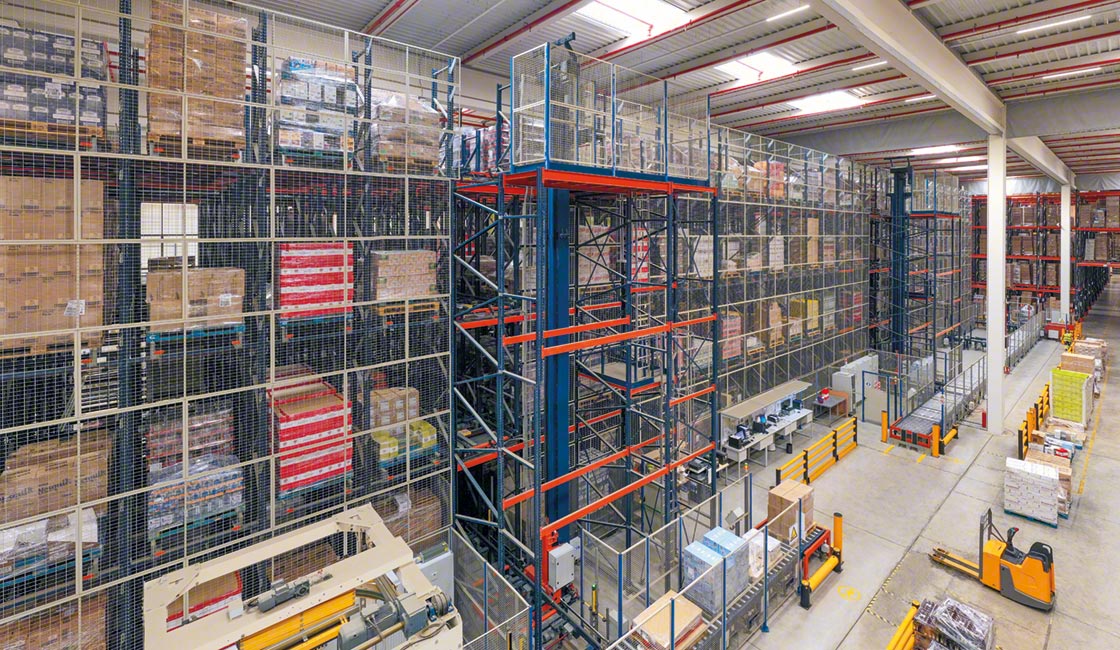 Software for managing finished products
A finished goods warehouse must carry out strict stock control to ensure maximum security in the storage and dispatch of goods. To that end, it's best to implement a warehouse management system (WMS) to organize items by batch number, expiration date, and transportation route, among other variables.
The WMS maintains continuous two-way communication with the company's ERP (enterprise resource planning) system and MES (manufacturing execution system) to monitor the location of the products. Thanks to this integration, the warehouse management system knows exactly when items will arrive from production.
To shorten the time it takes to load and unload finished products on and off the trucks, companies can also install programs such as the Multi Carrier Shipping Software module from Mecalux. This system connects the warehouse with the various transportation agencies to optimize the order packaging, labeling, and distribution processes.
This technology can be used by companies in all sectors. One example is La Ruche Logistique, a logistics provider specializing in e-commerce. The company installed Multi Carrier Shipping Software in its facility in France to improve order packaging and distribution operations. With the help of the warehouse management software, La Ruche Logistique has gone from preparing 150 orders a day to 500, which are distributed and delivered in a matter of hours. "Thanks to Multi-Carrier Shipping, Easy WMS communicates directly with our carrier to inform it of the orders to be distributed," says La Ruche Logistique Manager Thomas Largeron. "As a result, we're more productive, faster in preparing and distributing orders, and we no longer make mistakes."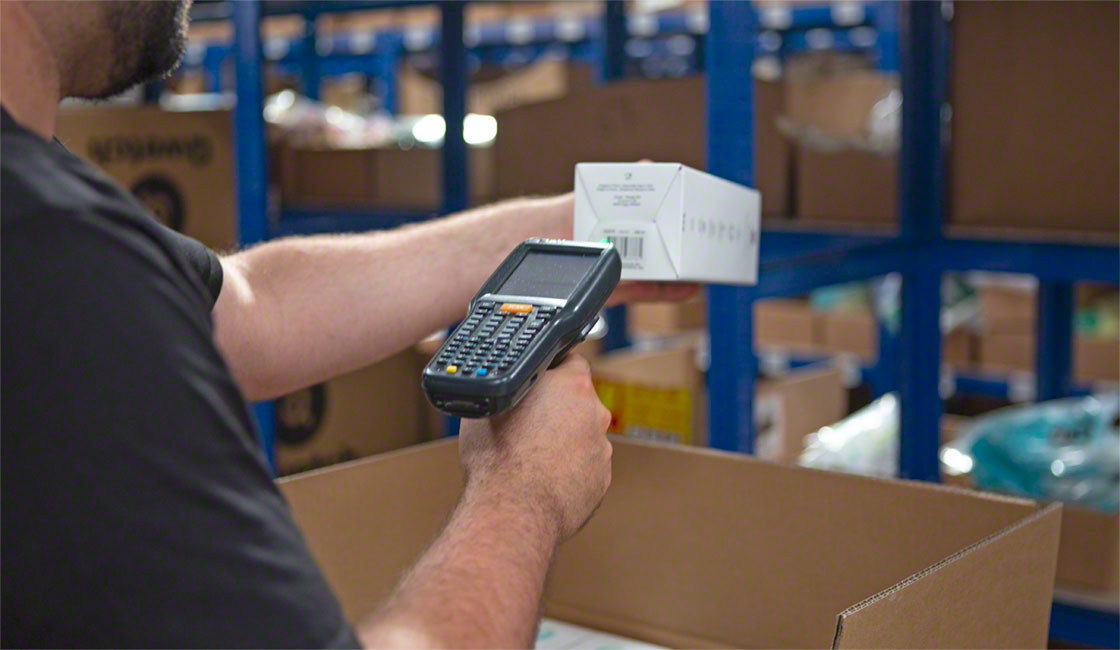 Finished goods warehouse: an ally for the production centre
A finished goods warehouse with agile, error-free operations is an asset for any company's supply chain. These types of facilities are configured to ensure that finished products are readily available when needed and that orders are processed and sent in the shortest possible time.
Therefore, a growing number of companies are implementing AS/RS to store and dispatch their finished products. At Mecalux, we're specialists in personalized AS/RS that optimize the throughput of finished goods warehouses. Don't hesitate to contact us. One of our expert consultants will offer you the best solution for ensuring maximum logistics efficiency.